Guest Post: It's a story that started out with the simple recording of a screencast. In 2016, teachers Kareem Farah and Rob Barnett created their first ScreenPal instructional video.  They wanted an innovative way to teach students and keep them engaged. 
From the very first screencast till now, they've helped over 20,000 educators in 120 countries transform their classrooms.  The pandemic brought on many educators who jumped into remote learning without having any background in video creation. 
Luckily, with Kareem and Rob's expertise, they were able to provide these educators with a way to jumpstart their remote classes.
Time to Innovate Teaching
Kareem and Rob met as math teachers at a Title I high school in Washington, D.C. Each day, Kareem and Rob's students would enter the classroom with different backgrounds, skills, and attitudes, but were expected to learn the same content and move at the same pace as their classmates.
Both Kareem and Rob grew frustrated with the traditional one-size-fits-all model of teaching that was failing their students. They knew it was time to innovate.
Meeting Every Student's Needs
Using their experiences as teachers at the forefront, Rob and Kareem used short screencasts as part of an instructional model that met every student's needs. This model, which eventually became the Modern Classrooms Project model, has three core principles.

1. Blended instruction 
Out with the lecture, in with the instructional video! Instead of relying on lectures to teach new content, Kareem and Rob leveraged instructional videos to enhance learning for all students.
They created their own instructional videos to make them more personal for students. Students had unlimited access to these instructional videos and accompanying online resources; they could rewatch parts of the video they didn't understand or needed more time to comprehend.
Perhaps the biggest benefit of eliminating lecture, was the freedom it gave Kareem and Rob to spend class time working with their students one-one and in small groups. It turned class time into an opportunity to build relationships with students.
So how did Kareem and Rob create these instructional videos? Simple -ScreenPal! They found ScreenPal had all the functionality they needed and it was easy to use. Check out Modern Classroom Project's ScreenPal tutorial. 

2. Self-paced learning 
One of the many benefits of blended instruction is that it allows students to learn at their own pace. Students were no longer waiting for Kareem and Rob's teacher lecture to access the content. When students came to class they picked up where they left off and only progressed when they felt ready.
Self-pacing gave students control of their learning, ensured they were always appropriately challenged, and strengthened 21st century skills such as responsibility, initiative, and self-direction.
3. Mastery-based grading 
Rather than focus on completion, Kareem and Rob prioritized mastery, meaning students had to show mastery of a lesson before moving on to the next lesson.
The journey to mastery involves revision, reassessment, and reflection. This approach promotes deeper learning, long-term retention, and ensures that students are ready for what comes next. 
Results In the Classroom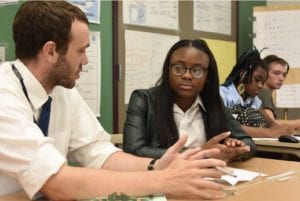 Within a few weeks of using their screencasts, Kareem and Rob saw a transformation in their classrooms and in themselves.
Student learning and confidence grew and anxiety decreased. Students were no longer stressed about coming to class because they knew they could pick up where they left off and go at a pace that allowed them to truly master the content.
For Kareem and Rob, teaching became more sustainable and rewarding, they spent less time managing behavior and more time supporting their student's learning. They saw students mastering more skills than ever and their classroom became a highly effective and positive learning environment.
From a Model to a Movement
After seeing these tremendous impacts, Rob and Kareem knew their model had the potential to make a real difference in education and it was time to share it.
In 2018 Kareem and Rob developed Modern Classrooms Project, a nonprofit that supports teachers in adopting this model. They created a free online course, Modern Classrooms Essentials, that all teachers can access regardless of location or financial means.
Today, more than 20,000 teachers have enrolled in the free online course from 50 states and 120 countries. The Modern Classrooms Project has grown from a model to a movement of teachers across the world. 
Want to learn more?  Visit learn.modernclassrooms.org to enroll in Modern Classroom Essentials.  
This is part of a blog series. Coming up, learn how self-paced, mastery-based classrooms really work — and how the Modern Classroom approach can help teachers and students make up for lost time during the COVID-19 pandemic.