Guest Post: Throughout this pandemic, there have been countless times when we wished we could just gaze into a crystal ball and see what lies ahead.
If we could only anticipate what the school year would hold, how students would adjust to tremendous change, and when we could connect with our students in-person again, perhaps we would know what the next step should be.
Even though we don't have a crystal ball and can't be certain of what the future holds, Modern Classrooms Project's instructional model provides a more certain and brighter path forward for both teachers and students who are navigating this new education landscape. Our blended, self-paced, mastery-based model is adaptable to all learning environments and provides students with a personalized approach to learning that meets their needs. 
How can we be so confident? Over the past year, we've helped 20,000 teachers in 120 countries transform their classrooms. Here's what they've taught us about moving forward in 2021 and beyond.
Moving Forward, Together. 
Now is the time for schools to pave a path forward and prepare for the realities of a post-pandemic world. Together with schools around the country we must first recognize these realities:

Address student learning levels
Many students have experienced almost a year of school loss. While some students thrived in the remote learning setting, many struggled and have suffered both academically and emotionally.
The pandemic has taken an especially heavy toll on students of color. According to a McKinsey fall 2020 study, students of color were about three to five months behind in learning while white students were about one to three months behind. There have always been varied learning levels within a classroom but the pandemic has only made these gaps more extreme.
Students will have a vast array of academic and social emotional needs and will need an instructional model that meets them where they are at. Modern Classroom's instructional model replaces a one-size fits all pacing with flexible structures that meet the needs of each and every student.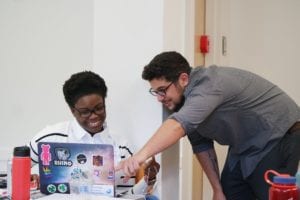 Focus on student well-being
The pandemic has been devastating and the impacts it has had on our student's social and emotional well-being cannot be overlooked.
To address this, teachers should be equipped with an instructional model that allows them to spend less time delivering whole group instruction and more time working closely with students.
By leveraging screencasts made with ScreenPal, teachers can eliminate lectures and use valuable class time for small group work, checking in with students one-on-one, and providing meaningful and personalized support. This will help put students' social and emotional well-being at the forefront.

Integrate tech tools responsibly 
With the transition to remote learning, many educators had to incorporate new and evolving technology into their teaching and used tools like ScreenPal to help them deliver blended instruction in effective and engaging ways.
It was tech with a purpose. When leveraged responsibly, this technology can have overwhelming positive impacts on student learning.
When schools return to in-person learning, we can't just go back to the old ways! It will be important that educators continue to integrate valuable technology into the classroom and capitalize on lessons learned from remote learning.

Promote teacher sustainability
While meeting the diverse needs of our students, it will also be vital to promote teacher sustainability by combating burnout. At a time when teacher's stress levels are at an all-time high, it is critically important that they feel supported.
According to a recent survey by the National Education Association, 28% of educators said the coronavirus had made them more likely to leave teaching or retire early. Teaching has always been challenging but the pandemic has made it substantially harder.
Modern Classroom educators report that our model allows them to spend less class time managing behavior, and more time supporting student learning. Now is the time for schools to support teachers by empowering them with an instructional model that is sustainable. 
The Time to Transform Teaching
If you are interested in learning an instructional model that will pave a way forward post-pandemic, enroll in our free online course Modern Classrooms Essentials.
Visit learn.modernclassrooms.org to start innovating for your students. We can't wait to see you there!
More from the Modern Classrooms Project:
How two teachers used screencasts to transform education