Resourcefulness is everything for small business owners. You may not have an endless budget or a huge team, but that doesn't mean you can't reach your goals, keep customers happy, and successfully grow your business. The key is to lean into the aspects of small businesses that consumers love most. 
According to SEMRush, 45% of people choose small businesses for their personalized customer service. Video is a powerful and budget-friendly way to support your audience right from your mobile phone. 
Mobile Video App Ideas to Grow Your Business 
Video isn't just for marketing. You can use it across all areas of your business to save time, nurture customer relationships, and communicate with your team. Best of all, it's easy. All you need is your Android or iOS iPhone/iPad and ScreenPal's video recording and editing app.
Try these video app ideas below to help support and grow your business from your phone.
Answer customer inquiries
Customer service is one area where small businesses can outshine competitors. To make your customers feel heard and valued, reply to their questions with a quick video. 
If a customer emails you for help navigating your website, create a screencast showing how to solve the problem step-by-step. Open the screen recorder app on your phone, tap to record your screen, and talk them through the solution.
Use the mobile editing tools to emphasize certain parts of your video.  Add text for clarity and context. Use overlay stickers to show where to click on your website.  You can also use the blur effect to hide personal information, along with a host of other editing tools.
If customers ask the same questions often, make your help videos available on your help or FAQ page.
Communicate with your team
Especially while working remotely, it can be hard to know what's going on with your coworkers. Try having everyone make a quick mobile video at the beginning of the week, sharing what they plan to work on, and what support they need.
Videos also help teams problem-solve together. If an app developer gets stuck on an issue, they can make a quick screencast of their phone screen so coworkers can help.
Get sales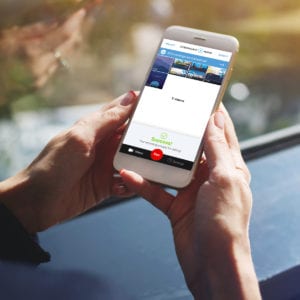 Consumers are busy, so the best way to ensure they see your product demo is to make it available on their phones. Use the video app to show hands-on examples of your online product or software. For a professional-looking presentation, use video editing tools to add your brand colors, logo, and even background music from our extensive stock music library. 
Virtual team training
Break your employee training material down into bite-sized mobile video lessons. This enables your team to learn on-the-go and gives them a chance to reflect on what they learn before moving on to the next lesson. 
You can also make your training videos visually engaging by adding emoticons. If you're sharing a list of dos and don'ts, add a thumbs up or thumbs down to help illustrate your message.
Product updates & announcements
Have big news to share with your audience? You can create emotional impact with video. Set the screen recorder to record and show your screen if your announcement has accompanying visuals.
Add the video to your website, embed it in your newsletter, or share it on social media.
Social media marketing
Mobile video leads the pack in engagement on social networks like Facebook, Instagram, and TikTok. Hubspot reports that 54% of consumers want to see more videos from the brands they support. 
Thankfully, there's no pressure to put out heavily produced, expensive videos. Authentic, casual content is trending, so all you have to do is use the mobile screen recorder to share a behind-the-scenes look at your business, helpful tips, or updates about your latest sale. 
Grow your business with our mobile video 
Mobile video is an easy-to-learn and affordable way to connect with new customers and grow your business. Try these video app ideas, and let us know which is your favorite.