The internet is filled with hundreds of thousands of commercial real estate industry videos, and it makes perfect sense — buildings are eye-catching and information-rich. But what about less glamorous aspects of the business, such as lease agreements? Can pages filled with legal terms make for compelling videos that lead to sales? According to entrepreneur Jeff Howell, the founder of Lease Ref, the answer to both questions is a resounding YES: Videos featuring documents are a powerful video business integration tool that can help businesses grow and succeed.
Lease Ref is a web-based service that specializes in reviewing complicated commercial real estate lease agreements for tenants. Sounds simple, right? But before Howell — who has more than 17 years of industry experience — bootstrapped the innovative company on his own, it was an untapped market.
Lease Ref was born when Howell put himself in the mindset of renters and felt their business pain.
"I have a lease that I am renewing," said Howell from the perspective of a frustrated potential tenant, "and no brokers want to give me the time of day to help me out. Commercial real estate lawyers are going to charge $1,500 minimum, and you never know how many hours they're going to end up billing on this."
Howell's solution was to launch a website that lets commercial tenants upload lease documents and get them back fully reviewed within 24 hours. They're accompanied by a thorough, easy-to-understand email that recommends detailed changes that benefit the tenant. All this is done for a cost-effective price that's much less than lawyer or broker fees.
Sounds simple, right? But nobody before Howell had identified the opportunity, and Lease Ref got to market first. Now, along with a robust blog that leverages his informative videos, the website is growing by leaps and bounds.
"I get over a 100,000 visitors now every year to my site," Howell said.
The Value of Visualizing Concepts in Text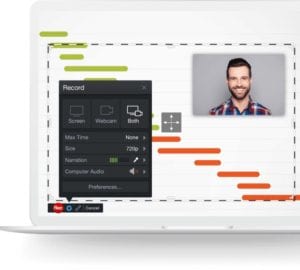 On the surface, watching videos of legal documents might sound a bit sleep-inducing. But, using ScreenPal's robust and innovative screen recorder, Howell transforms visualized words and sentences into valuable business integrations for his customers. For example, his blog post "Renewing Your Commercial Lease: What You Need to Know" features a video that mixes easy-to-see yellow and green highlights with a moving cursor as Howell reviews a document (everything's made seamless with his voice-over).
In another post, "Restoration — The Expensive Exit Cost Most Tenants Have," Howell redlines worrisome clauses.
Video-enhanced blog posts such as these add tremendous value to Lease Ref's online presence.
"The ones that I've done video for really had a big impact on my search engine optimization as well as building trust," he said.
A Dynamic Foundation for Impactful Videos
Howell's video-enhanced blog is popular with prospective customers and active clients alike, and nearly all of them found Lease Ref organically in Google searches. As an online business owner, he has dedicated himself to mastering search engine optimization (SEO), including devouring web-traffic strategies on Moz Blog. His blog posts are filled with high-value, impactful keywords, which draw many leads to his service.
And, in a positive feedback loop, embedding videos created with ScreenPal's screen recorder in blog posts has boosted his SEO standings.
"If somebody stops by and they watch a five-minute video, the dwell time increases on the page," he said, noting an important factor in highly effective SEO.
Moving Upward on the Power of Video Business Integration
In merging his SEO expertise with his talent for creating videos, Howell has put Lease Ref on a rising path to continued success.
"The 100,000 I think is going to be 200,000 next year," he said when forecasting increased website visitors. His conversion rate is robust, too, and he is hiring additional staff to meet the increased demand of new customers.
And, Howell plans on using ScreenPal to create even more of his educational and persuasive blog videos.
"I'm going to do a lot more," he adds.
Prime Territory for Videos
As Howell shows, real estate is a perfect industry for video business integration, and that extends throughout a sector that in recent years has been valued at more than an amazing $200 trillion worldwide. Videos are also valuable when training brokers, something that Terry Yonker of Buckeye Realty in the Orlando, Fla., area has discovered.
"When we teach, we use an introductory video off the top that we produced on ScreenPal, and then since we use the software in so many steps of our process, we give them the information for them to use it themselves," said Yonker.
From contract review to career training, the horizon for creating and benefitting from real estate videos is virtually unlimited.
Share Your Story
ScreenPal would like to thank Jeff Howell for sharing his story. Email our marketing team (marketing@screenpal.com) and share your story.
Quick Links
Running a Remote Business Powered By Video
Ditch Office Meetings and Increase Work Productivity With Video Integration