If you're looking to wow your audience with engaging video, try adding video editor effects.  From rich text to animations, you can easily add effects to any video project. 
Let's go beyond the basics and try these three cool effects guaranteed to wow any audience.
The Power of Creative Text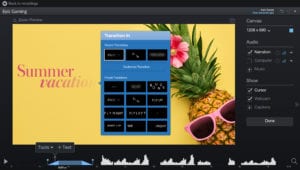 Let the text be the star of your next marketing video. A rich text tool can be a powerful feature when used to its full potential. 
Crafty text is one of the biggest graphic design trends on social media. An entire industry has been built around eye-catching typography. A basic quote becomes artwork with the right fonts, sizing, and layout. 
Incorporating creative text is an easy way to wow your audience. All you need is a video editing platform with a powerful text toolbox.
ScreenPal has rich text options that give you endless possibilities to be creative.  You can customize your typeface design and add colors, backgrounds, shapes, and shadows.
To engage viewers, add movement with text animations.  Have your text fly in and out, blur it into your video or have the text bounce on the screen.  You can also choose individual letters or words to animate.  There are a number of creative ways to use text animations on ScreenPal.  
A long list of text animations is available to use.  To animate, head to 'Overlay Text' in the video editor. Type in your text and add animation by clicking 'Transitions' in the menu.  You can customize the duration, direction, and delivery of the animation.  
Video-in-Video 
Add a bit of magic to your next project by incorporating video-in-video. It's possible and very easy to have two or more video clips simultaneously playing in the same frame.
Video overlays are a powerful tool with creative possibilities. It allows users to create a split-screen video or a picture-in-picture format. 
Overlaying video is frequently used to show different perspectives in product reviews and online tutorials. Overlays aren't limited to only two video files. Editors can import multiple media files into their timeline.  You can have multiple files playing at once.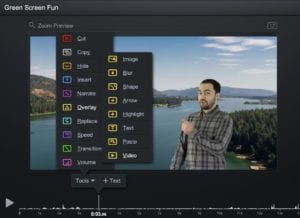 Video In Green Screen Backgrounds
You've seen this editing effect used whenever there is content playing on a computer, tv, or phone screen. Editors combine a green screen filter and video overlay. Both of which can be accessed in ScreenPal Video Editor. 
The green screen filter is a keying feature that removes a background. All you need to do is import your video background then add your green screen video.  With a few simple clicks, remove the 'green' in your video.  You will then have two videos moving at the same time.
Green screen technology can be used to showcase a product video, classroom topic or to show off your creativity.
Animations 
All great video editing eventually calls for some special effects.
Seasoned video editors incorporate animation into everything— text, images, and video overlays. Animation brings videos to life by allowing elements to move.
The concept may seem complex for beginners.  But it doesn't have to be.  Look for video editors that keep the process easy and simple.  ScreenPal breaks animation into a simple process using edit points.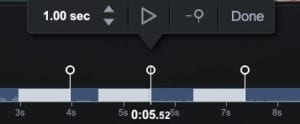 ScreenPal is designed to give creators full control over how much or how little they choose to animate. Individual elements can be isolated and animated. For example, an arrow can be pointed from one section of your video to another.
Animation can also transform video overlays. Alter your edit points to make your video appear as if it is scrolling, shrinking or highlighting a certain portion. 
Don't forget, you can access text animations without having to use edit points.  You can animate your text with a few easy clicks.
Become an Expert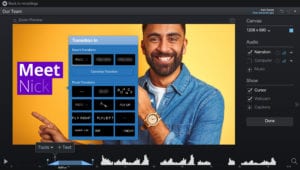 Don't let the idea of using effects intimidate you. Take it step-by-step. In no time you'll be able to reinvent your editing style to one that wows your audience.