The rapid shift from in-person learning to remote learning meant teachers had to get comfortable with video fast. While the changes were undoubtedly chaotic at first, teachers and students are getting more comfortable with video.  This has brought on many heartfelt, amusing, and sometimes slightly embarrassing real-life moments caught on camera.
Humorous Moments That Went Viral
It's not a bad thing that we're seeing real-life moments during remote class time. While some may prefer to keep their home life private, students can actually benefit from seeing funny moments like when their teacher makes a mistake, or when a cat decides to hog the camera.
These funny little moments can break the tension of learning from home and make students feel less isolated. That authenticity makes teachers more relatable, thus helping them build stronger, more genuine connections with students. This year countless remote learning moments went viral, getting passed around social media networks and news outlets, offering a lighthearted break from the year's more serious stories.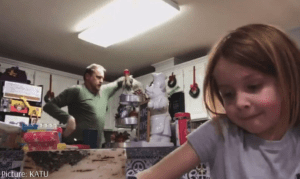 For instance, a dad in Beaverton, Oregon went viral after dancing in the background of his daughter's video for school. He thought she was just recording for fun, so he shimmied behind her while she spoke into her webcam. The father didn't realize the video was for school until after his daughter uploaded it to her class portal. By then the teacher had already had a good laugh at the clip. Luckily, the family saw it as a chance to spread some joy, and embraced the media coverage that followed.
In Tulsa, a teacher went viral after realizing on camera that his wife's bra was hanging from the doorknob behind him. Though embarrassed, the clip earned him a spot as a finalist on America's Funniest Home Videos.  
Teachers and students alike are also getting creative and using video to get to know each other since they can't bond in the classroom. TikTok is flooded with videos of students surprising teachers with organized dances on Zoom, and teachers staying after class to play online video games with students. 
Whether funny, creative, or a bit embarrassing, each of these videos offers a chance to relate to each other and connect in a genuine way.
Not Viral Ready? Use These Tips For Learning Videos
Even if you'd rather not become the next viral YouTube star, video should still be a core component of your e-learning strategy— particularly asynchronous video. Just ask Judith Dutill, MA and Melissa Wehler, PhD. 
"Lean on asynchronous teaching approaches such as sharing recorded screencasts or providing talking head-style microlecture videos, so students can focus on their studies during the time of day that is convenient for them," they said. 
Though live video got all the attention at the start of the pandemic, many teachers are now switching to pre-recorded videos. You can add helpful edits in the video editor like captions for accessibility, stock music, photos, text callouts, and highlights to add depth and excitement to your videos. 
Recording your videos ahead of time with a screen recorder can help you prevent mishaps too. Since your video won't be viewed live, you can take your time and reshoot or fix errors. Follow these tips to make your recording experience smooth and stress-free.
To avoid mishaps, use pre-recorded video.

Try to record in a quiet room free of distractions.

Have minimal clutter behind you, or use a

green screen

background.

Use a lapel microphone so students can hear you more easily.

Position your webcam so your shoulders and up are visible in the frame. This will keep things like your pajama pants or other background clutter out of the frame.
Didn't Go As Planned? Just Keep Moving 
No matter how much you prepare, things can't go to plan 100 percent of the time and that's okay. If something silly happens on camera, just acknowledge it and laugh it off.
Your students will appreciate your willingness to roll with the punches, and you may even be internet famous for a day or two.