Create videos with perfectly time audio narration! Working with our Stories tool is a great way to organize your video.  You can record your audio narration and record your video with this easy tool.
First, you'll need to write a script or an outline of your video.  It will help you organize your video into sections which is perfect for the Stories tool.  The tool enables you to add your script in sections.  It's great way to deliver the key points in a lesson, product demo, tutorial, how-to video, or an educational YouTube video.
Stories Tool in ScreenPal
You can create a new video from the Manage Recordings view in the video editor.  Clicking the 'Stories' button launches you directly into the Stories tool. You can start to create each section of your script and then add narration.
Type, Paste or Import your Script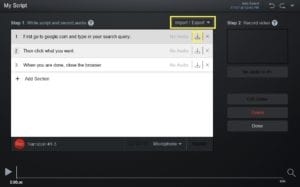 There are three ways to add your script in the Stories tool.  You can type your text in each section.
If you typed the script in a document on Microsoft Word or Google Docs, you can copy and paste it into these sections.  The tool will automatically separate your script into sections.
You can also import your script via a text file if you want to use another word processing application offline to create your script and structure your video.
This is helpful when the script is created from other work you are doing such as written lesson, website blog tutorial, etc.
Adding Audio Narration
Once you decide on approach, you can add narration to each section of your script.   Just select a section of your script and click the 'Rec' Narration button to record your voice.   You can easily redo the narration if you don't get it right and can also use the editor when the recording is complete to refine narration.
Record your Video
Ok, now you have your script and narration complete.  It's time to record your video.   Again, you just select a section and this time click the Record Video Button to the right of your script to bring up the Screen Recorder. Once your Screen Recorder is launched, you can click the Record Button and your narration and script will automatically play while your recording.  This allows you to perfectly match your recording to your narration.
Edit your Video
Now that you have completed your scripted video, you may still want to enhance or polish the video before sharing. No problem, you can bring up the familiar video editor, which has visual pointers to your script sections. You can edit each section or add/delete sections.  You can also manage silences in each section by speeding up, absorbing or cutting out silence.
Adding Captions
Your video is now done.  We've automatically created a captions file directly from your script which will show in videos hosted at ScreenPal.com.  If you use another service such as YouTube, you can export a captions file and upload to that service for your captions to display during playback.
That's it, you are now an expert.  Go create your perfectly timed scripted recording and share your captioned video with your audience!
To help you work with Stories, we have an entire video tutorial channel dedicated to this subject.  Access the channel here.