Between busy schedules and tight budgets, it can be hard for small businesses or entrepreneurs to attract a steady stream of new customers. But the good news is, great video marketing doesn't have to be costly and time-consuming. In fact, you can quickly learn how to create several types of effective marketing videos with these 5 YouTube video ideas, in combination with ScreenPal's content creation platform.
Give Customers What They Want… Video.
Why should you make video marketing a part of your strategy? Because it's what consumers want. According to HubSpot, 84% of customers say they were convinced to purchase a product or service after watching a company's video.  
You'll find many of these videos on YouTube. It's the second largest search engine on the internet and a great avenue for marketing efforts.  Your brand, if told the right way, can have a huge impact when shared on YouTube.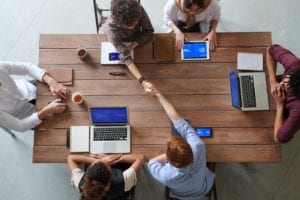 Here are five ways small businesses and entrepreneurs can benefit from YouTube video marketing: 
Build a more personal connection with your audience. 

Showcase your product or service the way you'd like it to be seen.

Provide value to potential customers.

Allow viewers to share your brand with their friends.

Easy and affordable marketing with huge potential reach.
So, what kinds of videos should you make for your brand? Here are 5 YouTube video ideas to inspire you and help you get started making YouTube videos for your business. 
YouTube Videos Ideas For Marketing
1. How-to videos
With a how-to video or a tutorial, you provide viewers with the basic knowledge that they need to best use your product or service.
2. Product demos
This is your chance to show off your product up close. You've seen product demos in the form of unboxing videos, product reviews, or even a tour of your website or software.
With ScreenPal's screen recorder, you can easily record your screen to showcase software, your website, or any digital products and services. You can also use your webcam to record yourself and/or the product. And you can record your screen and webcam together, or layer them after for a picture-in-picture effect in the video editor.

3. Case study or testimonial
A testimonial video featuring a happy client can go a long way in winning over new customers. Ask if one of your star clients would be willing to appear in a short video, or use the screen recorder to show the work you've done for them (and how it benefited your client!)
4. Brand video
When potential customers browse your website, a quick video explaining who you are, what you do, and how you can benefit them can tip the scales in your favor. With ScreenPal's video editor, you can customize the video with your brand colors, logo, and music for added impact. 
5. Vlog
Not every video has to be carefully scripted and edited. A vlog is a perfect way to connect with your audience on a more personal level. If it fits your brand vibe, you can keep things casual and speak off the cuff. Use a vlog to make quick announcements, answer common customer questions, or even start your own video podcast!
Instantly Share Your Videos
We hope you find these YouTube video ideas inspiring. When your video is complete, uploading it to YouTube is easy. Here's how:
Connect ScreenPal to your YouTube account. You have the option to upload directly to a channel.

Add the necessary details for your YouTube videos, such as title, description, tags, and category.

Establish your privacy settings.

Add captions if desired. 

And publish to YouTube directly from ScreenPal! No need to upload MP4 files. 
These five YouTube video ideas will get you started, but be creative to grow your YouTube channel and your business! There's no limit to the unique branding videos you can make.