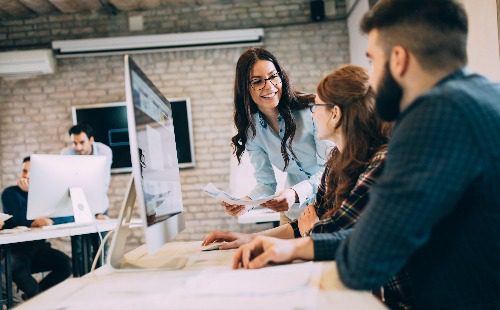 Due to class-size and staffing restraints, many schools adopted hybrid learning this year. If you're a teacher trying to figure out how to make the school day work with some students at home and some on campus, ScreenPal is here to help.
With asynchronous video, a few easy video editing tricks, and clever time management, you can make hybrid learning work for all of your students.
While it may feel disorienting to go from remote to hybrid learning, there are upsides to the change. You'll get face time with some of your students, and you can enjoy being back in your classroom instead of teaching from your couch. That said, even if hybrid learning isn't your preference, there are ways to make it a positive experience for everyone. 
Video Is Here to Stay 
Hybrid learning is not just a quick stop along the way back to normalcy. While students will eventually return to campus, video is now an irreplaceable part of education. It's wise to keep some form of video in your teaching strategy even after everyone returns to campus. 
Sophomore Aryan Manglm is a sophomore at Homestead High in Cupertino, CA.  He believes educators should continue teaching with video.  He says, "Video should be implemented into learning even after the pandemic is over because it will change the current culture of school into something more interactive than individualistic."
"For example, regular written homework assignments can be with video so classmates can see them too, which helps us understand other perspectives."
To keep students engaged during this time, we've provided tips to make hybrid learning easy for all.
5 Easy Video Tips For Hybrid Learning
Tip #1: Offer recorded video instructions for assignments.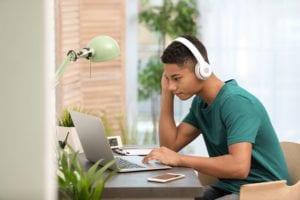 Elizabeth Pitel, a Chestnut Ridge Middle School teacher in Sewell, New Jersey, says videos helped her students pick up new concepts more quickly.
"I had some kids who really struggled with reading," she said, "but when you work with them and talk with them, you know they understand what's going on and can follow through. They're just not able to follow written directions."
When Pitel started sharing video directions in addition to written ones, she saw students participating more meaningfully in class, improving their reading skills, and need to ask fewer questions. 
She records her quick videos with a screen recorder, where she can also add closed captions for accessibility and students who retain written information more easily. You can type captions manually or use speech-to-text for auto-generated captions.
Tip #2: Try flipped learning.
If you've ever considered flipped learning, now is the time to try it. By recording your lectures as video lessons for students to watch in the evenings, you can spend class time digging deeper and helping students through projects. With flipped learning, it's easier to help students when they need you most.
Georgia art teacher Sabrina Barilone says flipped learning gives her valuable extra time. "It allows me to multitask and manage behavior," she says. "It allows me to be two people at once." 
Flipped learning videos don't need to be perfect. Use a screen recorder to record your lecture by setting it to record your webcam. If you'd like to show information from your computer screen, set it to record both your screen and webcam. You can then add closed captions, save, and share with your students. 
For extra credit, use the video editor to add easy edits like shapes, arrows, annotations, stock music, and images to your video to help keep students focused.
Tip #3: Organize videos into channels so students can find them easily.
Whether you're using flipped learning or you're just trying to keep track of your videos, make them easy to find for students.
With Premier Hosting, you can create easy-to-navigate channels for each video topic. Then simply share the link so students can always find your latest video lessons without hassle.
If you need to keep your videos private within your class, you can add a password for protection.
Tip #4: Offer asynchronous video for self-study.
Not only do pre-recorded videos keep you from answering repeat questions, but they also help students study better.
"One thing I've learned about myself during the pandemic is that I do better when teachers provide recorded lectures that I can refer back to when self-studying," said Homestead High School student Samhitha Varanasi.
Students can spend as much time as they need repeating the lecture until they're ready to progress. 
Tip #5: Build a culture of connection.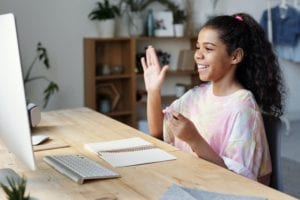 With hybrid learning, it'll be easy for students to feel isolated from half of their classmates.
Use asynchronous video to combat this and get them connected with their peers.
"Video has kept me connected during the pandemic by making it seem that the person is present, right next to me," said Homestead High School student Preethi Rayaprolu. "Seeing and hearing someone makes it tremendously easier to understand them."
You can build this sense of togetherness with asynchronous video. Try having each student create a quick video as homework, then share it with the class. Then each student can record video feedback for a peer they don't often see in-person.
Finding ways to get students face-to-face with their remote peers will go a long way in fostering connection.
Hybrid Learning For Everyone
Though hybrid learning likely isn't your first choice, it's the reality for many schools for the time being. We hope these asynchronous video tips help make it a more equitable and positive experience for you and your students.