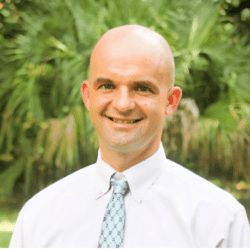 Terry Yonker may have discovered the future of business efficiency and communication.  
"I don't know why everyone doesn't communicate this way," he says about his use of ScreenPal.
Yonker is with Buckeye Realty based in Orlando, FL. The reach of Buckeye Realty extends farther, well into several states where they teach real state as continuing education with credits and licenses.
Videos to Teach Real Estate Courses
"When we teach, we use an introductory video off the top that we produced on ScreenPal, and then since we use the software in so many steps of our process, we give them the information for them to use it themselves," says Yonker.
Yonker is thankful for ScreenPal's video and hosting services because "even teaching takes away from my practice, so it's important to maximize my efficiency." He has used ScreenPal for the past 8 years and his brokerage utilizes it to its fullest extent, creating well over a thousand videos and placing them in his hosting account.  
Video Communication For Overseas Workers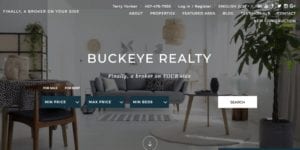 Real estate, like many businesses, is often mired in repetitive tasks and paperwork. It keeps people like Yonker from doing what makes him money:  generating leads and selling real estate.
As a result, Buckeye Realty has hired four virtual assistants who work overseas.  They handle repetitive processes so Buckeye Real Estate doesn't have to.  Through video, Yonker is able to show step-by-step instructions on how to get tasks done.  The work is done their way without question.  
"This allows me to do what I am supposed to do and feel safe that the repetitive stuff will get produced with the standard of quality we expect," he continues, "though our virtual assistants are in the Philippines, no matter where they may be in the world, we can show them that this is our standard."
Buckeye Realty has processed over 350 transactions in the last seven years and Yonker points out that "every time we go through the process, we tweak it, and updating the videos to reflect these changes is quick and easy."
The virtual assistant market is taking off so much that Yonker's first virtual assistant started his own company with over 25 staff in the Philippines.
Video Is Better Than An Email
Yonker points out that there is another major advantage, especially if you have international colleagues or clients. "It eliminates phone tag and it actually makes our messaging clearer because we can make a video and say 'here is the market,' then reference a graphic and discuss aspects of the contract while giving them a visual reference."  He can provide a show-and-tell and it's something an email or voicemail could never do.
Think back to all the countless business emails you've sent that either got misinterpreted or simply couldn't express the most important information solely through the use of text. Think of how many rambling voicemails you've left that either get deleted or you later find out didn't have the information needed. Businesses like Buckeye Real Estate turn to video to craft a visual message, but it also makes them stand out amongst the crowd. 
Terry has found that not only does the ScreenPal processes make him more efficient at his job, but also makes training a lot easier and adaptable. The impact of ScreenPal has been far reaching and long term for his business. From using screenshots to creating a manual that can be updated at any time.
"We believe in the tools and it's something we've been using for years," he says. "When I share your capabilities with others it's like a revolution for them. It seems so simple," says Yonker.
Share Your Story
ScreenPal would like to thank Terry Yonker and his team at Buckeye Real Estate for sharing their story.  If you have a story, please send an email to marketing@screencast-o-matic.com. 
Quick Links
How video enhanced this company's way of communicating
5 Ways ScreenPal has helped this online marketing business