Create engaging, high-quality videos with our free video editor for Windows, Mac, iPhone, iPad, Android & Chromebook. Easily edit videos anywhere at any time, with no video editing experience needed & no watermark added.






Highly rated by our community
Overall rating: 4.6 out of 5 based on 4,516 reviews.
Quickly create stunning videos for free
Easy for anyone to use
Tell your story with no previous video experience required. ScreenPal's powerful, free video editing features are quick to learn and easy to set up, so you can start making videos right away. Save time and streamline production with our intuitive free video editor software.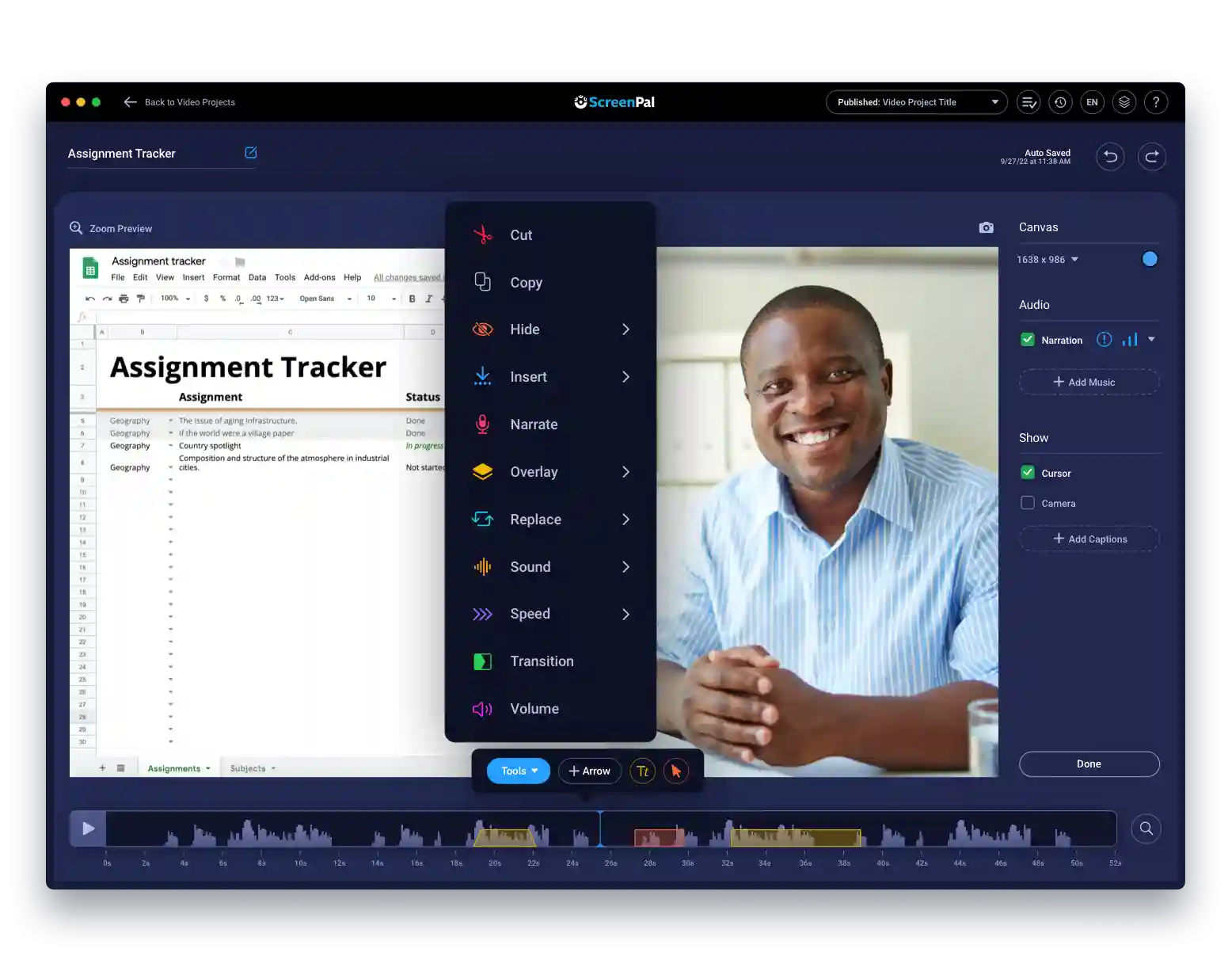 Build eye-catching videos
Choose from the best free video editor features available, including cut, copy, overlays, adjust speed & volume, resize, crop, narration, music, captions, animations, transitions, green screen filter, virtual backgrounds & more for all your video needs.
Everything you need to start editing videos for free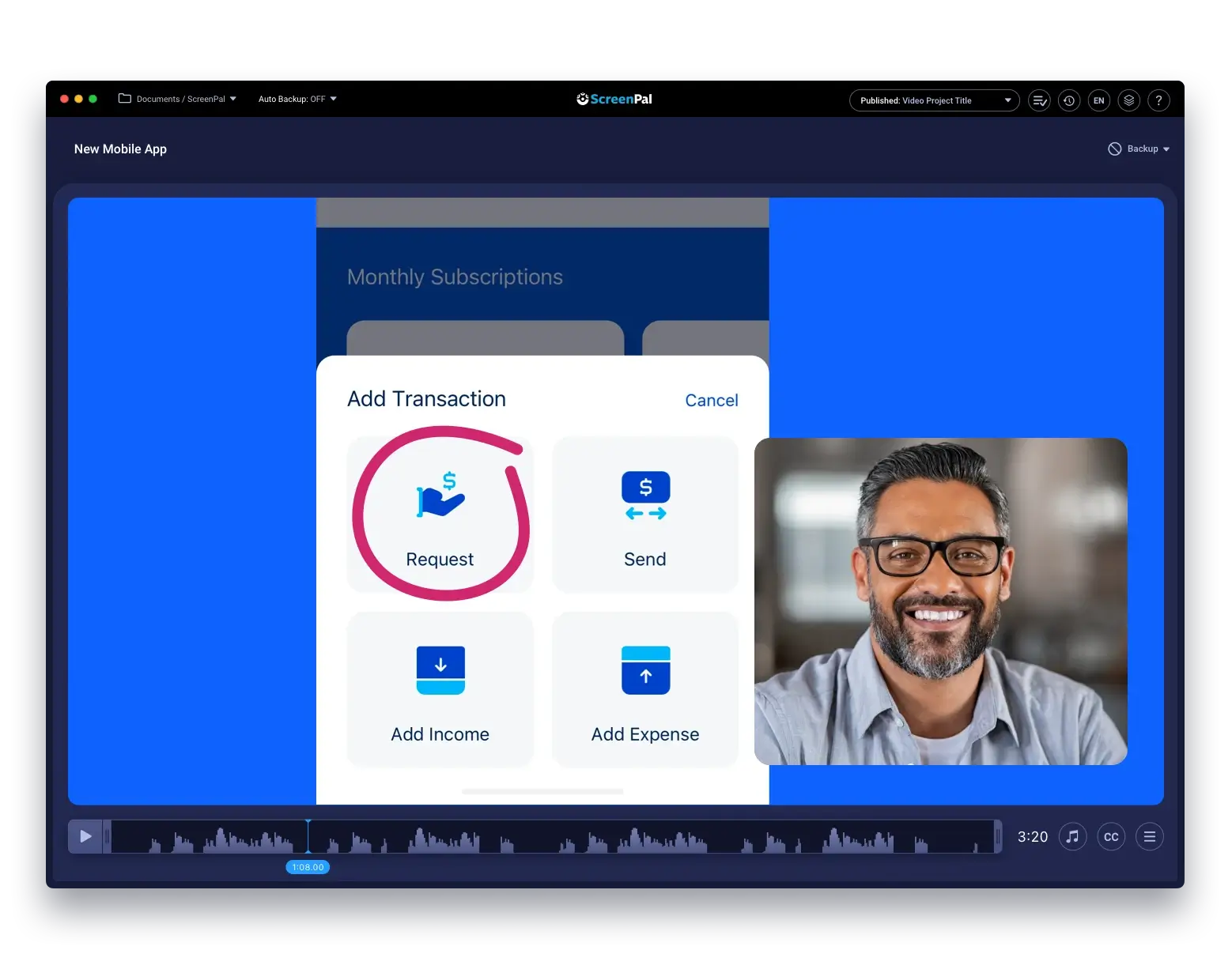 Build timeline
Add video footage from anywhere to build your video timeline. Cut, trim, crop, copy, paste, resize, adjust the speed & more.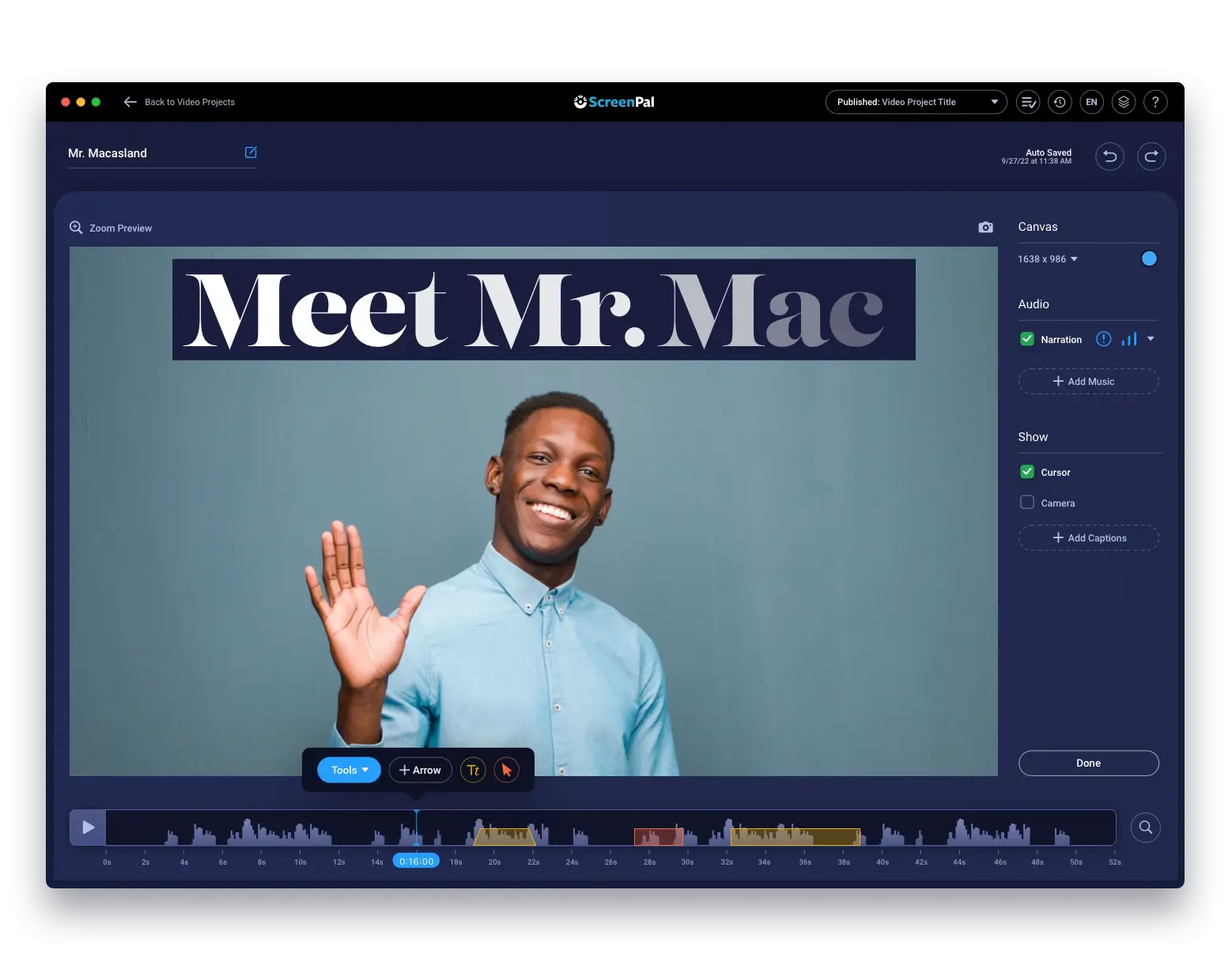 Add visual effects 
Enhance your video with visual effects, such as overlays (image, text, shapes), animations, transitions, zoom in & out, captions, and more.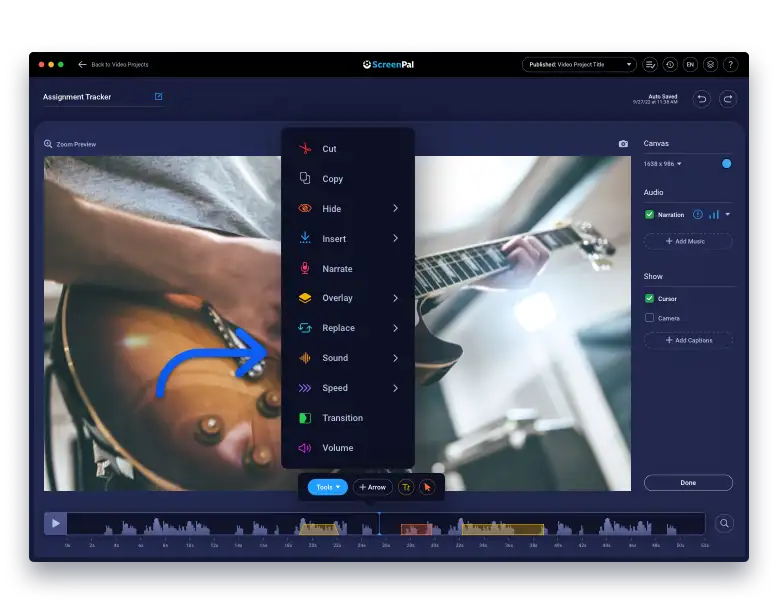 Edit audio
Adjust the volume, edit multiple audio tracks, and add voiceover narration. Add free sound effects and music from our stock library.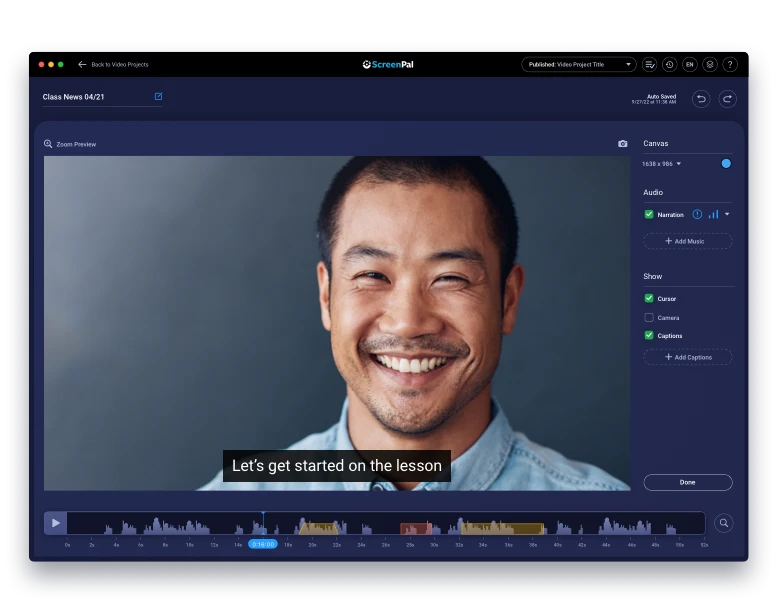 Create in 4K/HD
Create videos in 4k, full HD, or standard HD. Save to your computer (as a MP4, AVI, GIF file) or publish online.
Open
 Launch the video editor & open the video file you want to edit. 
Edit
Edit your video with overlays, transitions, 
animations, and more!
Save or share
Save to your desktop or mobile, upload
to ScreenPal or YouTube, or share anywhere.
Manage all your videos in one location
Conveniently save to your device with no limits, or
upload online
and share anywhere. Upload a video to YouTube or Google Drive, or to our free, safe and secure video hosting platform for online features including cloud hosting, custom video links, search, sort, filter, and folders to organize all your videos and images. 
Enhance your content with the best free video editor tools
Our free video editor has all the features you need to easily build engaging videos. Free video editing features include:
Quickly copy sections of your video and paste them anywhere in your timeline.
Remove content using the cut feature, and trim content at the beginning or end of the video. 
Add and edit multiple tracks of audio, including free stock music & sound effects.
Easily crop & resize video to the ideal shape, size, or orientation for any platform in seconds.
Add images, shapes, arrows, highlight, text, and more!  Customize the colors, fonts, and shadows.
Record your voice and add your personality to videos with voiceover narration.
Zoom in for emphasis or a closer look at specific video content, and zoom out again.
Add, preview & adjust transitions between different video sections for a smooth, professional look.
Easily blur, remove, or replace your webcam background with a virtual background.
Use edit points to animate an overlay in your video and have it change over time.
Replace your background with images, videos, and effects with the green screen chroma key tool.
Easily speed up or slow down certain sections of your video with the speed tool.
Free video background remover
Personalize your video with the free and easy
background removal
tool. Remove your webcam background to make it transparent. Blur your background for privacy or to hide clutter. Replace it with a new virtual background to enhance your content, build your brand, or just have fun!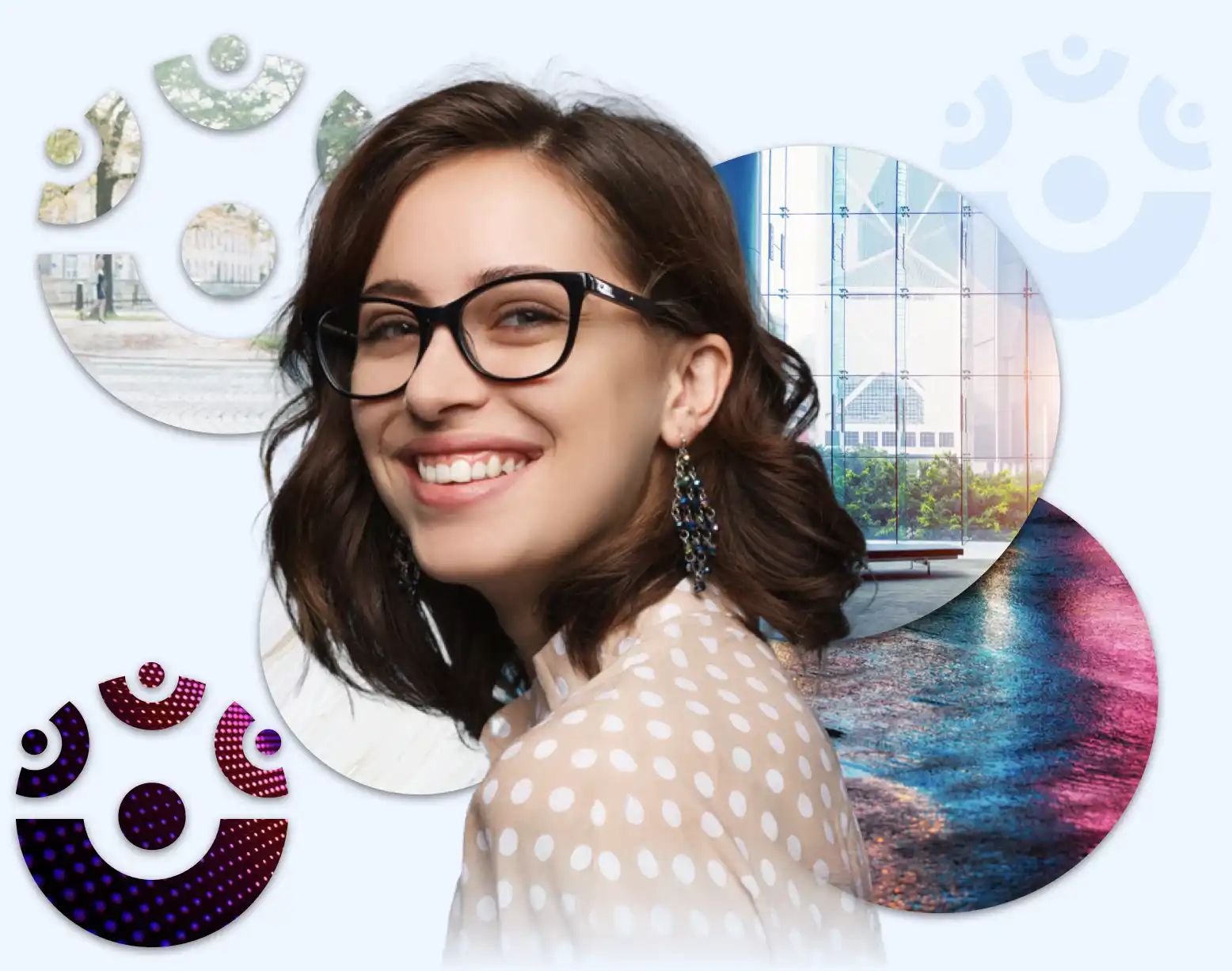 Get creative with free animations & 
overlays
Enhance your video with free animations, transitions & overlays – text, shapes, images, highlight, and more! Improve engagement and emphasize your message for tutorials, presentations, demo videos, and all your other video projects.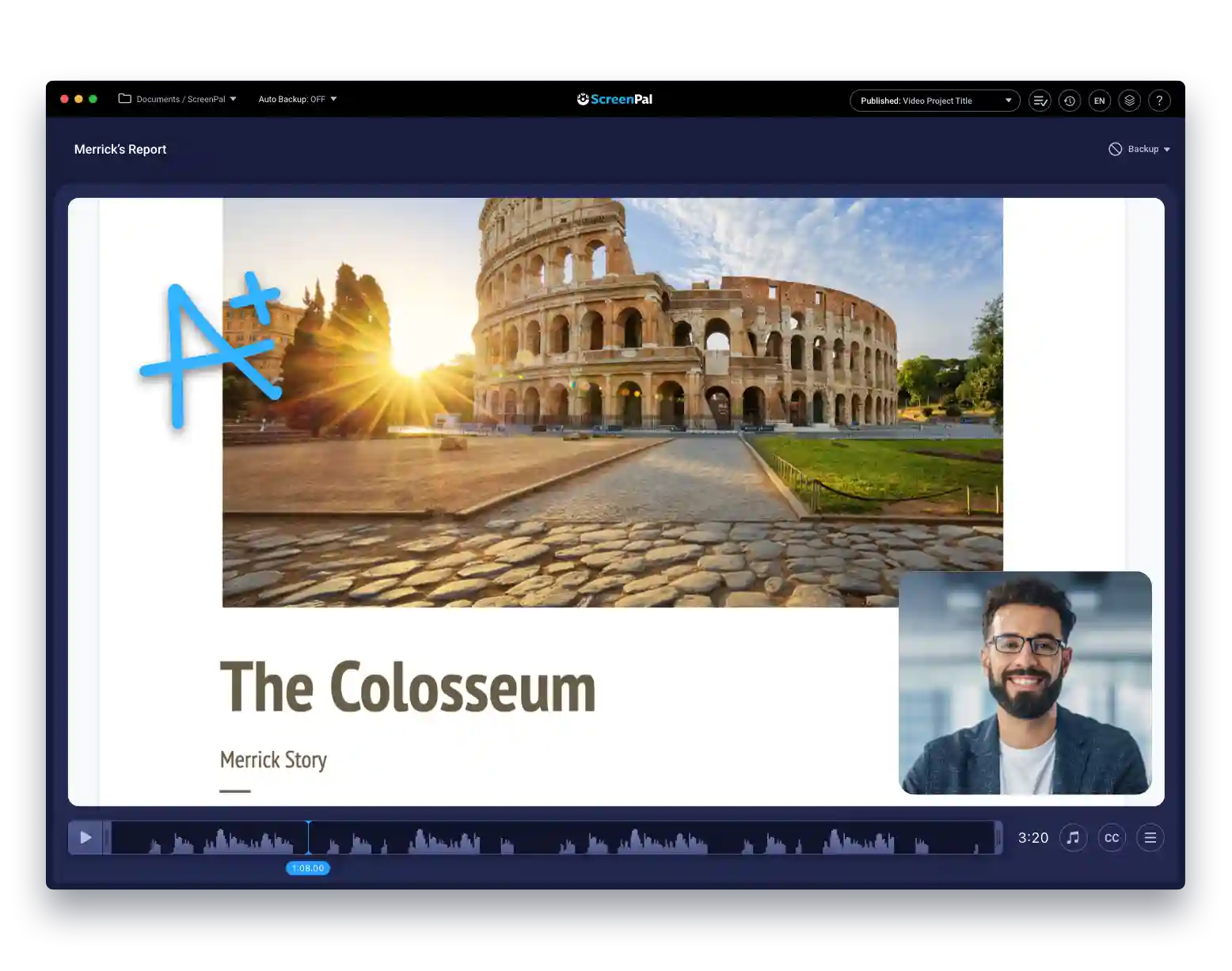 See what customers say about our video editor:
Perfect for all your video needs:
Increase engagement & sales with easy and efficient video creation. Develop product videos, demos, employee training videos, tutorials, promo videos & any other video project.
Make videos for K12 & higher education to improve engagement & retention. Easy video editing for students, teachers & administrators. Trusted by school districts & universities across the world.
Get creative and show your passion with our free video editor. Works as a meme generator, YouTube video editor, GIF maker, TikTok video editor, slideshow maker, GoPro video editor, and more.
Edit on the go with ScreenPal's free video editor app
Record, edit, and share videos on mobile
Create unlimited videos on the go using our free screen recorder and video editing app, built for mobile devices. After recording, add a Facecam, crop, trim, add overlays, adjust the speed, and more! Save and share your videos to ScreenPal or anywhere.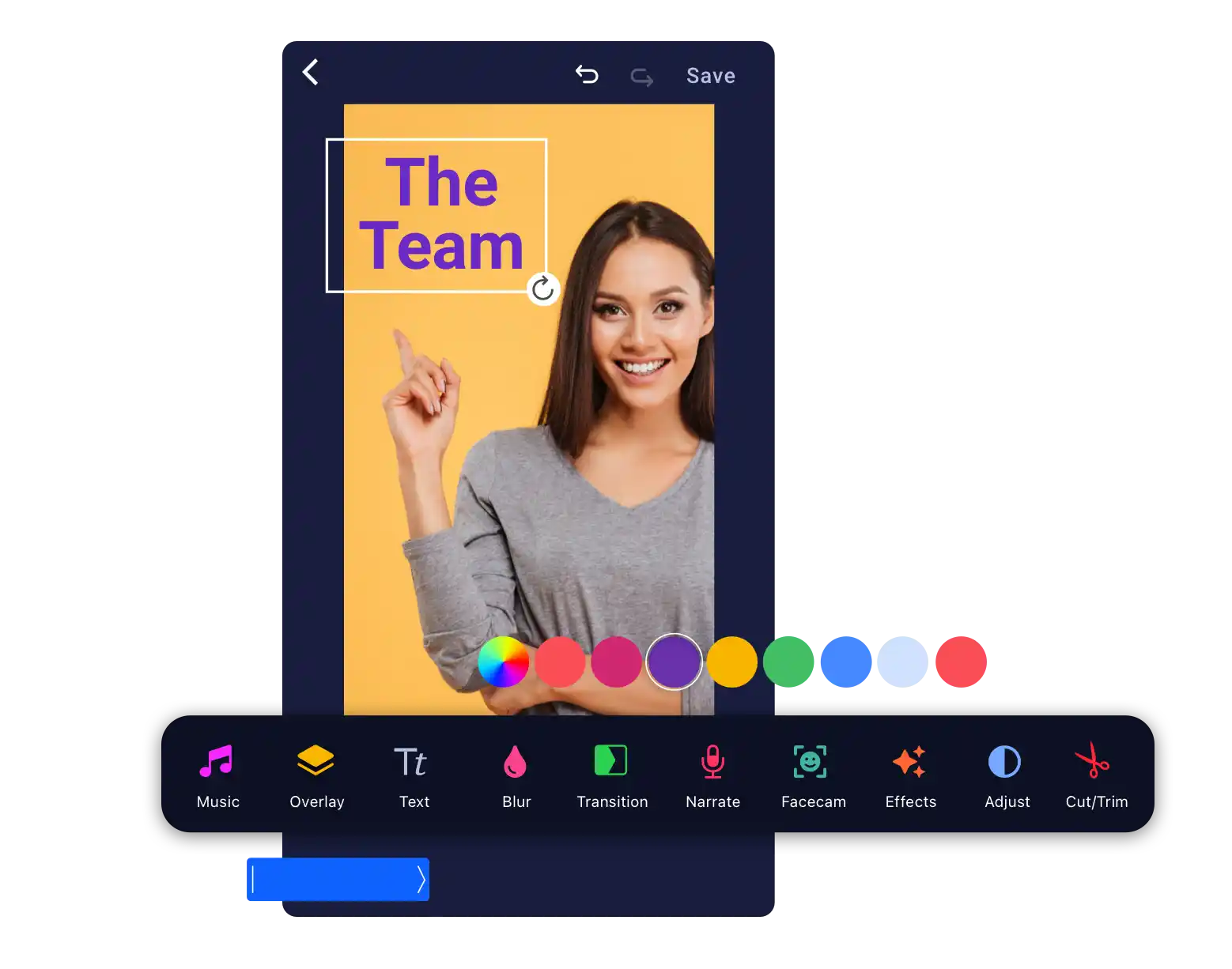 Upgrade for our full video creation suite
Enhance creativity & streamline your workflow with a paid plan. Get all our free video editor features, as well as more advanced features, including:
Overlay a video file on an existing time to create picture-in-picture visuals and enhance your video.
Easily plan, organize, and bring your ideas to life using Stories, our flexible video storyboard tool.
Automatically sync & transfer ScreenPal mobile app recordings to your desktop for additional editing. 
Blur to easily hide any part of your video and control the opacity.
Record any area of your screen, webcam or both, along with your computer and microphone audio. 
Easily plan & create videos with a script. Import script text or write your script in our Stories tool.
Adjust, resize, move, and crop the webcam window on your video.
Add sections, drag and drop to rearrange them, and easily add or record content in our Stories tool.
Quickly auto generate captions with Speech-to-Text artificial intelligence (AI) technology.
Explore an expanded selection of high-quality, royalty-free stock music, images & video.
Hide the cursor or webcam in any part of a video to focus on specific content & convey your message.
Automatically detect and remove periods of silence in your audio.
Easy drag & drop video builder
Save time, collaborate, and streamline video creation with
Stories
, our easy drag & drop video builder available for all paid plans. Start with a storyboard or script, then toggle between views as you build your story. Add content, record, edit, or drag & drop sections to build your video.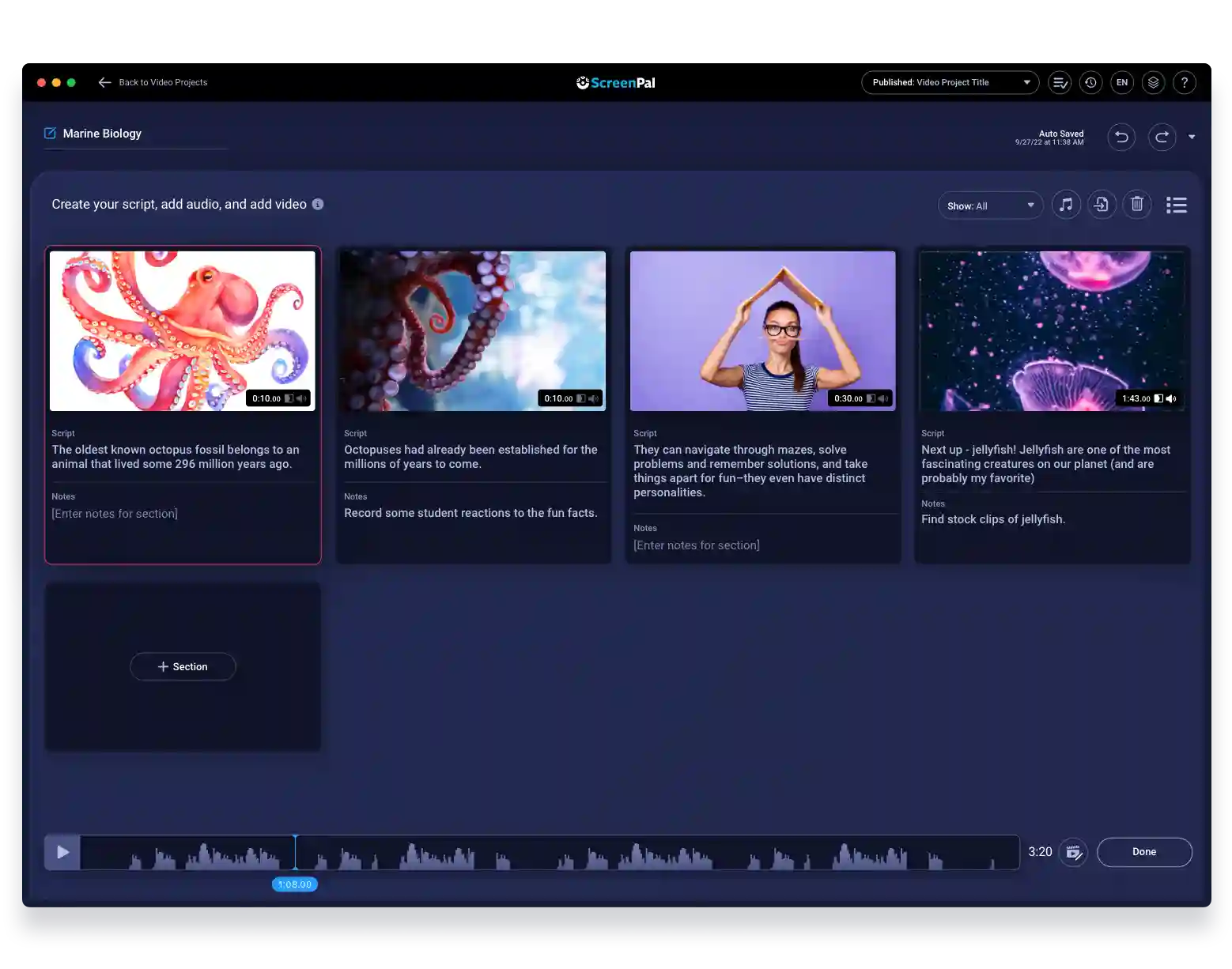 Add stock video, images, & music
Get unlimited use of high-quality, licensed, royalty-free
stock content
with our video editor. Stock music & sound effects are available to all for free. Use millions of stock images & videos, an expanded stock music selection, and premium Shutterstock content with
paid plans
.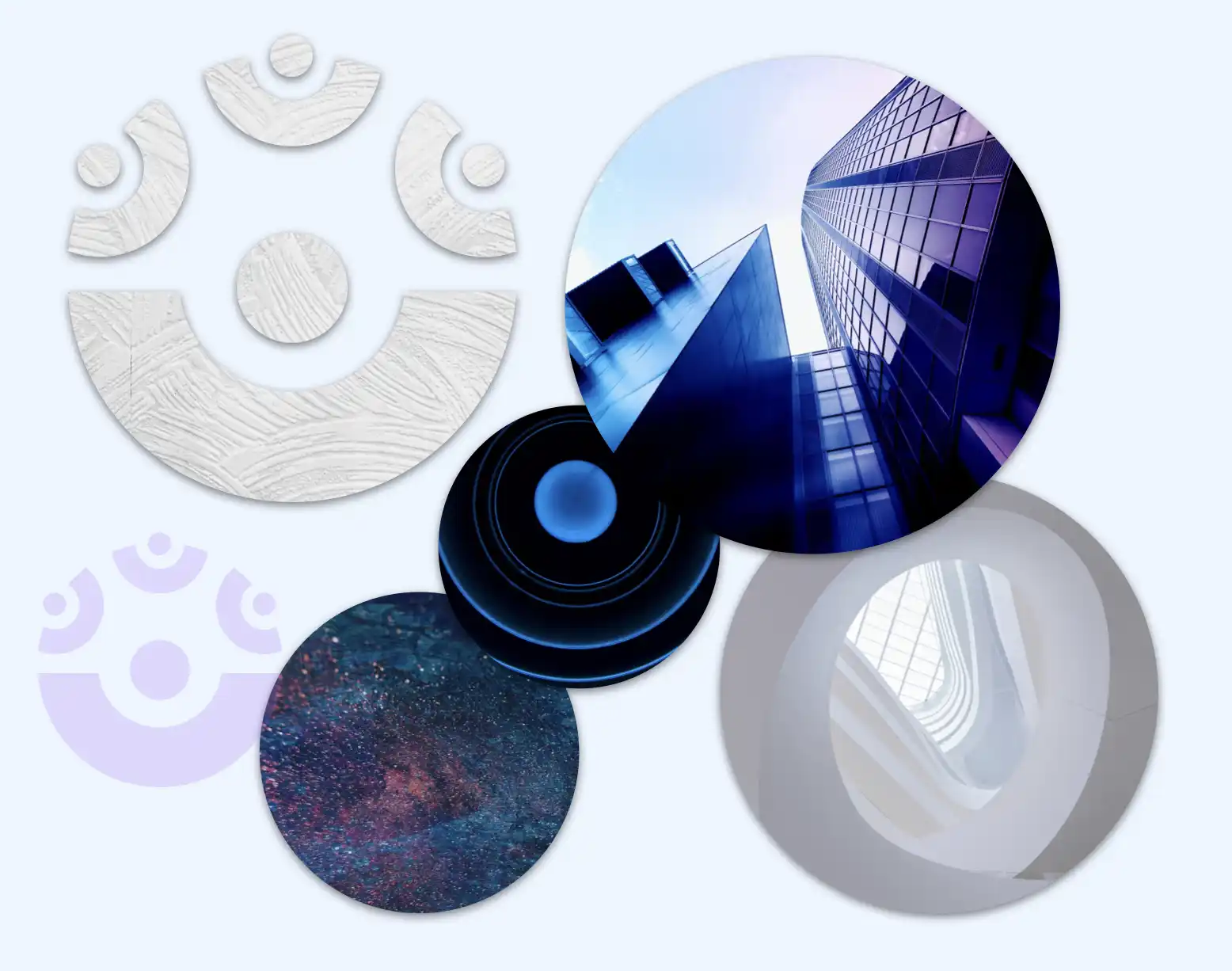 Video editor tips & tricks