Create engaging, high-quality videos with our free and easy video editor for Windows, Mac, iPhone, iPad, Android & Chromebook.
Use effects such as animations, transitions, music, sound effects, zoom, copy, paste, crop, captions, overlays, virtual backgrounds, and more!












Highly rated by our community
Overall rating: 4.6 out of 5 based on 4,516 reviews.
Quickly create stunning videos for free
Easy for anyone to use
Tell your story with no previous video experience required. Our powerful, free video editor features are quick to learn and easy to set up, so you can start making videos right away.
Cut, copy, adjust speed and volume, resize or crop, narrate audio, add music or a captions file, and more for all your video needs.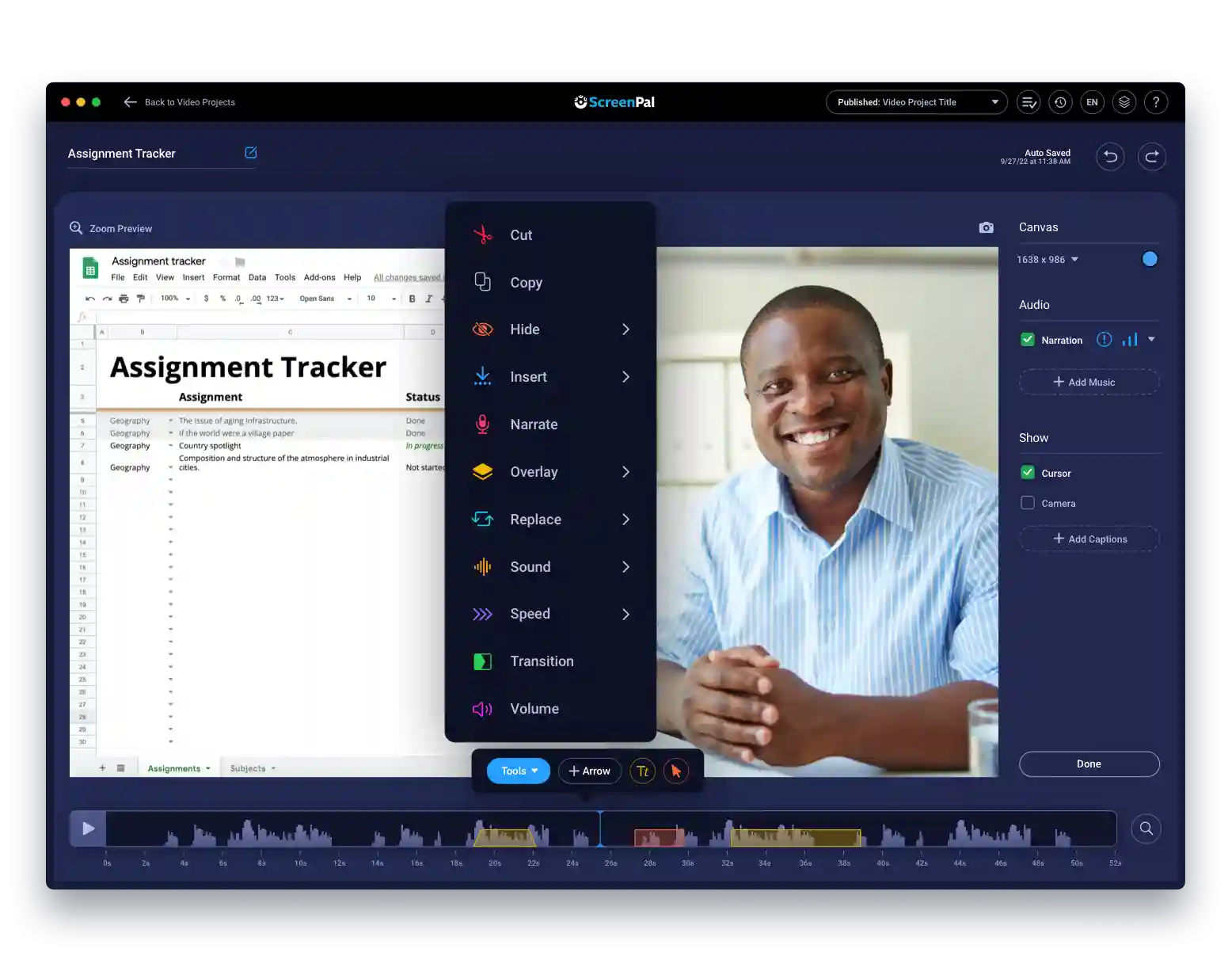 Manage all your videos in one place
Save to your computer, publish, and share online. Search, sort, filter, and organize all your videos and images in our project manager.
Connect with integration partners, like Zoom and MS Teams, to edit meeting recordings.

Everything you need to start editing videos for free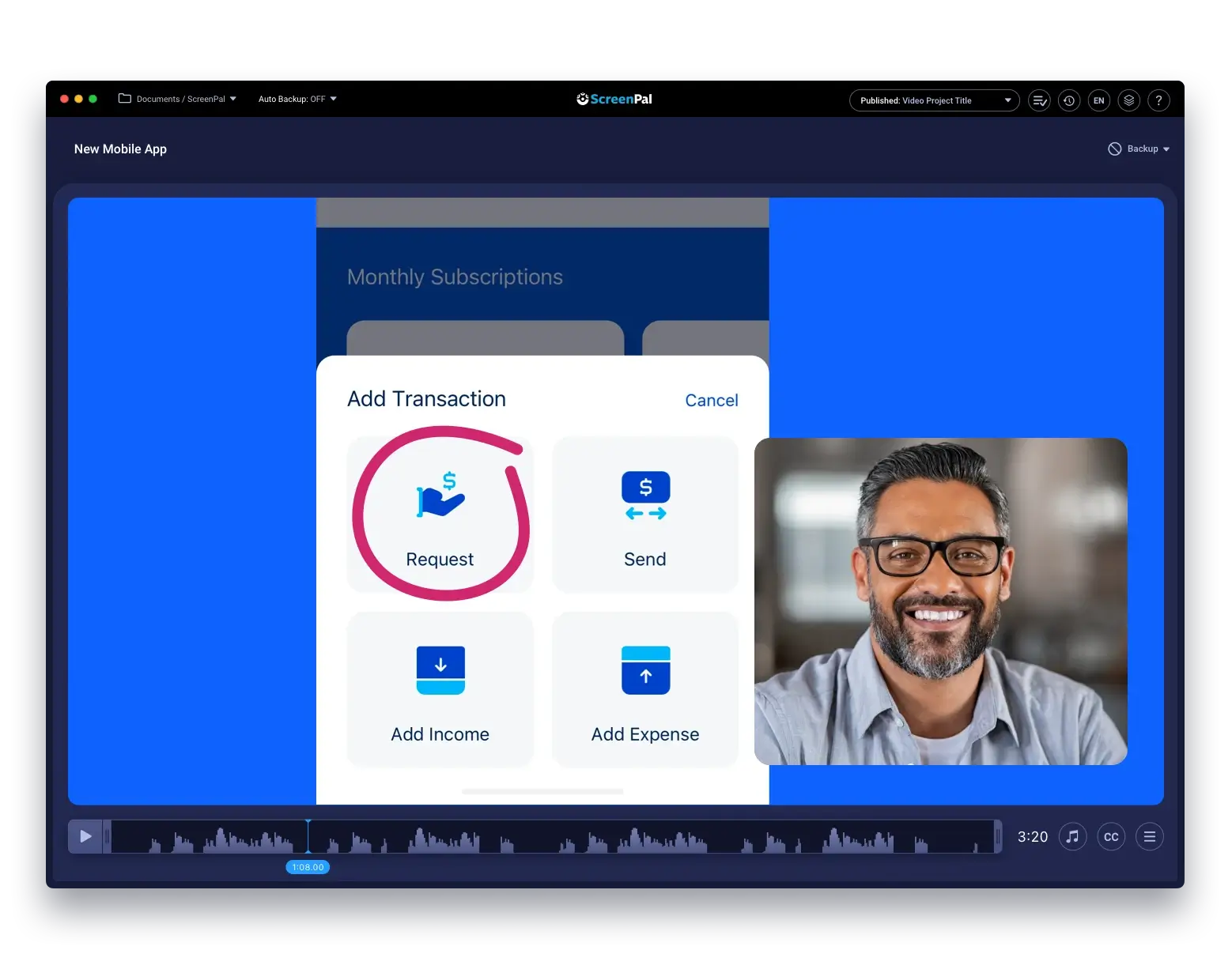 Build video timeline
Add video footage to build your video timeline. Cut, trim, crop, copy, paste, resize, and adjust the speed as desired.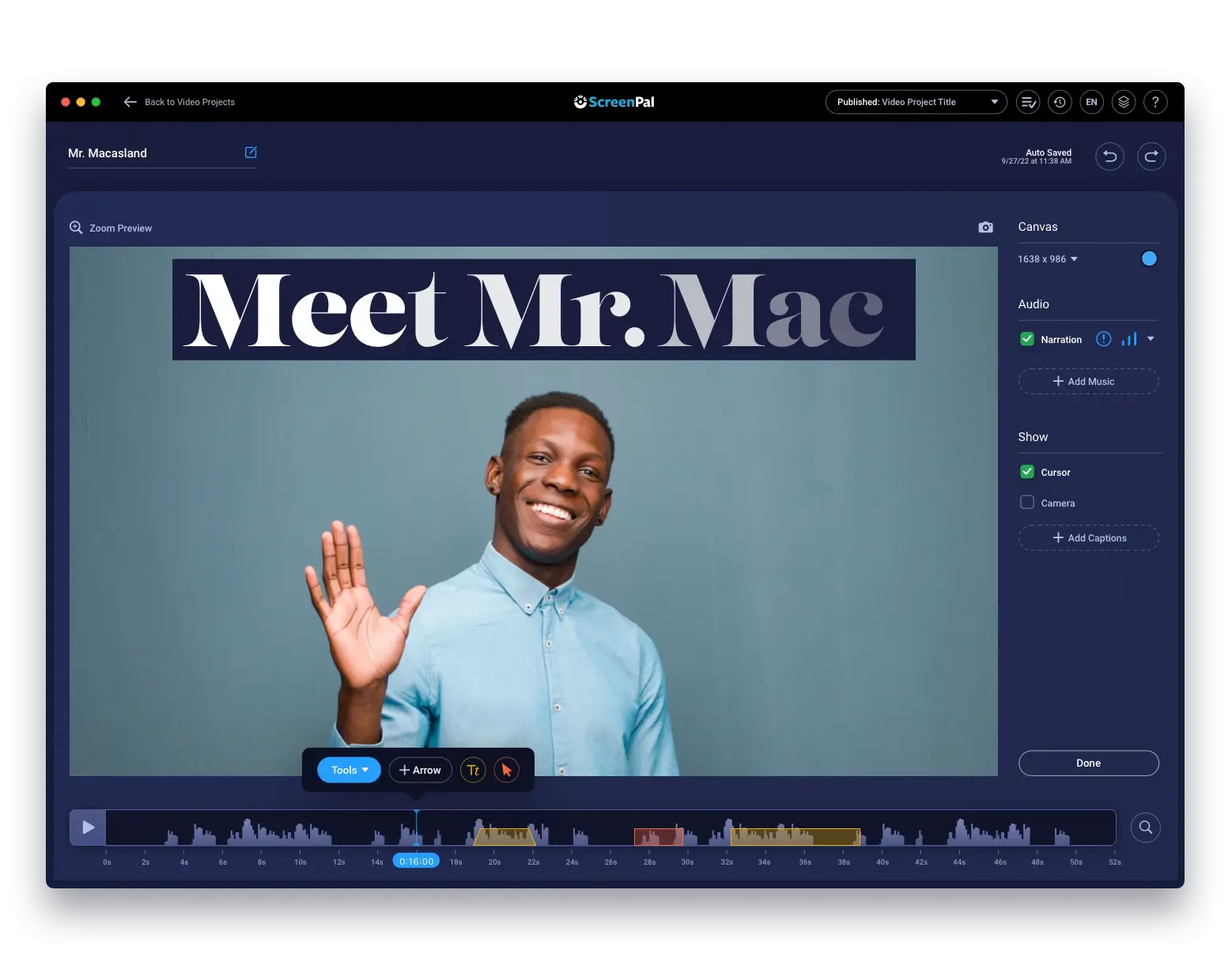 Add visual effects
Enhance your video with visual effects, such as overlays (image, text, shapes), animations, transitions, zoom, and more.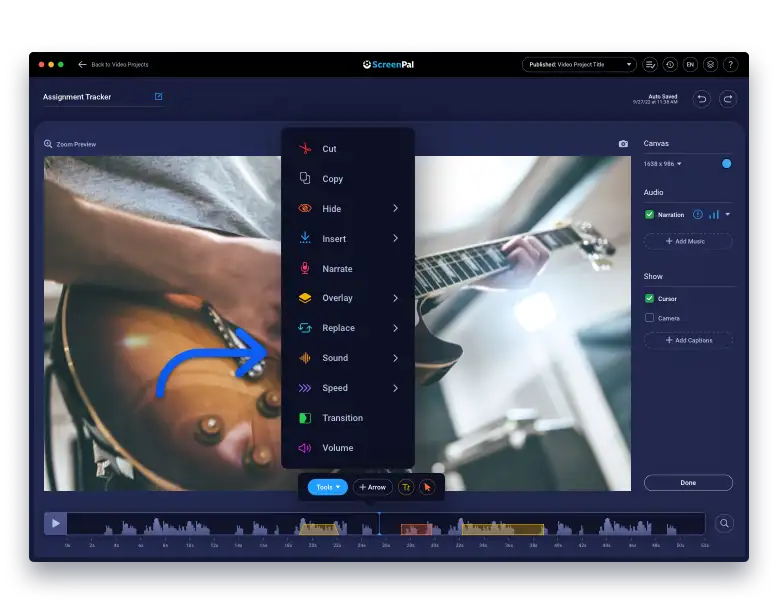 Edit audio
Adjust the volume, edit multiple audio tracks, and add voiceover narration. Add free sound effects and music from our stock library.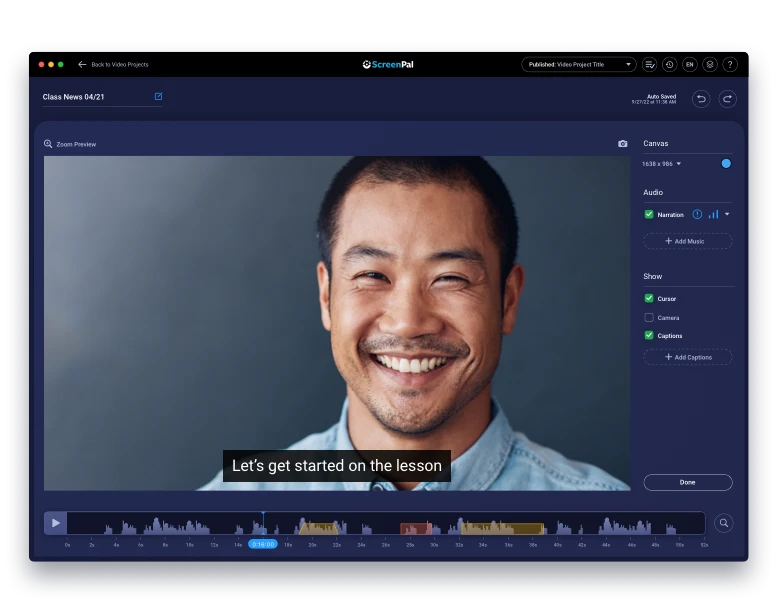 Create HD videos
Create videos in 4k, full HD, or standard HD. Save your computer files to your computer (as a MP4, AVI, GIF file) or publish online.

Upload
Launch the video editor & upload
your file.

Edit
Edit with video overlays, transitions,
animations, & more!

Save or share
Save to your computer or upload
to YouTube or ScreenPal.
Transform your content with free video editor tools
Our free video editor is simple to use and provides all you need to easily create high-quality, engaging videos. Free features include:
Remove your video background for free
Personalize your video with the free and easy background removal tool.
Remove your webcam background to make it transparent. Blur your background for privacy or to hide clutter. Replace it with a new virtual background to enhance your content, build your brand, or just have fun!

Get creative with free
animations & overlays
Enhance your video with free animations, transitions, and overlays – text, shapes, images, highlight, and more!
Improve engagement and emphasize your message for tutorials, presentations, demo videos, and more.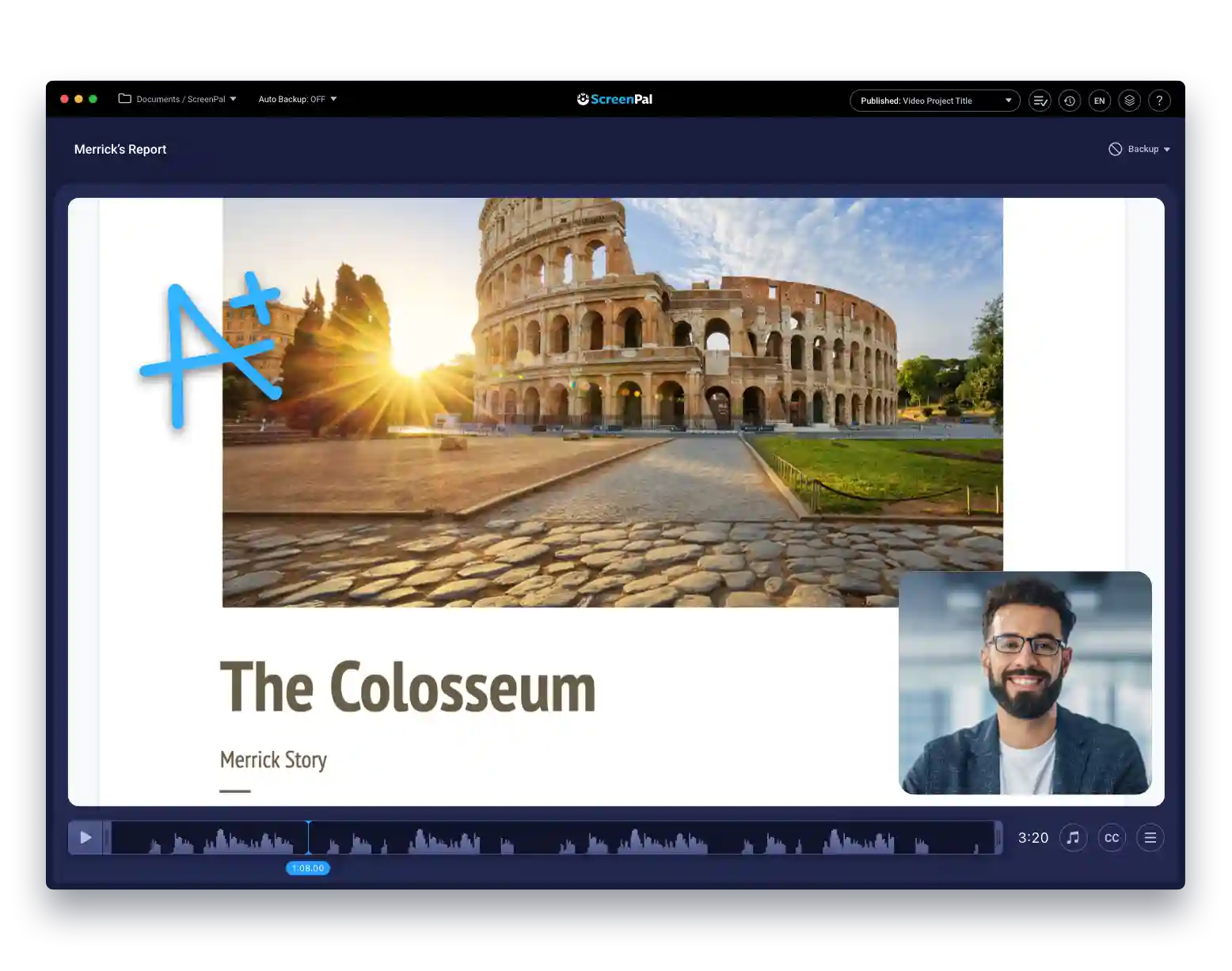 See what customers say about our video editor:
Millions use ScreenPal to create videos:
Increase engagement and sales with easy and efficient video creation. Develop product videos, demos, employee training videos, how-to tutorials, and more.
Make videos for K12 and higher education. Easy video editing for students, teachers, and administrators. Trusted by school districts and universities all over the world.
Get creative and show your passion with our free video editor. Perfect for hobbyists, gamers, social media enthusiasts, and more. Turn memories into movies and share with others.
Upgrade to our full-featured video editor package
Our full video creation suite offers advanced screen recording, seamless video editing, unlimited hosting & robust content management. Additional features include:
Easy drag & drop video builder
Save time and streamline video creation with Stories, our drag & drop video builder.
Start with a storyboard or script, then toggle between views as you build your story. Add sections, and drag & drop to rearrange them.

Add stock video, images, & music
Add high-quality images, videos, and music while editing your video. Choose from thousands of royalty-free content. Included in Premier plans or higher.

Edit on the go with our free video editor app
Record and edit videos on mobile
Create videos on the go with our free screen recorder and video editing app. After recording, add a Facecam, crop, trim, add overlays, adjust the speed, and more! Share your videos to ScreenPal or other apps.

Video editor tips & tricks
Learn more about video editor features