"Every time I tell someone I teach virtually, they ask, 'What do you mean? How do you do that?" said Layla Kayyod, a high school math teacher for K12 schools in Michigan.
It's true⁠— Kayyod teaches for a 100 percent online public school system for kindergarten through 12th-grade students.
How a 100% Online Public School Works
Kayyod encounters a lot of misconceptions about her school. Many people think it's the same as homeschooling, which she says isn't the case. "The kids have schedules, just like a regular school day," she explained. "They go from one session to the next, just like in a regular school."
She works from her home in Detroit, and her students live all over Michigan.
When it's time for class, she logs into her virtual whiteboard, where she can write on the screen for students to see. "I upload PowerPoints, the kids can write, there's a polling tool, there's a chatbox, and kids can jump on a mic or a camera," she said. "It's like being in person, but not in person."
Kayyod's school uses a program called Blackboard Collaborate to organize their lessons. K-12 provides the curriculum, along with some videos, quizzes, and tests. Then there's the virtual "in-person" component of the class, where students log into a video chat with their teacher to dive deeper into course topics.
Kayyod records her lectures and uploads them to her course site, so students can watch them as many times as needed, even if they miss class.
Using Video Instruction In Class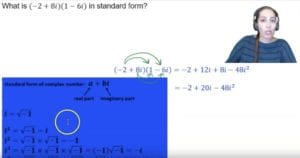 Kayood says it takes a lot of tools to teach virtually. "I tell everyone this is a tech job," she said with a chuckle. "I'm a teacher, but I use a lot of programs like ScreenPal."
ScreenPal is her tool of choice for mentoring students and giving helpful feedback.
"Since I'm virtual, students can't come to ask me a question at my desk like in a traditional school," she said.
Kayyod arranges virtual office hours, one-on-one meetings, and tutoring sessions with her students, but she needed something more.
"Sometimes it's two in the morning when they're doing their homework and thinking, 'I don't know what to do.'"
To solve this problem, Kayyod uses ScreenPal's Screen Recorder to make a helpful screencast. "I'll open up a PowerPoint, and I take their problem and pop it up on the board," she said. "I have a digital pen, and I start going through the math problem as if they're in front of me."
Kayyod makes her videos interactive, pausing to ask questions and help the student think through the problem. She then emails the finished video to the student, so they can watch it on their own time.
"Students really like that as a way to get additional support without being in front of me," she said.
Kayyod uses video to mentor new teachers at her school as well, making tutorials to demonstrate job tasks.
Sharing ScreenPal with fellow educators
When Kayyod finds something that works, she shares it with her fellow educators. At a recent professional development event, she did a 20-minute presentation showing the teachers in attendance how to use ScreenPal.
"I had a bunch of teachers come," she said. "There were so many who had never used ScreenPal, and they didn't realize how simple it is."
Kayyod said the head of her school was fascinated by the presentation, which inspired him to use screencasting to communicate with his entire team.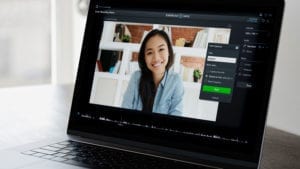 The teachers were pleased to hear they could upload videos directly to ScreenPal instead of downloading them to their computers. Kayyod said it's much easier this way because the uploaded videos can be shared through a simple link.
The ability to create channels to organize videos in ScreenPal was also a hit with the teachers.
"I told them when I have all of my unit one videos, I put the link to them somewhere in my course. So every time I add a video, I drop it into that channel so kids can go in and always see the most current video."
Getting on board with technology
Kayyod says that while virtual learning isn't for everyone, many students see big benefits once they arrive.
She highlighted several types of students who thrive more at her school than in a traditional brick and mortar school⁠— athletes who need flexible schedules to accommodate training and games, kids who have endured bullying, and kids with physical or mental health issues.
"If these types of students don't leave a regular classroom and find something like this, they don't succeed in education," she said. "We have lots of stories of kids failing out of a brick-and-mortar school, then coming here and succeeding because this environment works for them."
Kayyod said her school is making the switch to Flipped Learning, a learning style in which teachers record their lessons for students to watch at home after school, so they can use class time to help students with assignments that would traditionally have been homework. This allows students to get help when it counts.
She said the move toward flipped learning is what drove her to teach educators how to use ScreenPal. "A lot of teachers in high school have to start making recordings whether they want to or not," she said.
Kayyod's advice to teachers who are hesitant to try making videos? "Get in there and just try it," she said. "Make a screencast. It's so easy!"