Guest Post: If you are looking into how to use a chroma key or green screen, take a second. Pause. Reach around and pat yourself on the back. I'm not kidding. You just took a solid step toward making your videos jump to another stratosphere. The ability to use the chroma key effect is one of the many features I love about using ScreenPal. I use it to create videos on my daily YouTube channel. The benefit is that I can use the green screen app on the recorder.  I also get the added bonus of being able to use it in the ScreenPal video editor.
I love the green screen! Or "chroma key" for you advanced people. But don't get me wrong, if there is one tool that is (what I consider) massively overused, it is the green screen. It's often used instead of going out into the real world and doing the actual work. But a chroma key is a powerful tool that can unleash creativity in a multitude of ways.
My Days As a TV Meteorologist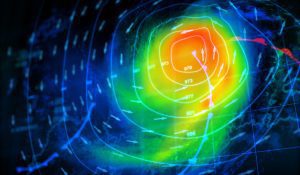 For seven years I literally stood in front of a chroma key every day. I was a meteorologist for TV news stations.  Yup, I'm that guy who has heard "I wish I could get paid to be wrong 50% of the time in MY job!" more often than you can possibly imagine.
So I've seen green and blue screens, and LCD screens until I was blue (or green) in the face. Those seven years taught me several things about how the green screen effect works, and thankfully, I can really nail down three main things to consider when you are preparing to use a green screen.
Green Screen Lighting Tips
You can skip the other two steps if you don't get this one right. You can occasionally get away with bad lighting in the "real" world, but in green screen, you've got to have at least decent lighting, or you might as well take your video and toss it in the virtual trash bin.
The way a green screen works is by telling your computer via your webcam or other cameras what is "green" and then it seeks out that color and removes it. If your green isn't lit well, you're gonna confuse your webcam which confuses your computer, and when your computer gets confused, you get mad and that's when hair gets pulled out.
Can you get passable chroma key separation with two lights? Yes. Can you get it with one light? Sure. But if you have the resources, the best recommendation is at least three lights.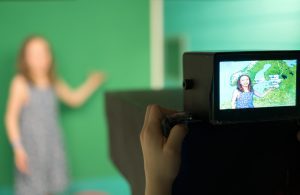 Light #1 is for your face. Don't worry too much around the surrounding areas. Position the first light just to the left or right of your webcam and close enough to your face to fully illuminate it, but don't overexpose or you'll wash out your skin tones and frighten people.
If you have to pick under or overexposure, it's better to favor on the side of dark. Don't have many lights? Use a window and its natural light to illuminate human skin tones.
Lights #2 & 3 are to illuminate one-half (respectively) of the green screen as smoothly as possible. Keep your eyes open for hot spots on the green screen as those will come back to haunt you. Watch for overlapping lines light and as with your first light, favor on the side of dark, as opposed to overexposing.
    

Hair Issues with Chroma Key
If primping your hair sounds frivolous, I invite you to leave your hair natural and then record yourself on your webcam, in front of a green screen chroma key. Go ahead, I dare you. What you will find is that a green screen can do things with your flyaways, frizzies, and even somewhat neatly combed hair that can humble even those that don't struggle with occasional vanity.
Remember, you're using light to illuminate something that is green whether it's in the foreground or background. The reason you are using green is that it's a color that is not commonly worn. Thus, it's the contrast between it, and you, that your computer uses to distinguish you, from your green screen.
When your hair is frizzy, or even if it's just not kept fairly close to your head, little rays of light are being shot in every direction from every follicle on your head, and it can get downright ugly. Guys, gel your hair if you can. Ladies, pulling your hair back is often a wise choice.
   

Clothing 
It should be obvious that there is one color that you shouldn't wear in front of a green screen right? Just in case: It's green. Don't wear green! Or wait, perhaps I should backtrack. These days there are many people using blue screens etc, so instead of saying you shouldn't wear green, I would be more accurate to tell you not to wear any color that is in the ballpark of the color of the screen you are using.
Don't wear emerald, don't wear lime, there are even some shades of blue that can confuse a green screen. So just be safe and don't wear any color that makes you even wonder if it might conflict.
And finally, one of the hidden treasures that I'll share with you, but most people have NO IDEA about is: Avoid closely arranged stripes and patterns. Herringbone jackets on men can send your chroma key on a tangent. Ladies pinstripe jackets can toss it into a tizzy.
Get the 'Cleanest Key'
If you can get these three elements in line with each other, you will be able to get a "clean key" that will open up your green screen into a Pandora's box of possibilities. Congratulations! You now have in your head what you need to take your videos to the next level and you don't need an entire video production team to do it.
About Scott Elnes:  Scott is currently a meteorologist in Bend, Oregon, and reports on the changing weather conditions of the area. He's a former Alaskan TV weatherman and outdoor adventure video host who, after a stint as a Producer at Xbox in Seattle, has since relocated to rural Central Oregon.  He worked as an Independent Video contractor with projects that regularly take him to locations in Sri Lanka, India, the UK, and across the US. He got his start as a professional musician and voice-over talent and now considers the edit bay to be his true passion. Scott is an avid outdoorsman and obsessed cross country skier.
Quick Links:
Green screen tips to make your video stand out
ScreenPal video editor cheat sheet