For today's teachers, it's no secret that video increases engagement and retention among students. The best part is, you don't need any fancy equipment or special training to bring the benefits of video to your classroom. Below, we'll show you how to create engaging videos right from your Chromebook.
How to Record Video on Chromebooks
There are two ways to get started using ScreenPal on your Chromebook. You can either download the Chromebook app or install the Chrome browser extension.  
Here's a quick how-to guide to get you started.
How to Record With ScreenPal 
Download ScreenPal's free

screen recorder

.

Launch the recorder and choose what you'd like to record (your screen, your webcam, or both) from the menu.

The frame can be dragged or resized to show any part of your screen that you want to record. You can also choose from preset sizes (e.g. fullscreen or 720p) from the drop-down menu. If you are using the webcam, you can drag the webcam window anywhere within the recording frame.

Choose the microphone you want to use for narration. You can use the internal microphone on your Chromebook or use an external microphone if you have one.

Hit record to create your video. You'll see a countdown (3,2,1, go!) and your video will start recording. You can pause, play, or start over using the control buttons at the bottom of the frame.

When you are finished, click Done. You can then trim the beginning and end of the video by dragging the time bar at the bottom to adjust. Trimming the video will make your screencast seem more polished because you can remove false starts or awkward silences.

If you'd like to add music to your video, click on the musical note to see a list of royalty-free music options.

To save your video, click on the timestamp at the end of the video. You'll have the option to save the video file to your desktop, upload it on ScreenPal, or publish it to YouTube. If you upload your video on ScreenPal, you can later download it to your desktop as an mp4 and upload it to YouTube.
You can find out more about all of ScreenPal's Chromebook app.  You can quickly download the app from the Google Play Store.
Using the Chrome Browser Extension
After getting the extension from the Chrome store, launch the recorder from your browser.

Choose the option to share 'Your Entire Screen.' This will give you the option in the next step to record your screen, webcam, or both.

Decide what you want to record (the screen, webcam, or both) and select it from the menu.

If you're recording both your screen and the webcam, a second icon (camera icon) will appear on the Chromebook shelf. Clicking on the icon will minimize or restore the webcam window. This feature is helpful while you are recording because you can make the webcam window appear and disappear from the video.

You can make the webcam window larger or smaller by dragging the corners of the window with your mouse.

Clicking on the camera icon will pause the video. You can then preview the combined recorded video (which shows both your screen and the webcam). From there, you can save the video or start over.
Top Tips for Making the Best Screencast
Once you've learned how to use ScreenPal to record video on your Chromebook, we have some tips for making the best videos possible.

Include visual aids. Adding extra visuals to your videos can keep students interested, and help them better understand complex topics. For example, if you're explaining a difficult math problem, instead of simply filming yourself, you could share your screen as you work through the problem. You can even add arrows, text, and highlights to call attention to a certain step. Not only does this add depth to the lesson, but it also allows students to rewatch later if they need more help.

Make a few quick edits.

You can record great lessons in ScreenPal without any editing at all, but a few easy tips and tricks can give your videos a big leg up in holding students' attention and increasing comprehension. With the Chromebook Video Editor, you can add animations, images, music, and much more to your videos. You'll also be able to make cuts and edit out awkward pauses. If your students are struggling with a particular lesson or subject, a visually interesting video may help them learn it. 
Ready, Set, Go!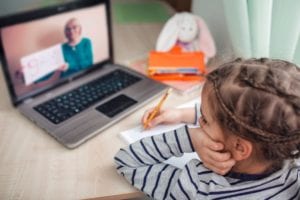 Dr. Shannon Doak, an educational technologist in Hawaii, says he's noticed more engagement and creativity from students who learn from classroom videos. He feels that video encourages important skills like collaboration, critical thinking, and communication. 
Now that you know how to make attention-grabbing videos with ScreenPal's free Chromebook screen recorder, you can help your students develop these skills too. You may even inspire them to try making their own screencasts.
You can use the screen recorder on Chromebooks, Mac, and PC, or any computer with the Chrome browser installed. 
From video lectures to real-time feedback, there are no limits to the power of video in the classroom. Discover the exciting new ways educators are using video technology in the classroom on our blog.
Quick Links:
Improving education with videos and Chromebooks
Educator shares how video technology plays a role in the four 'C's of education
Professor uses flipped learning to spark passion in her students