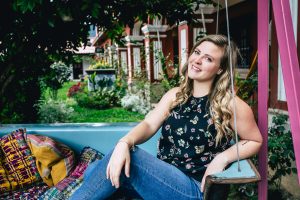 "We're going to celebrate right now," says Remote Like Me owner Taylor Lane as she excitedly motivates clients in her new video course. "Just get it in your mind that this is fun! This is not homework, nobody made you do this. We are about to embark on a journey together, a supported journey where you're going to win."
It's a journey Lane knows all too well.  Lane started Remote Like Me three years ago to help people from around the world find remote jobs.  Through an array of digital courses, coaching, e-books, and a Facebook support group, Lane and her team guide individuals to find the best remote jobs.
Her positive attitude permeates through all of Remote Like Me's offerings, while also serving up a dose of tough love to encourage job seekers to be bold enough to stand out in a sea of resumes.
Running the Business Wouldn't Be Possible Without Video
"There's not a day that goes by where I'm not recording something," Lane says. Whether her team is sharing ideas or giving feedback on web design, they turn to ScreenPal's video platform. "My team sends me a draft, and then I send them a screencast going down section by section of what needs to be changed," she says.
"It's a much more visual, virtual experience than replying to an email."
In addition, they use ScreenPal to train the internal team. An easy screencast video was all they needed to help employees understand work processes. As an example, when one of the managers prepared to go on vacation, he quickly made a video showing the team how to do his tasks in his absence. He shared it with the team and asked for follow-up questions.  This helped him save time and stress without having to hold endless meetings to train employees. 
Video As a Product For Clients 
The use of video is crucial for the business and communicating with clients. Remote Like Me is an on-screen video experience.  They are able to utilize video to help teach and guide clients through their job search. Lane implements screencast videos to her workflow so that clients can follow along as she teaches them the ins-and-outs of finding a job.  Everything they need to know is shown on a computer screen.
Remote work is much harder to find than the traditional job. Oftentimes, these jobs are not posted on typical job sites.  Lane likes to walk her clients through the complicated job search and provide a video to guide them.  There was one instance when Lane had been shopping for coffee online.  She noticed the checkout page offered payment as installments, rather than paying for the full cost upfront.  She researched further and found that the checkout app was from a disruptive startup.  She continued on with her research and discovered the startup offered remote jobs.  It was a big win for her job seeking clients.  
She walked her clients through this process in a video.  "This company is not on popular job boards, so if you don't know how my mind works, then you're at a disadvantage," she says.
Powered by ScreenPal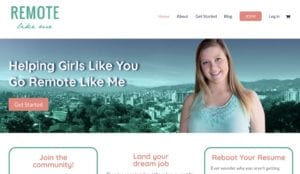 Video communication is an integral part of Remote Like Me.  The business offers a core product powered by ScreenPal.  It's called 'Resume Overhauls.'  
Remote Like Me walks through a resume and provides video feedback. They put the client's resume on the screen and makes live edits so they can see what's changing and why. She prefers this method over simply handing clients a polished resume because she believes in tailoring your resume to each job you apply for.
"I'm a disruptor myself, and everything I do is different than your regular career coach," she says.
Resume overhauls inspired Lane to upgrade to one of ScreenPal's team plans, which allow users unlimited recording time and the ability to edit within the software. "I want to empower you to do these things on your own," she says. "So I need to track the changes on video, and it takes more than 15 minutes sometimes." Now Lane spends unlimited time crafting the perfect resume, without stressing about runtime or clunky editing processes.
Making an impact 
As the Remote Like Me community continues to grow, video becomes an increasingly important way for Lane to share her tried-and-true strategy with clients all over the world. With ScreenPal, she and her team can teach on a big scale, while also encouraging and connecting with clients on a more personal authentic level.
ScreenPal allows Taylor to focus on what's important, without the stress.  She doesn't have to worry about high-costs, fancy camera equipment or complicated video hosting programs.
"I'm not a YouTube star," she says. "I don't want to buy that camera, and I don't want to hook up that audio. I just want to press record and give them the content they need to help them in their job search."
A Personal Video Experience Started It All
Lane knows first-hand why video is important in the job search.  Her journey to operating her own business started with one video.  
Lane said when she applied for her first remote job, she knew her resume didn't have much on it besides teaching and college experience. So she turned to video to help her stand out, a process she calls "The Virtual Handshake."
"I made a video saying why they should hire me, why I'm the right personality and culture fit, and why I work well virtually," she said. "My hiring manager said that was it for them!"  
She went on to refine her process, finding unexpected ways to discover more jobs and stand out from the competition. Soon she'd gone from sending out job search tips to 200 people via a free e-newsletter, to starting a whole business with a team of her own. Remote Like Me is now in its third year of helping clients all over the globe.
Share Your Story
ScreenPal would like to thank Taylor Lane and her team at Remote Like Me for sharing their story. Email our marketing team (marketing@screenpal.com) and share your story.
Quick Links
How video enhanced this company's way of communicating
5 Ways ScreenPal has helped this online marketing business 
How video helped a university in disaster