With the adoption of one-to-one (1:1) computing programs across American schools, it's showing a huge and positive impact on students.  The program aims to provide every student access to a laptop device.  So far research has shown that the program has helped increase student test scores across multiple subjects according to a Michigan State University study. While students are seeing a benefit, educators are changing the way they teach to accommodate the use of technology.  That's where the Chromebook comes in.
Chromebook Devices In The Classroom
The top research university survey shows educators are adopting technology at a high rate with more than 50% of them using it in the classroom.  The survey shows teachers now have a one-to-one student-to-device ratio. As a result, the use of Chromebook laptops have increased throughout classrooms across the country.
Chromebooks are armed with the tools and apps that encourage students to learn.  Google Apps is easily integrated within the Chrome browser, making it easy for educators to organize and develop course content.
Chromebook Screen Recorder to Record Videos For Class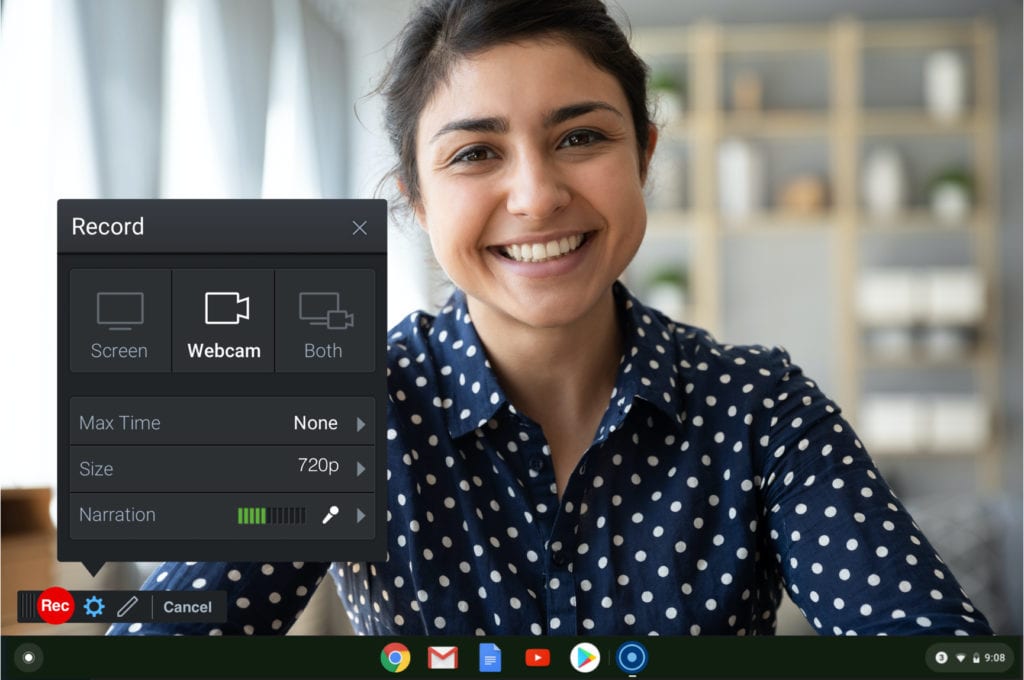 One technology app that educators are gravitating toward is the ScreenPal Chromebook screen recorder.  The app records video of a computer screen or webcam which enables educators to create videos including tutorials, lessons, or projects.  With video, students are able to drive video conversations with their teachers or use it for classroom projects.
Dr. Shannon Doak, an Education Technologist from Hawaii Preparatory Academy, says, "They have ownership of that and they do a better job.  They want to make it as best as can be. What I can see is that when you have the video and you have a platform to share it with an 'authentic audience,' it creates ownership with the learning. And when you see this long enough, the student becomes invested in their learning.  They want to improve everything they do."
ScreenPal also has a free Chrome browser extension that teachers can access. With just a few clicks, users are able to create videos and share them easily in class.
Features of the Chromebook Screen Recorder
Easily record video and screencasts from your Chromebook.  Here are a list of features:
Unlimited Recording Time: Fifteen minutes may not be enough.  A Deluxe plan gives users unlimited recording time.
Unlimited Amount of Recordings: Create an unlimited amount of recordings.
Record your webcam or screen: The easy recorder gives users the ability to record their screen, webcam, or both.

Users can resize and adjust the recording area capturing what's most important for them.

Add Audio Narration: Add a voice to personalize videos or utilize computer audio to enhance the sound of your videos.
Drawing Tools: Customize a video by using drawing tools.  Choose the color of the 'pen' to the width of the line.  Users have the ability to point out specific areas in a video.
Chromebook Video Editor Tools
Through the Chromebook app from the Google Play Store, users are able to access the Chromebook Video Editor which gives educators more options when editing their videos.  Here are several editing highlights:
Trim and Cut Sections: Trim your video down from the beginning or the end of a video or choose the Cut tool to delete sections of your videos.
Overlay Editing Tools: Choose from a variety of different overlays including rich text, stickers like emoticons or frames, or blur out sensitive information from your videos.
Mix and Match Content:

Users can mix and match content from their Chromebook, import from mobile devices, or add videos from ScreenPal's Stock Library. 

Quickly save to Google Drive or Save Video File: Save your screencast recordings and videos as a file on the computer. Users are able to save directly to Google Drive which is beneficial for those utilizing Google Classroom.
Publish and Share on YouTube:  Publish videos directly on YouTube and share within minutes of upload.
The Chromebook Video Editor is free for ScreenPal users. Deluxe and Premier users have the ability to unlock overlay features.
One Subscription Across All Devices
With a subscription, users can log in to multiple devices to access advanced tools on their PC/Mac or Chromebook.
Video Builds An Authentic Student Experience
Video enriches the classroom experience and helps build connections with students. With 1:1 programs, students are able to have more authentic relationships with educators through video.
Professor Carolina Buitrago, an expert in flipped learning and a professor at the Institucion Universitaria Colombo Americana in Colombia, explains, "The video brings the human component into online learning and into any blended learning that you're trying to do. With flipped learning, you're trying to build stronger relationships with students, and for me, through video, I'm doing that."
Quick Links:
Improving education with videos and Chromebooks
Educator shares how video technology plays a role in the four 'C's of education
Professor uses flipped learning to spark passion in her students