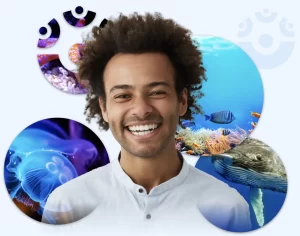 Need to add some visual flair to your video? ScreenPal has an expansive selection of stock photos available to Premier users. Stock imagery is a useful tool to help make your videos more engaging without investing time and money in bespoke photography. 
With so many stock photo sites to choose from, it can be hard to find the perfect image. Get royalty-free stock photos that match your video with ScreenPal's stock library.  
Use these tips to find the perfect stock images for your next project.
How to Find the Perfect Stock Photos
Find high-quality images that don't look like stock photos.

Overly generic images will make your video feel disingenuous and dull. To keep your audience engaged, look for stock photos that fit your brand and match the rest of your video.

For instance, if you're recording a screencast of a predominantly blue and orange slideshow, look for stock images that incorporate those colors. You'll unify your video and keep viewers focused on what matters: the information you're sharing.
Choose images that are relevant to your message.

If your video is about auto repair, a stock photo of the ocean will look out of place and confuse your audience. Even if you're just looking for a picture to use as a background, make sure it ties into your overall topic. For this video, a photo of a busy highway or a garage would be a more suitable choice.

Quick tip: You can make your stock photography blend even more seamlessly with your video by using animated transitions.
Invoke emotion and capture attention by featuring people and faces.


Studies show that photos with faces attract more engagement on social media. That's because people are relatable. Faces, clothing, and body posture instantly communicate messages without speaking. If you're talking about anger in your video, showing a stock photo of an angry person can help express the feeling behind your message more powerfully. 


Keep it simple and use your stock photos sparingly.

When you can, use your own photos as it will make your video look unique. If you're making videos for your company, ask if they have a library of on-brand photos available before searching for stock photos. Think of the stock photos as a helpful addition to your video, not the main attraction.

If you need to add text, numbered steps, or other edits to your stock images, which you can do in the video editor, be sure to start with a relatively plain photo. If it's too busy, your text will be hard to read.

Make sure you're safe from a legal standpoint.


Using a photo without the proper legal permissions can leave you open to a lawsuit. Instead of worrying about whether an image is available for use in your video, use ScreenPal's expansive stock library with free-to-use photos and videos to fit every style. You can unlock the stock library with your Premier plan.
Ready to start your next video project?
This checklist will help make your next project outstanding. Check out our comprehensive stock library to find the perfect images for any video, and upgrade to unlock the entire collection.