Ten years into his teaching career, Ronald Kock recognized the necessary shift in educating students with Information, Communication, and Technology (ICT) techniques. From his home in the rural town of Saldanha, South Africa, he invested his time into educating himself, and his school district, about these techniques.
The global pandemic sped up his timeline.
Almost overnight, Kock implemented remote teaching for his students, keeping them learning. "It's important that we continue learning because you see, the reality of not learning is that it de-learn things. But if you engage with it furthermore, then you realize it all comes back to you," said Kock.
As he jumped into full-time remote learning, he searched, found, and embraced digital tools to help him communicate and engage with students. In the process, he quickly discovered his biggest obstacles and how those digital tools could help him overcome them. 
Teaching with Video and Creativity
When schools around the world began to close their doors in March 2020, the Western Cape Education Department followed. Teachers and administrators started communicating through webinars and the mobile app, WhatsApp. Kock immediately thought about his students. "I figured I am going to have to get in contact with my learners, and I started doing video lessons. I'm doing mathematics and my wife is doing biology."
As a teacher, he knew the best way to explain math principles was to write out and narrate each step to solve an equation. But how to record that explanation for his students to both understand and be engaged? While searching for resources online, he found ScreenPal.
Kock had no experience creating videos but got creative, using a box and cellphone to record his hand.  He wrote out math solutions while verbally explaining each step. He used ScreenPal's screen recorder to capture the entire process and then edits the video to share with students. 
"There were a lot of screencasting tools, but ScreenPal was just the one that drew me in when I used it. I just loved it. And it's so user friendly because you can literally just reassign the destination folders. It was just an amazing tool. And all the other tools were so complex. ScreenPal definitely works for me, and it's easy to explain," said Kock.
In two months, he's impressed with the progress he's made creating videos. As a digital leader in the district, he's also shown and taught fellow teachers how easy it is to create videos for students. There is a sense of pride the educators have in the quality of the lessons for teachers, learners, and parents. 
Equity and Accessibility With Video
While the videos are popular with teachers, students, and parents, Kock recognized a socioeconomic concern in his rural community.
"The reality of it is that it's a rural area, and people, they don't have the means necessary. And there's a need for me, as a teacher, to reach out to those learners and to keep them going," said Kock.
The school makes a concerted effort to provide technology for most students, but in some cases, it is not the best course of action to send every student home with a laptop or tablet. Neighborhood conditions may put a child at risk with expensive electronics. However, the school district has tried to provide resources for every student and is working to provide additional cell phones to access learning.
For Kock, he's reaching 90% of his students with communication tools like WhatsApp and Google Classroom. That includes his video lessons, which can easily be shared and viewed on any device.
'Remote Learning Will Now Stay With Us Forever'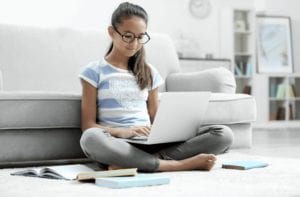 Several months into the COVID-19 crisis, Kock recognized his teaching techniques would be forever changed. "The reality is, remote learning will now stay with us forever because our education system will never be the same anymore," said Kock.
He and his fellow teachers are now working to better structure available videos. This includes color coding and labeling the videos by grade and topic. He recognizes that his videos will be an ongoing resource for years, assisting students as they learn with enhanced ICT techniques. 
A local university has also taken notice, asking Kock to create video lessons for them as they hope to benefit from ICT learning. He's embraced this new passion for digital learning and excited about the future.
"I'm just enjoying myself. And a lot of people are asking how I'm doing it, and I just say, 'If you have a passion for something, it's no effort.'"
Watch the creative way he uses a box to record his screen recordings: