Use these ultimate video marketing tools to reach customers, new clients, and new levels of success.
Video marketing is on the cusp of going mainstream much like content marketing a few years back. Businesses have become attuned to their audience, and that audience demands video content. It won't be long before most businesses produce content in place of written blog posts!
But… why aren't as many businesses on board with video marketing?
Video marketing isn't a wholly difficult tactic to explore. A great video setup, engaging content, and a welcoming presence is all you need. Yet, many forgo video due to production roadblocks or feel uncomfortable on camera.
Video creation gets easy when businesses use video marketing tools. This post shares what's needed to overcome video creation roadblocks. And, goes into how to leverage video marketing to grow a business even if you're camera shy.
Part 1: Creating a Video Marketing Strategy
The video strategy is knowing the answers to these items:
Goals
Audience
Production
Your online video marketing goals are your standard fair of business goals. This boils down to brand awareness, sales, and/or support. Yet, make goals with how you're integrating and producing videos to align resources.
Task #1: Choose how often you'll create videos and their intent.
Audience research is a necessity when developing your strategy. More than 232-million people view online videos but in that pool are different user types. Determine who's your intended audience by examining competitors, industry trends, and popular channels.
Task #2: Poll your audience and ask what video content they'd enjoy.
Finally, pick how you'll create videos as this sets the stage for what's needed in their production. Will you be on camera or is it screencasting? Tap both the goals and audience research to guide your decision.
Task #3: Decide the video formats and dedicate time blocks for its production.
Part 2: The Video Marketing Tools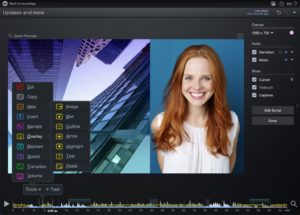 Video marketing tools are more than your camera and an editing suite. Video marketing requires an ecosystem of hardware, software, and online technologies. You may have most of these items already and not know it!
Part 1 was an essential step as it lays the foundation for your efforts. Now, it's time to explore and tap resources to make the best marketing videos you can.
The Topic Creation
YouTube is the second largest search engine behind Google. So, of course, it uses keywords and phrases to pair content with user intent. Knowing the searched keywords can dictate which videos you'll create.
Invest in SEO tools that can help you.  Tools like SEMRush are ideal when you are looking at keywords. It shows a keyword's search volume or how often they're searched every month. Record a list of keywords and brainstorm how you can create content for those terms.
The Video Creation Tool
If you're looking for an easy video creation tool, take a look at ScreenPal.  They offer simple screen recording and video editing capabilities for anyone looking to begin their video marketing efforts.
Screencasting works like this:
Set the recording area
Record and complete your actions
Enhance and edit the video
Upload and share your video
You can use screen recordings for explainer videos. Or, onboarding videos for your team versus mounds of business documents. You can add call-outs, narration, and other effects to increase engagement!
The Marketing Funnel
So, you create a video… now what? The marketing funnel!
The marketing funnel acts like this:
Awareness
Interest
Consideration
Intent
Evaluation
Purchase
Your videos should include call-outs directing viewers to pages with visitor capture features. An email list, Facebook group, or Slack channel are three examples of where you can funnel viewers. Or, have viewers call your business through a call-out or a click-to-call button on the landing page.
The Templates, Sounds, and Graphics
The video extras include background music, graphics, and other visual features. You can create these on your own or go to online design marketplaces.  You can purchase music, mp4 stock footage and more!
One tip is to buy video assets a-la-carte to save money per project.
The On-Screen Talent
Want on-screen talent that doesn't involve you? There are many people offering their talent through freelance marketplaces! Check out places like Upwork, Fiverr or Contently for talent.
You can send a video script and set rates. Once agreed, the talent will record your script. You'll pay by the minute or by the project.
Prices vary and go lower if you take the time to hire talent through job boards.
Part 3: Getting Good at Video
Video production, like other content forms, gets better as you learn. There are nuances to video creation you won't understand until doing it. So, the best way to get good at videos is by creating more of them!
Many early attempts at video creation will look amateur and that's okay. You will get better in time as you understand production tricks. And, as you develop a flow and comfort in video creation.
You can take shortcuts in getting better with video — with:
Use these platforms to get help mastering your video marketing tools.
Part 4: Being Everywhere with Video Content
Many fail at promoting videos because they haven't explored outreach and distribution tools. These tools are, in some ways, as important than what goes into video creation. After all, what good is a great video with no views?
You'll want to explore tools and strategies like:
Influencer marketing
Content distribution services
Advertising and social media marketing
…and video analytics to track KPIs and those business goals. YouTube has their own analytics to give you an idea on what's being watch and for how long.
Use a variety of video formats known to produce engagement. Figure out what your audience enjoys and keep producing that format. Then, get it in front of a larger audience by tapping these outreach strategies.
Remember: It All Begins with a Great Video
Some businesses may take years developing their video creation. Others may go viral from an amateur attempt. Video marketing tools will make it possible.
Explore your options and lay the foundation for your video marketing. And, see how ScreenPal can integrate with your video marketing goals. Go on and explore the solo and team plans to get the job done.
Quick Links:
Beginner's Guide to ScreenPal's Free Screen Recorder
5 Quick Tips for Editing Videos