Bring movie magic to your online class by going green. It's a trend sweeping distance learning classrooms as teachers switch up the webcam scenery by using a green screen app as a learning tool.  
It's an easy concept to master. Plus, it gets the creativity flowing.
Creating the Wow Factor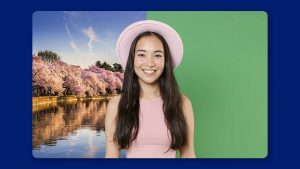 Students can create videos where the background can be removed. Using a video editor with a chroma key (green screen) tool, students replace their backgrounds with photos or video to transform a recording. 
Suddenly an on-camera report doesn't have their bedroom in the background. Instead, it's been replaced with the video of space.
The special effect creates a wow factor.
It allows your class to travel anywhere virtually, explore and add an element of play to being on-camera. All you need is a green screen app, background, a web camera, and some imagination to make movie magic work with all grade levels.
Elementary School 
ABC Identification
Assign each student a letter. On camera, they state the letter, make its sound, and list words starting with their letter.
Use the green screen tool in the video editor to replace the background with images of words starting with their letter.
Artwork Show & Tell
Students draw a picture. Record a video explaining their piece, but instead of a white background, they'll use the green screen tool to create an image background. Simply, import an image of their artwork.
On camera, ask students to discuss their project, identifying the colors and mediums used. 
Weather Reports
Test their science knowledge! Ask students to record a forecast while identifying weather patterns.
Use a forecast map or stock photo to replace the backdrop. 
Pro Tip! Shy students don't need to be on camera to be creative with green screen technology. Challenge your class to get creative using puppets, toys, or props from around the house in front of the camera.
Middle School
Math Teacher Demos
Turn students into the teacher. Use a snapshot of their math problems to fill the green screen.
Have each student explain how to solve the problem on camera while referencing the superimposed image of their work. 
State/Country Reports
Turn state or country reports into tourism videos. Students pretend to be tour guides while presenting their research.
Offer extra credit to students who remove their background using a green screen and edit in stock photos featuring their location. 
Pro Tip! Bring a video project to life by adding moving backgrounds. The ScreenPal Stock Library features thousands of videos. Combine those videos with the video overlay tool to replace a green background with a lively, realistic backdrop.
Music Interpretation Videos
Up the creativity if you're planning an online recital. Turn a solo performance into a music video.
Record music students playing an instrument or singing in front of their green screens. Students can then edit out the background color and replace it with images or video.
Challenge students to pick imagery that sets the tone of their performance. 
Green Screen for High School 
Visual Poetry
Turn student poetry into an interpretive video project. Students record themselves either reading or acting out their poem.
Add personal touches by replacing the green screen with video, photos, or personalized art. Edit in stock music to set the mood.
Community Newscast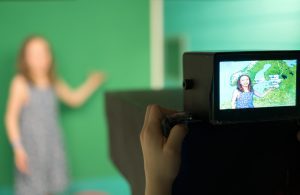 A virtual newscast is an inventive way for students to focus on current events while experimenting with the technology.
High schoolers can record their presentation. Then, pull stock video, images, or ask students to shoot and upload their own background video. 
Offer extra credit to students who customize their newscasts with graphics. The video editor features a custom-rich text tool. It's perfect for adding lower-third graphics that are usually found in news programs.
Pro Tip! Go the extra mile by layering videos in your newscast. Add a third video element to your newscast by editing in an over-the-shoulder video box.
The overlay video tool can import additional recordings. Each overlay can be resized and moved anywhere on your screen. 
Drama Class
Forget the expensive set! Bring drama class online by chroma keying in your set design. Snap a photo of the set you'd like to use.
Use the green screen option to import your photo behind footage of the students who are acting. 
Before parents watch the play online, curate a soundtrack to your play by selecting ScreenPal stock music or incorporate sound effects in the video editor to add emphasis.
Suitcase Stories 
Students unpack their family tree in this visually compelling presentation. On camera, the student narrates their family story, shows off heirlooms, or even interviews family members. Use the green screen to display family photos, home movies, and even graphics. Use shape and text overlays to create and label a family tree. 
Inexpensive Ways to Use a Green Screen App
Students don't need a professional quality green screen for these ideas to work. How to make a green screen is the easier part.
Keep it inexpensive with dollar store buys. Look for any of these items (in green) to create your background on a budget.
Plastic tablecloth

Poster boards

Construction paper 

Craft felt fabric 
Make sure students know the basics before you begin. 
ScreenPal offers two ways to remove a background color from your video, in the recorder and in the editor. Show your class what's possible by using green screen tricks in your own videos.
Before you know it, your students will be wowing you with their creative editing and diving into other special effects.