Your next video editing project doesn't need to be a solo act.  There are plenty of ways for you to collaborate with your team without sitting around the same computer. It's even possible for multiple people to edit the same video thanks to a few of ScreenPal's features. 
It's a feature more people are tapping into as Zoom fatigue spreads. Instead, professionals are opting for pre-recorded videos to save time. 
Escaping Traditional Video Editing 
Managers use videos for everything from training sessions to quarterly meetings. But typically, one person is editing the entire project alone. Traditional video editors produce large video files. The size alone makes sharing and hosting videos difficult and forces professionals to use external hard drives or pricey cloud services to transfer projects.
However, none of that's necessary. ScreenPal is designed so you can work together even when everyone isn't together. 
Share & Edit Videos
In fact, you can export video projects into lightweight files to easily share with your team. The special videos (.somrec files) are copies of your entire video editor timeline. The file contains overlays, videos, audio files including music, graphics, and any edited elements. 
Essentially your team can open a video file and access each individual layer of your project. Team members can then edit, remove elements, or add features to a video. 
Best Uses
Voiceovers – Create a video then share the project so someone on your team can

add narration

.

Third-Party Video – Allow a team member to insert or overlay videos into the final project.
Video Templates – Create a video with your brand colors, logos, and imagery. Share the file so your team can input their own individual content.
Easy Tips to Share Files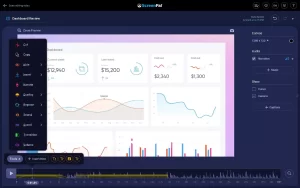 Once you export your video file, your team has full access to it and can make additional edits.  You can share your file in Google Drive, Microsoft Teams, or other management systems. The rest of your team can upload the file into their own ScreenPal hosting account.
Remember, the .somrec file is a duplicate of your video timeline. Editing adjustments will not impact or change the project as it appears on your computer. 
Attach Editing Notes
Depending on the structure of your project there are other ways to work together. Sometimes video editors simply need their team's input or approval. In these cases, try out the notes feature in your hosting account.
The feature is perfect for adding notes or asking for input on certain sections of your video. 
Each note is linked to a specific timecode and appears on the right-hand side of the screen. As the video plays, notes are highlighted when the corresponding timecode appears. 
Notes also work as a navigation feature. If a viewer clicks on the text of a note, the video will automatically jump to the linked timecode.
Best Uses
Project Approval – Mark updates sections so viewers know where changes were made.
Legal – Use notes to highlight portions of your video that company lawyers might need to double-check.
Dividing a Video by Department – Add a note and title for each new section so coworkers know which portion applies to them.
Policies / Disclaimers – Include contract information in notes. Use the video as a call to action directing viewers where to find the complete text.
Re-Edit Your Hosted Videos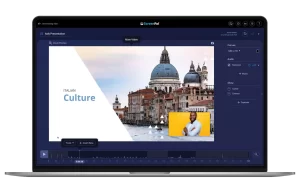 Businesses often change policies, content, and branding which can impact videos you've already completed. Don't fret though! These changes don't mean you have to start over. 
The beauty of hosted videos is that you always have access to your projects. 
The Edit Video button in the Hosting Platform makes accessing and fixing projects seamlessly. It means you'll save time by updating video content rather than starting over.
Best Uses
Fixing Mistakes – Remove typos without having to start over.

Rebranding – Change the colors or

styles of overlays

, text, or insert new video.

Progress Reports – Instead of creating a new video for each update, add additional content or existing recordings to your already published project. 
Struggle Free Video Editing Collaboration
So cut out the need for thumb drives, lengthy download times, and incompatible video files. 
ScreenPal solves those issues with its collaboration tools.
Both the Deluxe and Premier plans unlock video hosting options making it easier than ever for teams to collaborate from anywhere at any time.