Ever wish the videos for your online classes looked more polished? It's easy to record a short screencast and hit send. These quick screen recordings become the equivalent of a digital post-it note— fast, a bit sloppy, and forgettable. But it doesn't have to be that way.
In less than two minutes you could transform a rough screen recording into a clean, reusable study guide, lesson plan, or even a video syllabus.
Start with these 6 editing hacks for school videos. 
1. Crop Out the Clutter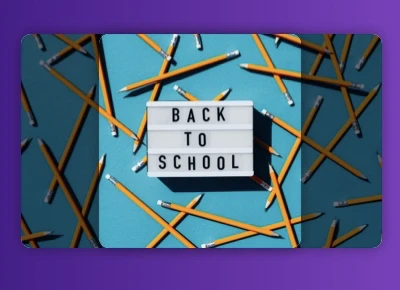 Clutter commonly sneaks into screencast recordings. However, a messy desktop or too many visible Chrome tabs doesn't mean you need to re-record. Let's face it, most teachers don't have time. 
Hide the clutter instead. You can also make messy backgrounds disappear by resizing or cropping your recording. It only takes seconds when you're using ScreenPal's Video Editor.
When you are in the editor, just click on your Main Video to adjust the box handles to remove unwanted backgrounds from your recordings.
The change will apply to the entire video in the editing timeline. 
Edit Time: 30 seconds
2. Highlight & Zoom Specific Sections of Video
There's another option to hide unwanted portions of your screen. Use the highlight feature found in the video editor. It's an overlay tool that can redirect your students' attention. 
A highlight is perfect for emphasizing details in your study guide or syllabus.
Instead of removing the background, a highlight selects a particular area you want to emphasize. The zoom option magnifies the selected section, blurring and covering the remaining part of the screen. 
Edit Time: 30 seconds 
3. Incorporate School Branding 
Weaving in school logos and colors is an excellent way to refine your remote learning syllabus, study guide, or even video messages exchanged with parents.
Adding branded elements to your screen recordings gives it a professional, cohesive look. 
Import the school logo into your videos by using the overlay image tool. It's best to use .png files or images on a transparent background.
Logos look best featured in the lower third of a video. A school logo should enhance your content, not distract from it. With the video editor, you can customize your logo by adjusting the opacity, removing certain colors, or even resizing the image. 
Edit Time: 60 seconds
4. Brand Your Text Box
Go one step further by using your logo as an origination point for a text box. Line up the text overlay tool to animate outward from your logo. Make sure to add a background to your text. 
The combination creates a lower third text box similar to what you see in newscasts. Use this box to reference textbook page numbers, chapter titles, or provide answers to homework.
Edit Time: 90 seconds
5. Design Chapter Slates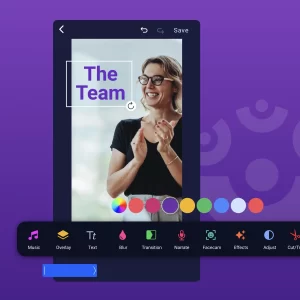 Break up bigger study guides by subject matter. The video editor includes all the tools you need to create chapter slates within your video so students know what's next.
The overlay shape tool works if you want a solid color slate. Adjust the colors to match your school logo or fit the classroom theme.
Add images or text, but remember to keep it uniform and consistent. 
Standard slates should appear for about 15 seconds. 
Designate intermissions in a video lesson or give students time to answer a question by creating longer slates.
Add an audio cue so students know when the subject matter is changing. Trigger a sound effect to play at the start of each new section when your slate appears. Look for something that alerts your audience like the car horn or doorbell selection. 
Edit Time: 180 seconds
6. Add a Personal Touch
Take the time to give video lessons a personal touch before uploading them into your learning management system and sharing them with students.
Students are more likely to watch if you appear on-camera, narrating, or adding personalized notes as the video plays.
No editing tool is more personal than the freehand feature. The often overlooked tool is ideal for educators who like to engage with their recordings. 
It's the digital equivalent of marking a paper or drawing on the whiteboard. Consider using the overlay feature when you're using video to correct homework or emphasize details.  You can also use the drawing tools in the recorder to create that personal touch.
Just adjust the color, shadow, angle, and even the size of your freehand drawings. However, don't get caught up in the details. Adding a personal touch can become time-consuming if you're trying to create the perfect image. 
Edit Time: 180 seconds
Video Editing Hacks to Save Time
The best online lesson plans are visually engaging and clean. Don't use all of these editing hacks at once. Focus on one or two of your favorites. 
Once you create a look you like, you can reuse the elements over and over. The video editor makes it easy with the copy and paste tools which work between different videos. Copy and paste or duplicate your favorite elements into each screen recording. 
It's a guaranteed win designed to save you time and up your editing game.