Create professional-looking videos for any audience using our free video maker. Anyone can be a video creator with ScreenPal's video maker. Easily make videos in minutes – no previous experience required.
Our video maker is an end-to-end solution that lets you create, host, and share unlimited videos for free to fulfill your marketing & business goals.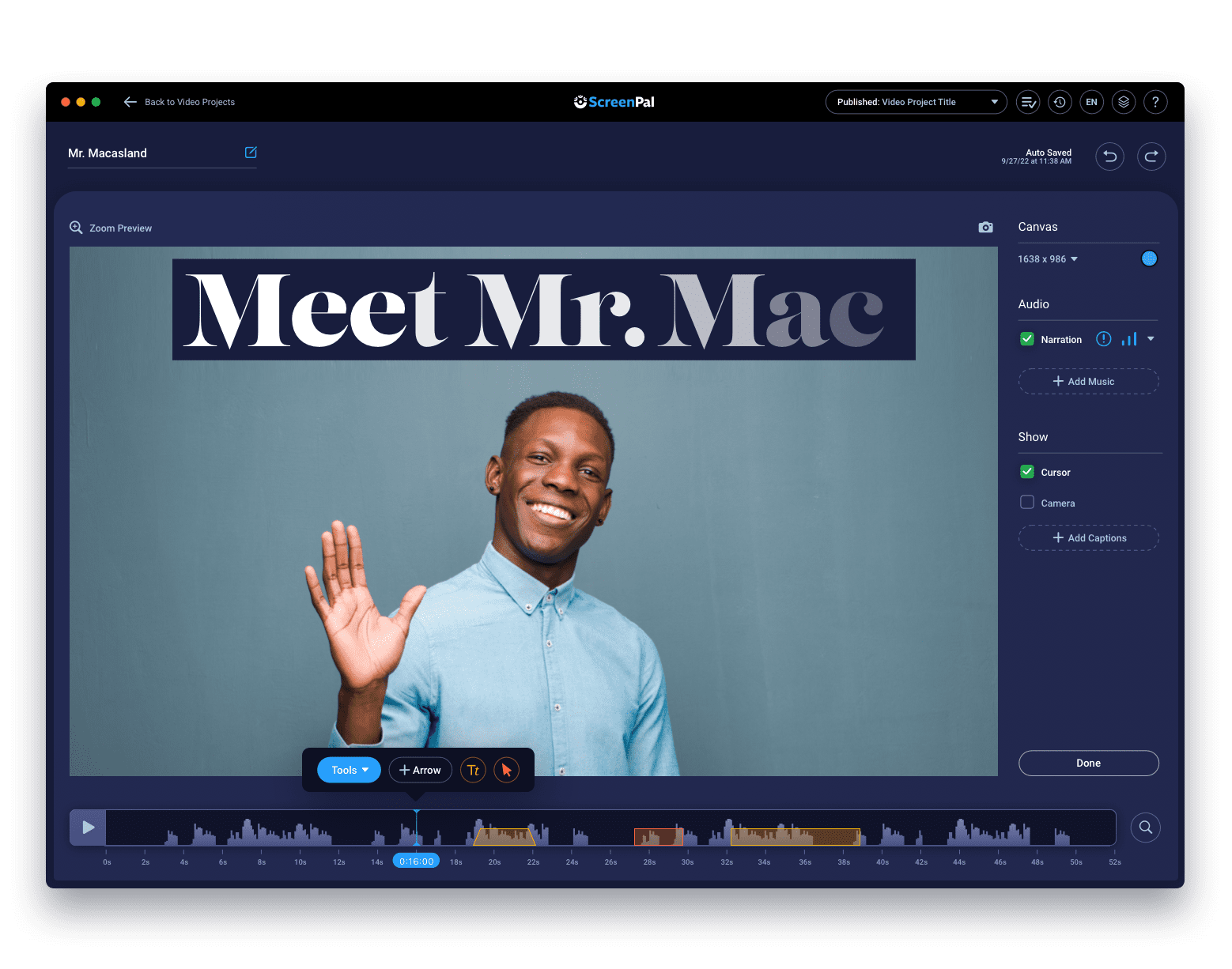 Video creation made easy
Make spectacular videos of any length with our simple, intuitive video maker. Find all you need to create high-quality, engaging videos: text, overlays, narration, music, transitions & more. Share on ScreenPal, YouTube, TikTok, Facebook, LinkedIn, Instagram, and any website.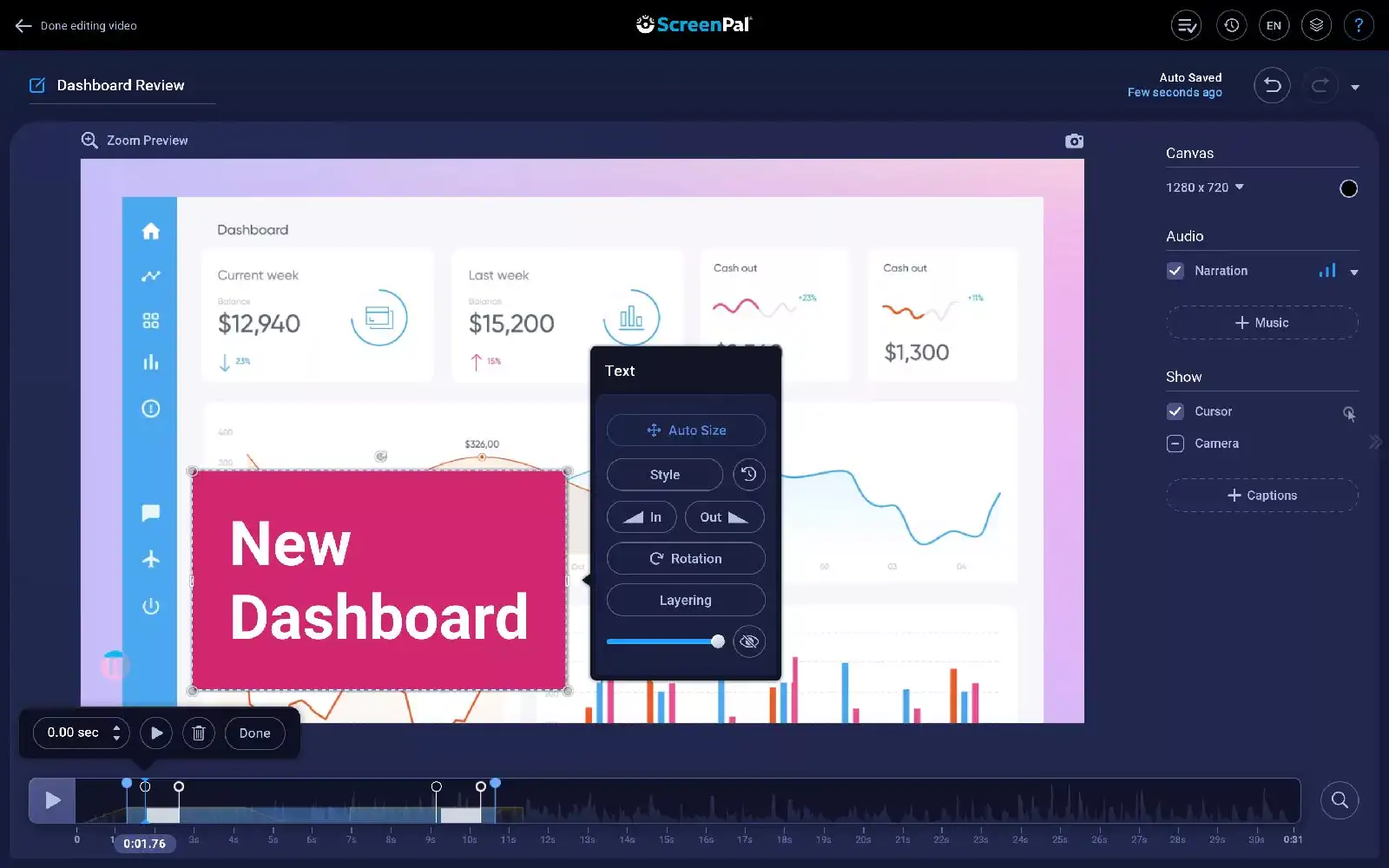 Tell your stories
 with video
Capture ideas, convey complex information, engage audiences, and drive conversions with video. Empower your team to create videos for any occasion and get your message across in a fast, memorable way.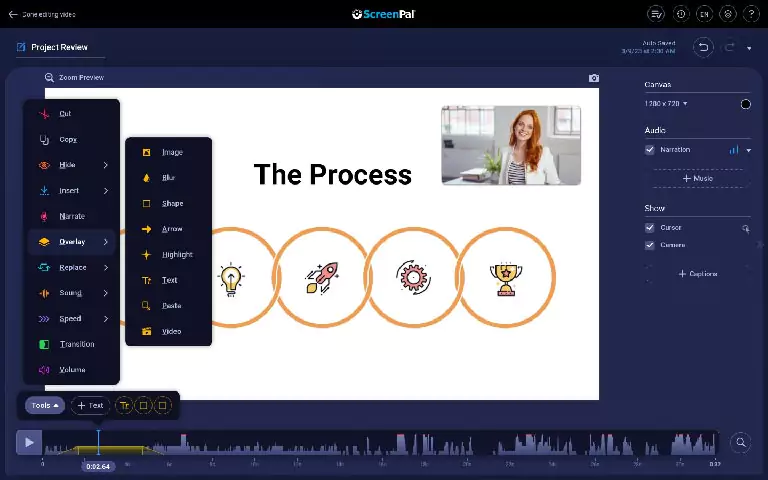 Open file
Open a video file to start customizing your content into your unique finished project. 

Make a video
Customize your video with music, text, transitions, and more to make it stand out and convey your message.

The best free video maker for all your projects:



Marketing videos
Attract buyers with professional-looking video ads and marketing videos promoted on social media, your website, and more. Use video to tell your brand story, make promos, and more to build excitement for your brand, products, and services.
Informational videos
Teach your customers, prospective customers, and viewers something new with educational videos. Make a how-to tutorial video, demonstrate how to learn a new skill with a training video, create do-it-yourself videos for crafty viewers, and more.
Video testimonials
Show the impact of your product or service with testimonials from real customers. Make a testimonial video as a powerful way to capture and convey the benefits of your brand and build trust with your audience.
Social media videos
Connect with your audience directly on their favorite social media websites with short, effective videos to capture their attention, build brand awareness, and improve community engagement.
Presentation videos
Share your knowledge and convey your message more clearly with a presentation or slideshow video. Present information for complex topics in an organized, approachable, and engaging way.
Video intro & outro
Craft eye-catching, memorable intro and outro content that you can add to all your videos to build your branding and get your audience excited to learn more about your business.
Get all the essentials you need to make a video – for free!
Create memorable, engaging videos with our free video maker to full your marketing and business goals. Find everything you need to bring your ideas to life. Free video editing features include:
Make a video for free on any device
Work from your desktop, mobile device, and Chromebook for all your video creation needs. Use our desktop app or Chromebook app for your computer, or download our iOS app or Android app to make a video on your mobile device.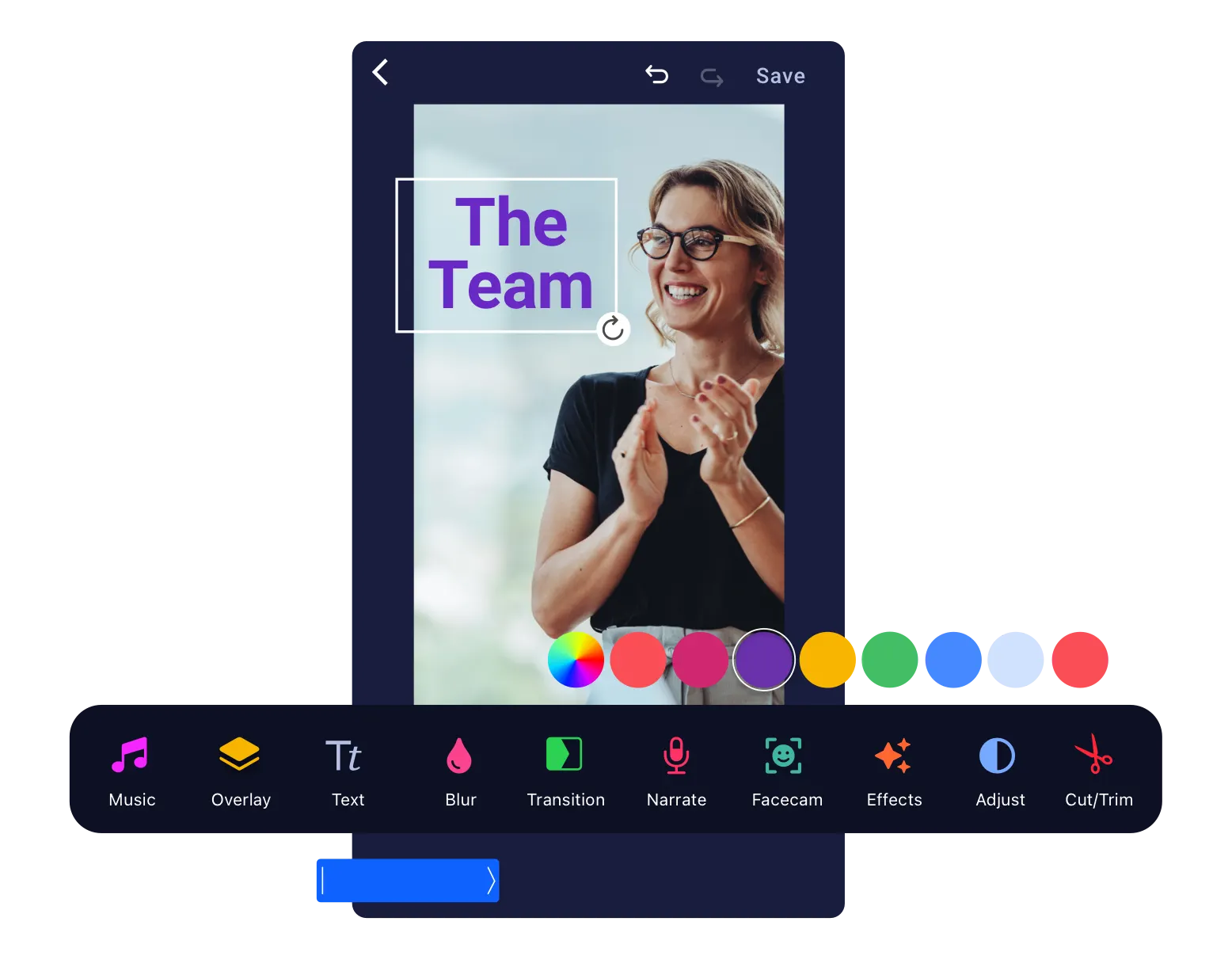 Share & protect videos with our free content hosting
Easily manage all your videos in one location with our free video hosting. Upload videos and images to organize into folders and channels, customize thumbnails, share video links, control visibility to protect your content, and more.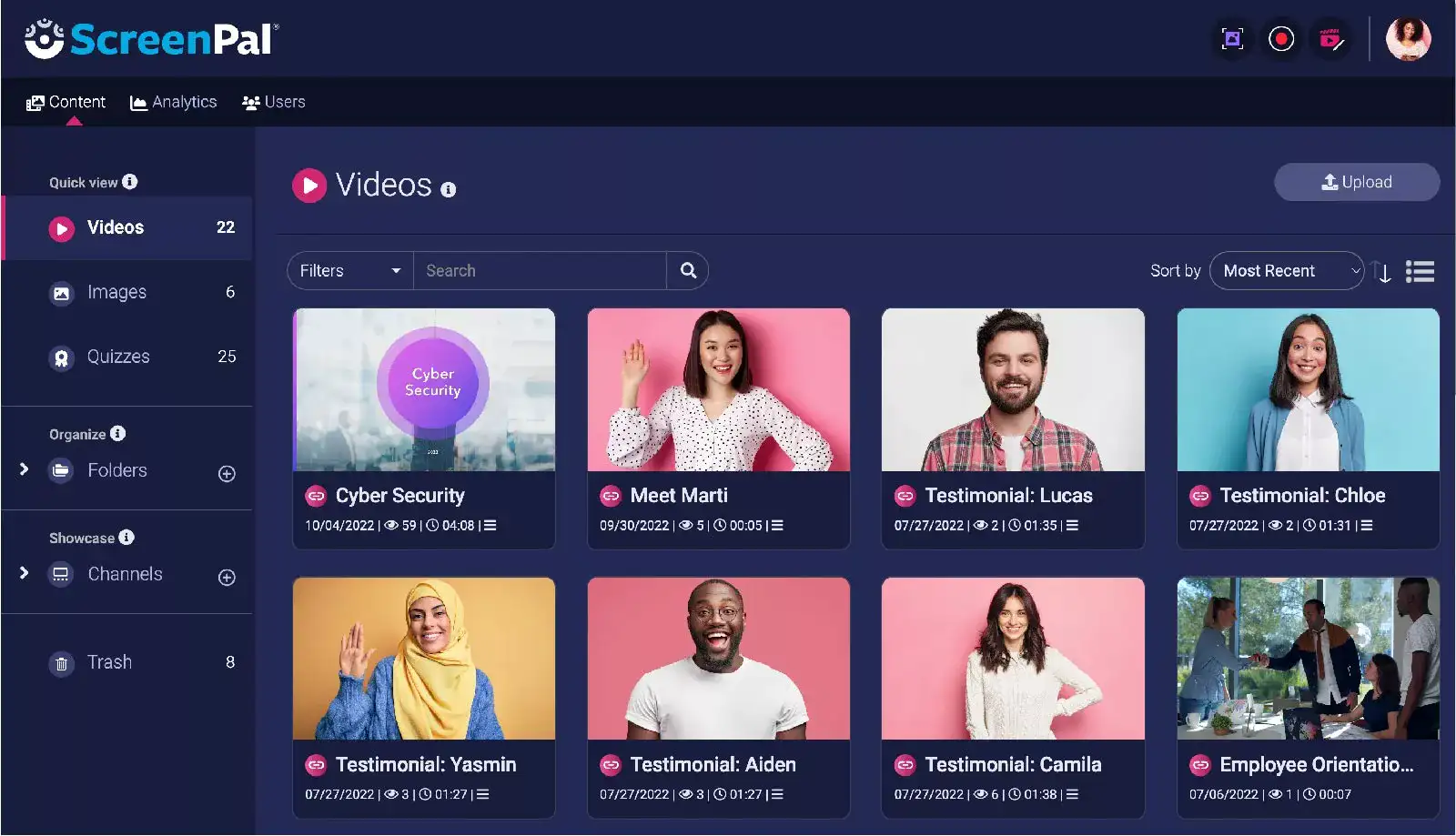 Upgrade for our full video creation suite
When ready, take your experience to the next level as a video creator. Streamline your video creation process with screen recordings, collaboration and planning tools, expanded stock content, video quizzing, and more through our paid plans, including:
Plan, organize, and create with our Stories drag & drop video builder
Easily import video, images, slides, or PDFs as a storyboard, include a script and notes, record your screen or webcam, edit, add audio, collaborate, and more in Stories for all-in-one video creation. Add new sections to your video or drag them to a new location with one click.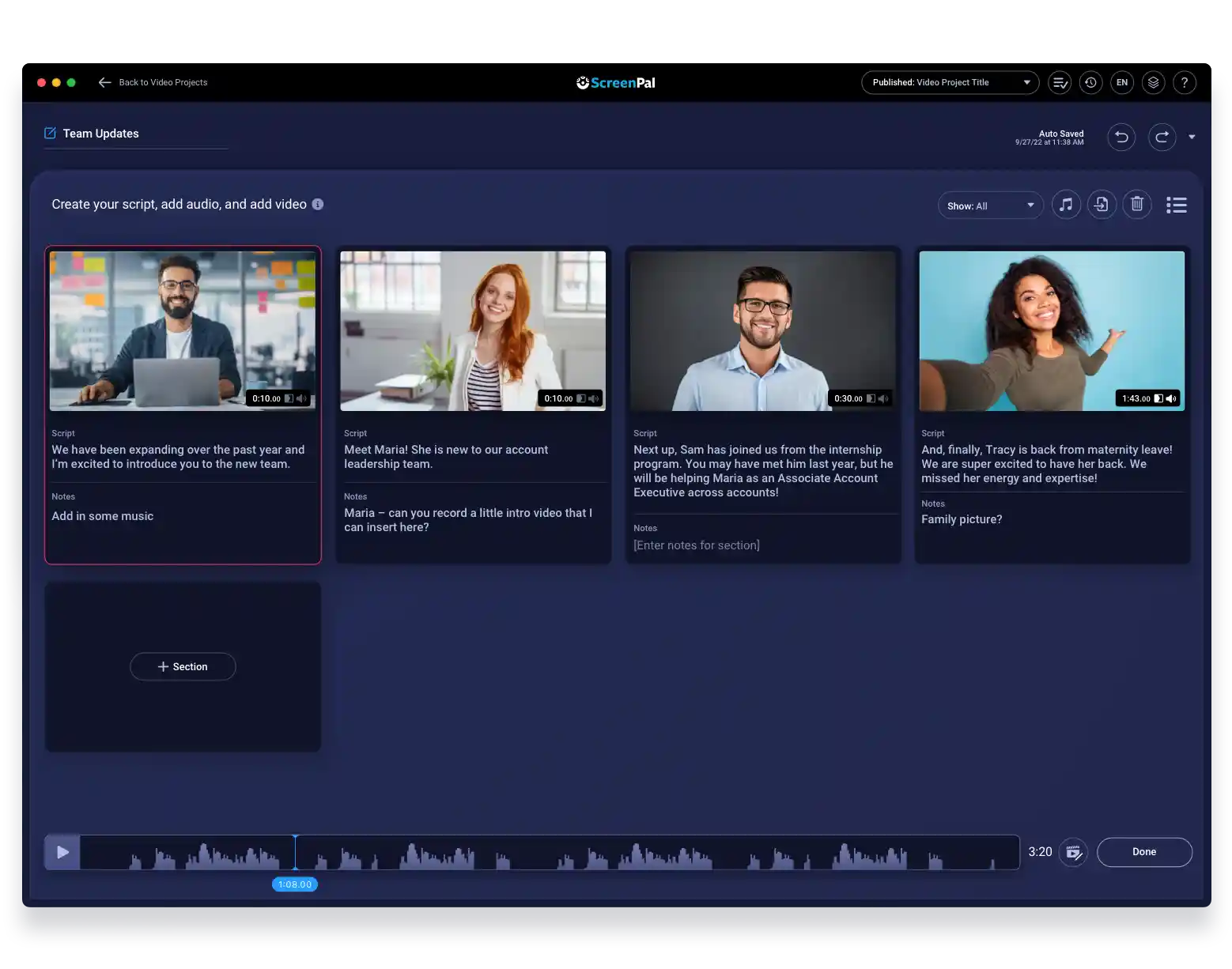 Get creative with stock content
Browse our expanded stock library with a paid plan and choose from millions of licensed and royalty-free stock music, images, and video files to make the video more exciting and engaging for your audience.