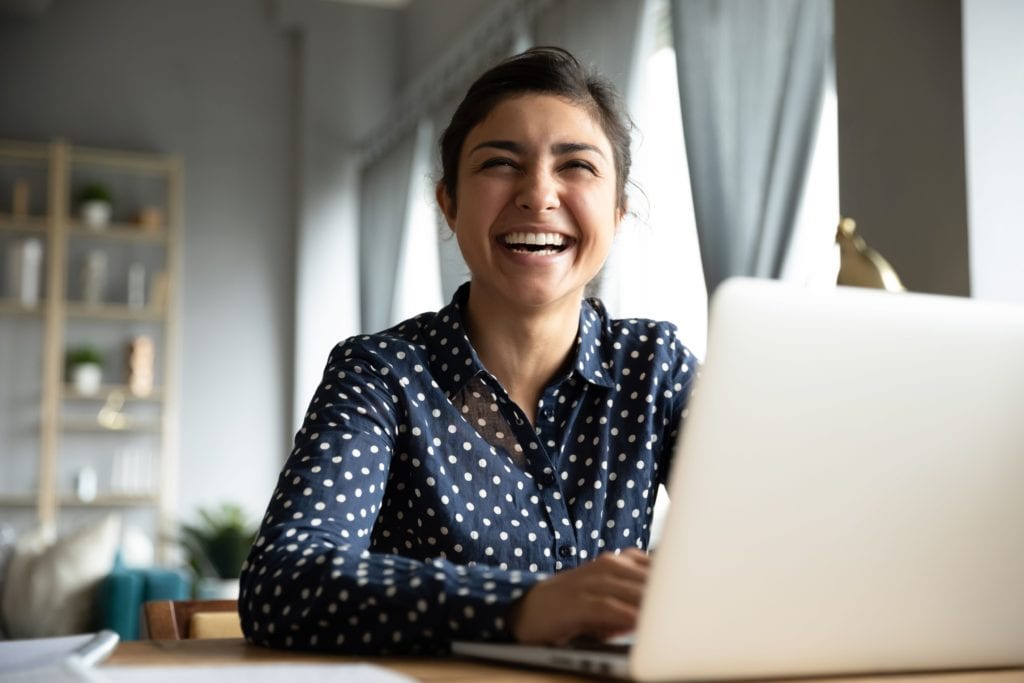 Video is quickly emerging as a primary communication tool for brands, businesses, and educators. Its combination of audio and visual components provides you the opportunity to share both informative and engaging content with your audience. If you're starting out, we've made a list of video editing tips for beginners to help take your creative skills to the next level.
While video felt out of reach for many of us a decade ago, new technology has made video creation
easier and affordable. You no longer need hours of training to learn how to use editing tools.  Instead, gaining an understanding of the basics will help you find video success quickly.
Choose Your Video Editing Tool
Your first and most important step to video is finding the right video editing tool. While there are many professional-grade programs available at a hefty price, these take months to years to fully understand. It's best to find a tool that is easy to use and highly intuitive. You'll want to record, import, edit, and share your video easily. Your video editor should be able to do all four things.
ScreenPal's Video Editor is an affordable option for many.  They also have a free version that gives you all the basic editing tools you need to enhance your videos.  It's straightforward and highly intuitive, making the editing process smooth and simple.
Organize Your Content Assets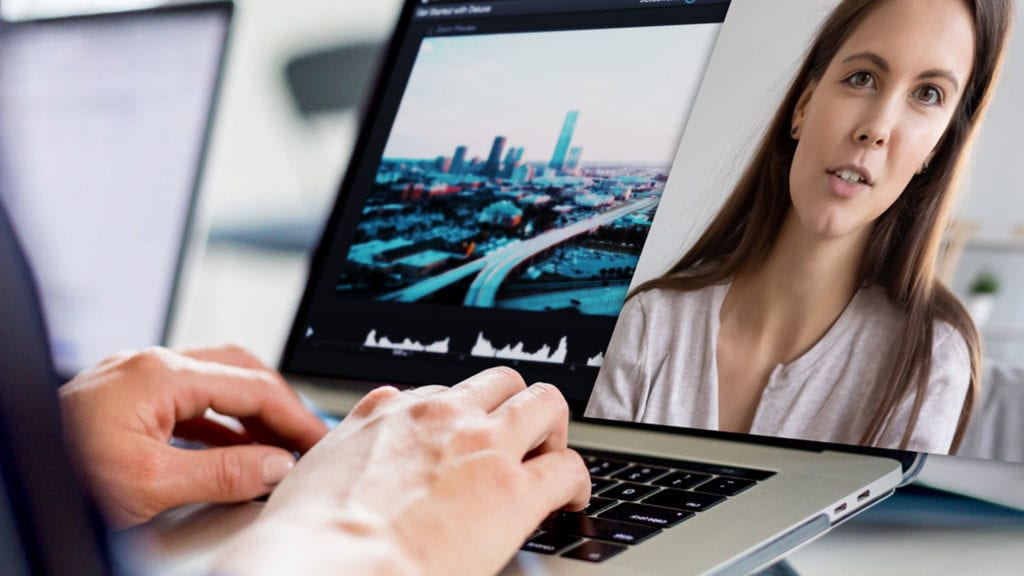 Your videos can include multiple elements like webcam recordings, slides, images, video files, and more. To save you time, organize these elements before you get started. Understand what items you want to include and in what order.
Writing a script or storyboard is the best way to get started. No matter the topic, a script will help you
stay on topic and save you time later. Part of your script should reference when you are using additional
elements. During this process, you may discover your video will be too long or repetitive. It's easier to
edit content at this step than later.
Easy tip: With ScreenPal's Scripted Recordings feature, you can write your script in the
editor or import it. This makes it easier to add your recorded narration, following the text, and redoing it
if you make a mistake.
The Basics of Video Editing For Beginners
To start editing, there are a few basics to learn and understand about your video editor.
Recording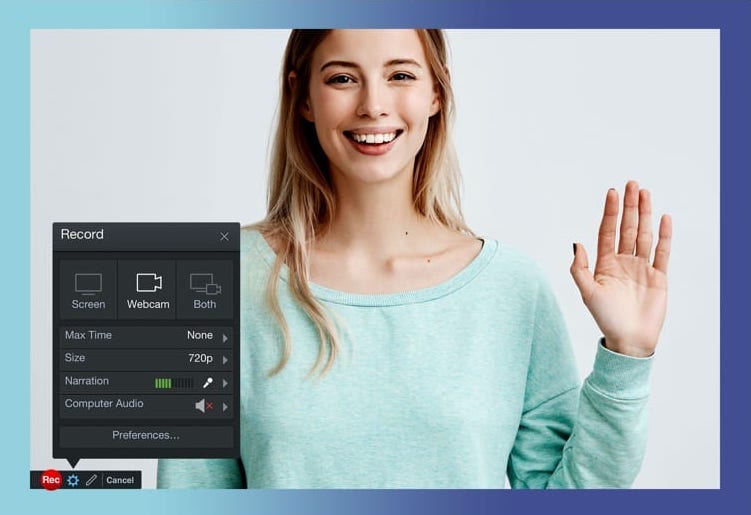 There are several recordings you may need for your video: webcam, screen, and
narration. With ScreenPal, you can record both your webcam and computer screen
simultaneously. It's easy to start recording: launch the recorder, select screen, webcam, or both,
and then click on the red Record button. It's that easy.
The next step is to select where you want the recording to go. Do you want to save it, share it immediately, or go straight to editing?
Your recordings are easily accessible in the editor for when you are ready to start editing.
Importing
When you are ready to start editing, you'll want to import your elements. In
ScreenPal, you can select a recording to begin editing or select 'Import' at the top right
to open another file to edit. You'll want to start with your main video, most likely your camera
and screen recording.
You'll see your main video on the screen with a timeline on the bottom. This timeline is where you'll find the tools to edit your video.
Use the sliding bar on the timeline to find the moment where you want to add another video,
image, or recording. Click on the 'Tools' menu and 'Insert' to select the element you would like
to add.
For beginners, it's a good idea to get all your main assets on the timeline in order first.
Terminology tip: 'Importing' and 'Inserting' follow similar rules to word processors. Inserting adds
an element and pushes the rest of the content over. It does not layer on top of the elements
already there. Those are overlays. Don't worry about overlays yet. You'll be able to add and cut
elements in the next steps but it's best to create the foundation of your video first.
Cutting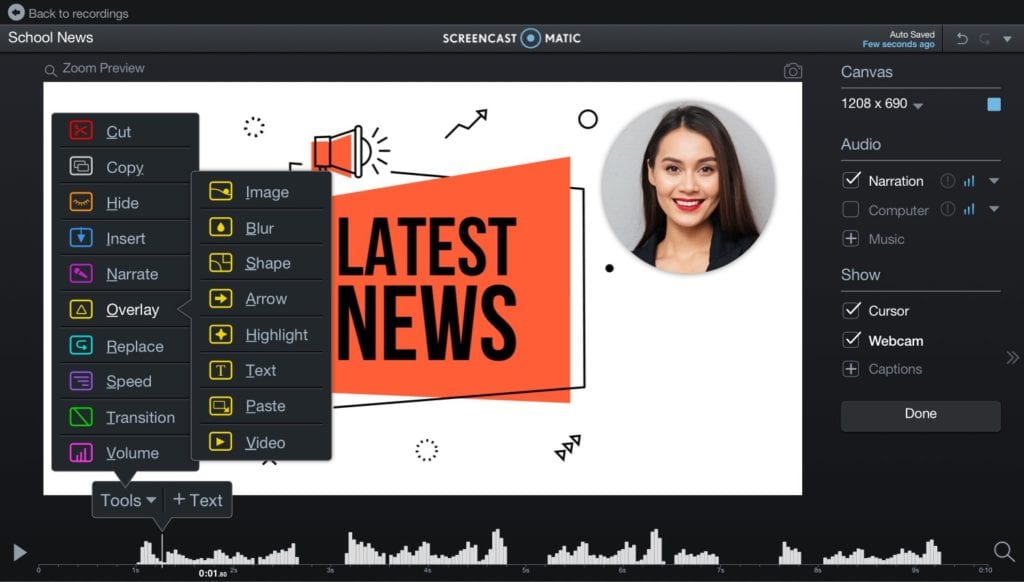 The most used editing tool is 'cut.' This is how we remove mistakes, 'ums', pauses, and
trim for time. Since it is the most used, your cutting tool should be fast and straightforward to
use. Find where you want to cut on your timeline and then select 'Cut.' It should be that easy.
In ScreenPal, the 'Cut' tool is on the main tools menu. When you select 'Cut' you can
drag the bar along your timeline to choose what you would like to cut. Use your keyboard arrow
keys to go frame by frame, and then click the arrow on the timeline to confirm the cut.
Here's the best news, if you make a mistake, you can always find the undo arrow at the top right of the
video editor.
Overlays
Overlays are one of the best ways to enhance your video. You can add text, images, and additional videos on top of your video. There are multiple overlay options available but resist the urge to try all of them. Overlays should be purposeful, with arrows and highlights used to feature specific content. Rich text should reinforce the underlining message, not reproduce the script word for word.
The ScreenPal editing tool makes it simple to add overlays. Go to the location on your
timeline where you would like to add an element, click on the 'Tools' menu and select the
Overlay you would like to add. You'll be directed to place the element where you'd like on the
screen and for the desired length of time. You can add multiple overlays on top of one another,
but again, simple is always best for a video audience.
Export and Save Your Video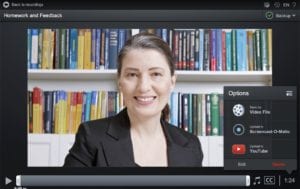 Videos are meant to be shared, so saving, hosting, and sharing them is an essential part of editing. Your
video editor should offer the ability to save your video and upload it quickly.
With ScreenPal Hosting Platform, you can store, organize, and share your videos easily. There are quick options for sharing to YouYube and other social media platforms, designed for marketing teams to spread their message quickly.
We also know not all videos should go viral, so you have the option of password-protecting your videos
with Premier hosting. You can create channels and playlists, controlling who has access to what. These
features are perfect for businesses and educators who need to manage messaging based on teams and
classrooms.
Get Ready to Edit Videos
We hope you find these video editing tips for beginners useful.  With ScreenPal's easy-to-use and intuitive video editor, you are able to record and create videos quickly. You'll soon find your audience is engaging more with your content and retaining the information.
Once you've learned the basics, there are ways to take your videos to the next level, including improved audio and green screen backgrounds. Your videos can look as complicated as you'd like, but the editing process doesn't have to be complicated.