Transform your recordings and enhance videos with the ScreenPal Video Editor.  Whether you are creating tutorials, video lessons, or capturing a video message, you can enhance any video with our easy editing software.
Here's the 'ScreenPal Video Editor Cheat Sheet' and a how-to guide to help you understand all of our editing tools and features.
First, there are two ways to get started and launch the editor:
Launch our free video editor.
Just head to our website, choose a video you want to edit, and launch the free video editor to start editing. We've listed all the free editing tools below.
Launch from the website, taskbar/menu bar, or app. 
As paid users of our Deluxe or Premier plans, you can easily launch the editor from either our website, your taskbar (Windows PC) menu bar (Mac), or the app through a download.  You'll have full access to the Content Manager and many editing tools including green screen with a paid plan.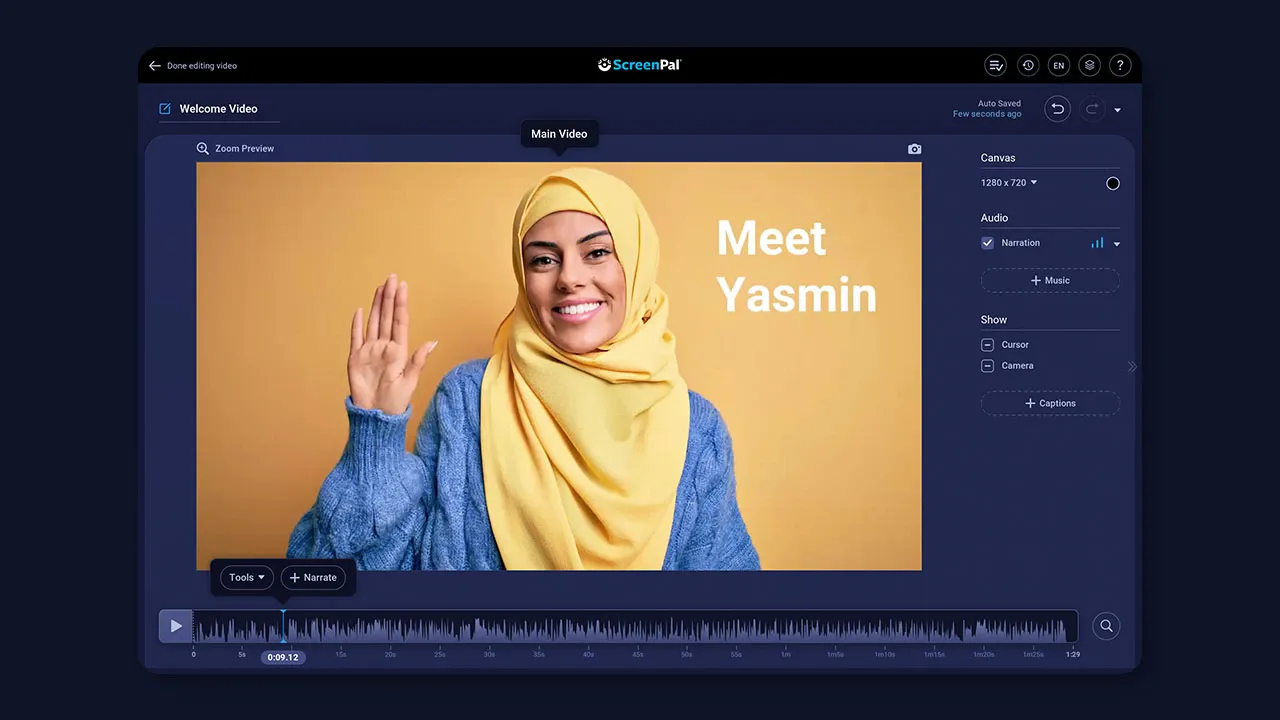 How-To Edit Video With ScreenPal Video Editor
There are global editing tools that allow you to edit your entire video in just a few clicks.  Tools such as size, crop, and the style of your video are a part of the global tools.
We also have timeline editing tools that allow you to edit a section of the video.  The tools menu is located above your video editing timeline. The editing process is simple and intuitive. It's the same process for almost every tool you use.
Head to the location on your timeline where you want the tool to appear.

Click on 'Tools' in the menu bar.  

Choose the tool you would like to use.  

When directed, drag the timeline bar to its desired length.  Note: You won't have to do this for every tool.

Click 'Ok' when you are ready to commit the edit.  
Once you place the tool into your timeline, an icon will appear in your menu bar indicating that it's been placed in that location.  You can always click on the icon to re-edit or remove the tool.
Timeline Video Editor Tools
Below is a list of available tools and features on the Screencast Video Editor. Each timeline tool includes a short description of what you can do with it. All you need to do is follow the simple process above to implement them into your video clip.
We've also listed the tools you can access for free in our free video editor.

Cut – (free)  Delete or cut portions of your video content.

Copy – (free)  Tool allows you to copy selected portions of your video. You can paste the copied portion anywhere on your timeline or choose another video.

Hide – (free) You can choose to hide either your cursor or webcam on selected areas of your video.

Insert – There are several options to insert videos or recordings into your timeline.

Narrate – (free)  Select a portion of your timeline to narrate over. The narration tool will open, and you can add your audio voiceover by hitting the record button.

Overlay – Add special effects, text, blurs to your videos or recordings.

Replace – There are two options in 'Replace' you can utilize for your video.

Sound – (free)  You can add sound effects or stock music with the Sound tool.  Choose from our library of sound effects to add a bit of fun to your video.  You can also add music to sections of your video with this tool.  You can select up to 3 tracks per category.

Speed – (free)  Speed allows you to change the speed of your video. You can choose to 'Speed Up' or Speed Down' and select the desired rate of speed.

Transition – (free)  You can add a transition anywhere on your video. There are dozens of transitions to choose from. There are some transitions where it allows you to choose the direction of movement.

Volume – (free)  Control your volume levels in sections of your video by clicking on 'Volume.' Just click on your audio source and click on the arrows to their desired volume, or you may choose no volume.
Global Video Editor Tools
Main Video
By clicking on the 'Main Video' (the screen of your video) you have multiple options to personalize your video.

Resize or crop – (free)  You can resize or crop the main video on your timeline. If you need to get rid of black sides, just click on resize and drag your video out to hide the sides.

Style – (free)  This allows you to choose the shape of your video (square, oval or rounded). You can also add a shadow around your video.

Options – Flip cam and green screen features.  Click here for more information on the features.
Flip Horizontal – You can choose to flip the scene of your video by checking this option.
Remove Color – This allows you to use the 'Green Screen' feature where you can remove the color of a background. You can choose which color to remove (green is recommended) as well as the tolerance of the removal.

Layering – (free)  There will be times when you have many layers of overlays or video on your timeline. This option allows you to arrange the layers in the order you want. Just drag the box to reorder.

Opacity – (free) The eye icon indicates the opacity of your Main Video. You can choose the opacity by dragging the bar left or right.
Global Controls
These controls are located on the right-hand side of the Video Editor.
Canvas – (free)  This option controls the size of your video. You can choose from preset sizes, or you can customize the size by typing it in. You can also select the background color of your video.
Audio – Depending on your audio sources, you may see the following options on your video editor.
Show – These options allow you to show or hide either your cursor, webcam or captions on your video. By checking off these options, you are choosing to show either your cursor or webcam throughout your video.
Captions – (free)  There are several options to add captions to your videos. You can choose to add captions with a text file including .txt or .srt files. With an upgrade, you can use the easy speech-to-text tool, or type in your own captions.  Click here for more about captions.
Additional Video Editing Notes:
Edit Points – You can place edit points to animate or move objects in your video. Edit Points can be used for most of the tools located in 'overlay.' A full tutorial can be found here.
We hope that this guide will help you utilize the best of what ScreenPal has to offer in the video editor. You can print it out or refer back to it when you are editing. There are many more articles on editing tips, how to best utilize the video editor, and more!
To upgrade to a Deluxe plan and get the best out of editing, turn to our plans page for more information.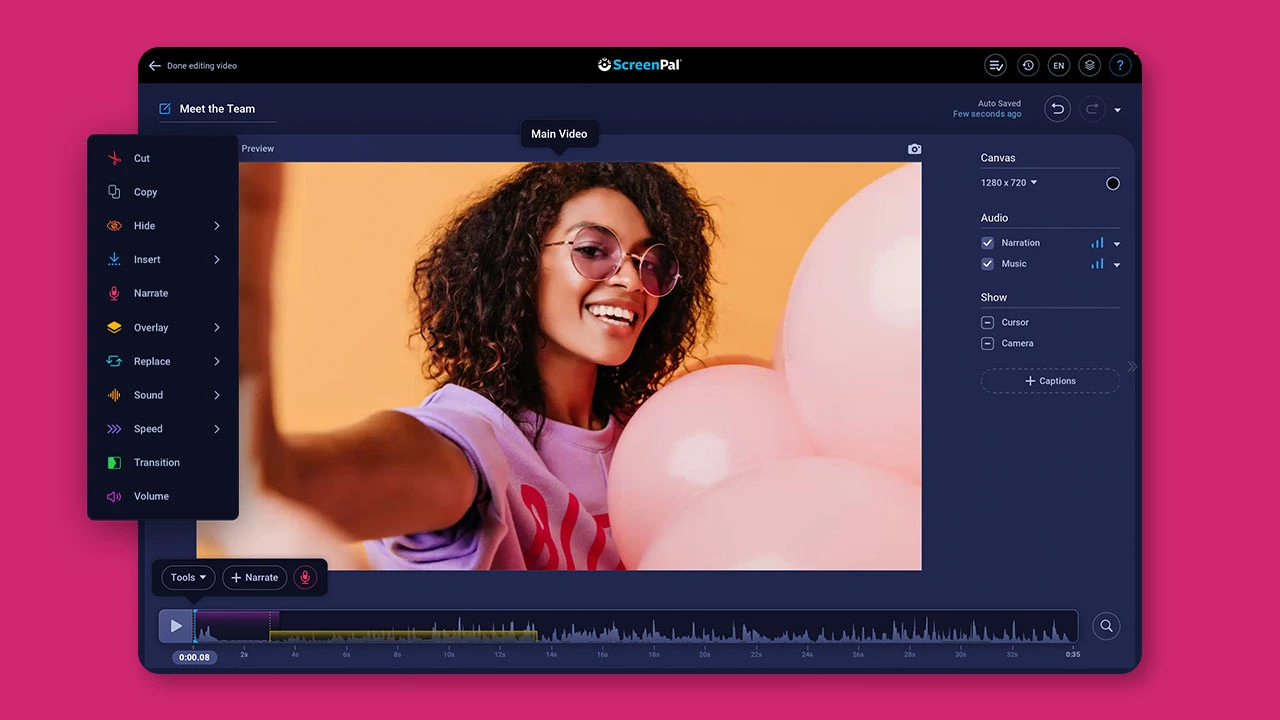 Create engaging videos for free with ScreenPal
Edit and share professional-looking videos with ScreenPal's easy-to-use free video editor.
Quick Links:
Full list of video tutorials for easy editing
Easy Video Editing Software: Guide To ScreenPal Video Editor