Video is the most engaging type of content on social media today, and that won't be changing any time soon. From TikTok, Instagram to Facebook, video is only getting bigger and it's driving more engagement. That's why it's a good idea to invest in video for your company's social media presence.
Videos are seen as more trustworthy and authentic. It's the best way to make a strong and memorable impression without meeting your audience in person.  That said, the social media video landscape is competitive with more and more companies turning to video marketing.
Don't worry though, there are a few easy editing tricks that can help your videos stand out from all the rest. 
1. Create videos outside social apps
Do you make your marketing videos directly in the social media apps? While that may be fine for the typical social media user, in-app video creation tools tend to be lacking in customization and editing features. They can also be prone to crashing, leaving you to re-record your entire video if something goes wrong. 
Instead, create your video outside the app by using video creation software. These tend to have more features and tools to enhance your videos. With ScreenPal, you can record, edit, and share your videos all-in-one platform.  
You can start off with the screen recorder. It allows you to record your screen, webcam, or both. This is great for those who like to create show-and-tell videos.  You can easily show off your screen and add your webcam to emphasize your video message.  Many gamers and hobbyists create videos using this method. 
2. Use an easy but robust video editor.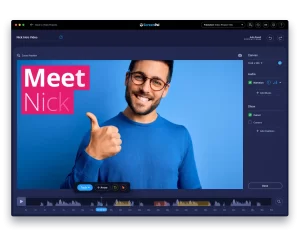 After recording, you can edit and cut out any awkward pauses or mistakes, emphasize topics with titles or animated text. You can even import other recordings or overlay images throughout your video.
 If you're creating a batch of marketing videos to post on social media throughout the month, it can be a hassle to edit them all from Facebook or an Instagram app. That's another reason why we recommend using a video editor outside of these social apps.
Having a ton of videos can be a hassle to manage and organize. With ScreenPal, you can open your Content Manager which lists all of your videos.  You can click on any of your videos to edit them in the video editor.
You can easily access older content and share them.  It's a great way to repurpose your older videos and introduce them as a new topic.  Just add a custom intro or outro and reshare your content as needed.
3. Add captions.
Is your video content accessible for those with disabilities? It should be! According to the Centers for Disease Control and Prevention, one in four adults in the US lives with some form of disability. Further, most people admit to regularly watching social media videos on mute. It's important to make sure viewers can still understand your video without sound. 
While most social media apps require you to type your captions manually, you can use ScreenPal for multiple captioning options. You can auto-generate captions with speech-to-text technology. You can also import a caption file, or type them in the Interactive Captions Editor. 
4. Turn Zoom calls into polished videos.
Are expert interviews or live chats part of your content strategy?
Here's an easy editing trick: Record your next event as a Zoom call, and use our Zoom integration to open it directly in the video editor.
You can quickly turn your Zoom recordings into quick marketing videos. 
You can trim and cut it into shorter segments to use as Instagram posts, or publish the entire video to your YouTube channel. 
Add your custom video intros for a polished look.
5. Green screen filters for creativity.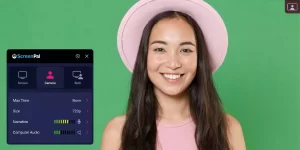 Green screen filters are commonplace on social media nowadays, especially on Instagram and Tiktok. Unfortunately, those in-app filters often show up fuzzy or grainy.
For a more professional look, use the green screen tool in ScreenPal instead. You can implement the green screen in both the recorder or the video editor.  Then add background images or video behind you without the messy blur of less sophisticated filters.
6. Add context to your video.
Another major advantage to using a fully-featured editor is that you can add more advanced edits that add clarity and context for viewers.
You can easily draw on the screen to illustrate your points. Another way to add emphasis is by using highlights on sections of your video.  There are numerous overlay tools that help you tell your story.  You can add arrows, shapes, animated text, and more to get your audience engaged with your content.
7. Set the tone with music.
Adding a music track can keep your audience engaged and focused on your video. It sets the tone throughout your video.
ScreenPal's video editor includes an expansive stock music library with songs filtered by the style of music. This makes it easy to find the perfect track to fit the vibe of your video. Then you can share away without any fear of copyright infringement. 
Create Eye-Catching Content
Don't let the algorithm or competitive nature of social media scare you. With these easy editing tricks, you can create eye-catching content that converts, no video experience needed.