One of your computer's most powerful features is due for an upgrade. It may change how you capture a moment. Being able to take a screenshot is universal. Microsoft Windows, Mac, and even smartphones all feature snipping tools. Snips (screen grabs, screenshots) allow us to freeze a moment in time on our computer screen. 
Don't Overlook the Free Snipping Tool
Yet this overlooked staple is capable of so much more. Bonus– the upgrade is free. In fact, you may already have a snipping tool if you use ScreenPal. 
The best modern snipping tools streamline saving, sharing, and offer cutting-edge image editing options. It's a big change from the early days of Print Screen on Windows.
Unlike basic snipping tools, ScreeenPal offers multiple screen capture options and an Image Editor designed to turn your images into powerful visual aids. 
Focused Snipping Options
The ScreenPal snipping tool is included with the free screen recorder for Windows or Mac users. All you need to do is create a login to use the free screenshot tool.  
You can capture your entire screen or save a particular window. The click-and-drag feature goes a step further. Users are able to select the area they want to capture.
Now for the Fun Stuff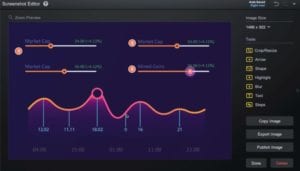 What ScreenPal does after you capture an image is what sets it apart from other Windows snipping tools. 
You're able to stylize your screenshots within minutes with the ScreenPal Image Editor. It offers a host of editing features not found in Snip & Sketch. User friendly features like custom rich text, shape overlays, image resizing and even freehand drawing can transform web browser images. 
It's perfect for online classes or if you're working remotely.  
Improved Context
Most people share a screenshot along with a lengthy written explanation for their audience. Now you can skip the paragraph by editing your image. ScreenPal includes an annotation tool. Adding text to an image directly makes it clear exactly which part of the screen viewers should focus on and why.
The text tool is fully customizable. You can adjust the font, color, size, and even rotate your layout. 
Go beyond text by using the arrow tool to pinpoint a portion of the image or try the highlight tool. 
Leave Out Personal Info
Have your email or personal information displayed in your screenshot? You can hide it with the blur tool. It's perfect for hiding sensitive information captured in your screenshot.
Add additional details to your image by using the text tool. 
Instructions in a Snap 
Sending quick instructions has never been easier either. Next time combine the steps tool with your screenshot.
You won't regret it.  Simply put — the steps tool will become your new go-to.
It numerically stamps the order of the instructions on your screenshot. No wasted time trying to create, style, and resize numbers on your snip. Steps gives your image a uniformed look in a fraction of the time. 
The Image Editor goes above and beyond simplifying how to make quick edits. 
Unlike similar tools, it doesn't need to be downloaded separately. The free snipping tool includes these image editing tools and the screen recorder within the ScreenPal platform. The combination means you can create everything from an edited screen grab, to a podcast, to a fully animated video.
Save and Share with the Snipping Tool
The free tool even improves how screen grabs are saved, shared, and organized. 
You won't find thumbnails cluttering up your desktop with ScreenPal. Instead, all of your content is in one spot. Screen grabs are saved in the ScreenPal dropdown menu found in the Windows Taskbar. 
Even better, a one-click upload option sends your image to your web based ScreenPal account. Now your snip can be accessed from any device where you run ScreenPal. It's ideal for anyone jumping between devices or works on the go. 
You're also able to save your image as a PNG or share images directly to your most used learning management systems like Google Classroom. The one-click option in the ScreenPal menu sends screen grabs directly to your email, Microsoft Teams, or your social media accounts.
It's all designed to save you time. So stop skipping between Photoshop, Canva, and your screen grabs. All the tools you need are in one place whether you're creating a professional presentation or teaching a remote class.