Health concerns during the pandemic painted a grim future for many businesses — close indefinitely or operate virtually. Millions of workers packed up their offices and started working from home. 
Nearly one year later, millions are still remote working via video. It's not perfect. But the lessons companies have learned may change the workplace forever. 
How Video Transformed Internal Communication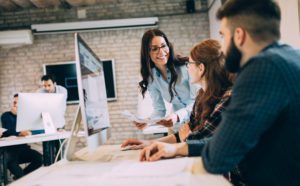 Video became the breakout star when employees were forced to work from home. Downloads for video conferencing apps jumped 90%. Millions of workers signed up for the Zoom app, and screencasting tools changed how employees communicate. 
Video just clicked.
It removed the barriers for remote workers by offering something emails and conference calls couldn't. Video provided accountability, visual examples, and most importantly a personal touch.
Working From Home With Virtual Live Meetings 
Employers instantly realized the benefits of live video meetings. 
Platforms like Zoom and Google Hangouts provided an interactive virtual meeting space at a time when so many were isolated. Live video conferences allowed entire companies to reorganize from afar. 
However, lengthy online meetings soon dominated the workday leading workers to try other options.
Pre-Recorded & Personal Communication
As a result, video messaging became a favorite. Remote employees could use their web camera and a screen recorder to capture their message. 
Screen recorders were a go-to for employees wanting to demonstrate their computer screen. The video content could then be shared, saved, or edited. 
The simple process made it the most efficient way to collaborate. 
"This is the ultimate tool," boasted Linh Podetti, who began using ScreenPal prior to the pandemic. The Australian-based business owner has encouraged her clients to screencast to communicate with her virtual staff.
Screen recording offered Podetti's team more flexibility. Unlike a live event, both parties didn't need to be available to chat back and forth
The trick is learning the best way to share videos. 
Platforms like ScreenPal designed their videos to be easily integrated into work management systems like Basecamp, Asana, and Slack. Users can simply drop in a link or upload the video file. 
"Whenever there is any issue with projects or communication it always comes down to, 'Why didn't you just do a video screencast?'" says Podetti.
How Video Reinvented the Customer Experience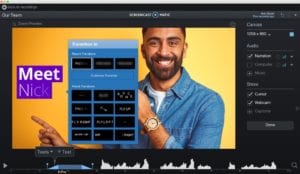 The lessons learned while working from home have extended beyond improving internal company communication. It's changing the customer experience too.
Cisco Systems predicts video will make up 82% of internet traffic by 2020. That's a 15% increase from 2017. It means companies adopting video practices will be ahead of the online video marketing trends.
Online Marketing 
Creating in-house marketing videos became a necessity as the pandemic limited production capabilities. Not only did online marketing keep companies afloat, it saved money.
Employees discovered how easy it was to record presentations, social media content, and even commercials on their phones. 
The key was downloading the right tools like ScreenPal's mobile video editing apps . The iOS and Android apps turn screen recordings into movie magic. 
Suddenly remote workers could create content from anywhere. Much like the desktop version of the video editor, users can add and edit text, images, and even upload music into their videos. Plus the app includes additional tools like filters and custom crop sizes to fit the dimensions of social media platforms. 
The switch created unique online marketing opportunities as businesses struggled. Done correctly, videos can increase search engine optimization. It keeps customers on websites longer in turn, improving online engagement. 
Personalized Customer Service 
The lockdown shift has forever changed how companies interact with customers too. 
Companies turned to business video to offer continuous updates throughout the pandemic. The nature of the lockdown meant operating hours, closures, and safety precautions could change anytime.
It also meant employees were interacting more with customers online than in-person. Businesses opted to respond with video responses or explainer videos. Videos saved time rather than repeatedly typing out long email responses.
As Guy Thornton explained, all it took was a screen recorder for his company, Picked Group Ltd., to start creating personalized customer videos.
"Our customer support team can now solve numerous customer issues much more quickly by producing videos and screen grabs, rather than having to explain matters step by step in an email."
Companies using this approach can save all of their videos online with the right hosting platform. ScreenPal offers an upgraded hosting platform where employees can save, duplicate, and re-edit videos rather than starting over each time. 
The Future is Bright for Video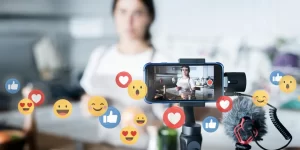 Business leaders predict this is just the start. 
"With more and more commerce moving online, we'll see a major surge in video as a marketing tool in 2021," explained Pearl Lemon founder, Deepak Shukla, who estimated video posts can attract up to three times more online traffic than a text post. 
The impact of video is only going to grow. 
It's why more companies are becoming comfortable with remote work. Some even going as far as to make it a permanent option for their employees.