In a world where more and more businesses are going virtual, it's crucial to have a video webcam background that reflects your brand. Whenever you're recording your webcam, a well-chosen office virtual background can help your videos stand out from the competition and help make a great impression on your audience.
If you're unsure where to start, we've compiled a list of office virtual backgrounds that can help enhance the quality of your business videos. Choose between open office designs, a private office setting, or a home office image depending on your preference. Whether you're looking for something professional, casual, or creative, we've got you covered. But first, what exactly is a virtual background? And why is it beneficial for creating business videos?
Let's find out.
What is a virtual background?
A virtual background is an image you can use in place of your default webcam background during a video recording. A virtual background can give your webcam recordings a fresh look by replacing your webcam background completely, which can help reduce potential distractions and improve engagement for your video. 
If you're uncomfortable with your office or work-from-home webcam view, using an office virtual background image instead can help build your confidence, increase your personal privacy, and help you appear more professional during your webcam recordings. Transport yourself to your dream location by uploading your own file or choosing a stock image to use as your webcam virtual background. 
Why use an office virtual background image for business videos?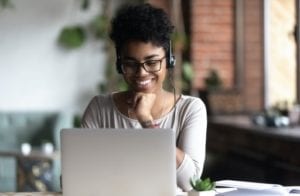 If you're looking to build deeper relationships with your clients or colleagues, using a virtual office background can help. You no longer have to rely on your own location as a webcam backdrop. You can choose from a wide range of virtual background images that reflect your branding, personality, and business. 
Rather than showing the room behind you, use your company's logo, an image that reflects your company's culture, or a professional office setting in the background of your webcam. Whatever you imagine, there are now endless possibilities for your webcam virtual backgrounds. Virtual office backgrounds can enhance a wide range of business videos, including:
Training videos

Sales presentations

Webinar recordings

Product demos

Marketing videos

Account management

Tutorial how-to videos

Internal communication

Consulting videos

And more!
Choosing the best office virtual background image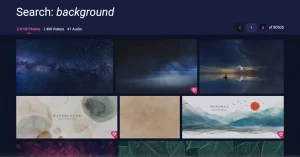 The best office virtual background image to use for your webcam recording might differ for each person or video. For example, some creators may prefer a professional image while others might prefer a more casual image. And a background that works for a training video might not be as suitable for a product demo or tutorial. 
You want to aim for a balance that represents your business, the video topic, and your own personality. The goal is to make a good impression and get your audience to engage with your video. Here are some factors to consider when you choose a virtual background image:
1. The environmen
t
If you don't have a physical office or your current office environment may be distracting to show in your webcam recording, using a virtual office background can make your business and video appear more professional. Similarly, when choosing a virtual background, it's best to keep it professional by avoiding a cluttered-looking image or a large amount of empty desks behind you in the image that could look like business is slow. You don't want it to look like you're the only one doing any work in your company! 
2. Your brand
If you're trying to establish yourself or your company as an industry thought leader, using an office virtual background in your video recordings can help you build your brand. Your brand is how you are perceived by your audience. It's the image you project to the world, and your virtual background can help build your brand by reflecting your company's values, mission, and goals. Choose an image that reflects your brand, setting a corporate, casual, or fun atmosphere, and enables you to stand out from the crowd. 
3. Audience
Keep in mind who your audience is for each video when you are choosing your virtual background image. Is it potential clients, new employees, or your executive team? Think about what type of imagery would resonate with them to help keep them engaged and understand the message you are conveying.
4. Topic relevance
What is your business video about? Are you creating training videos for your company or a demo video for a new product launch? Find a virtual background image that compliments each specific video. For example, if you're recording new employee onboarding videos, you probably wouldn't want a beach in the background. A standard office setting would be more appropriate. Or if you're a realtor recording a video about your services, a more casual home office environment might connect with your clients better.
5. Other people
When you create webcam recordings, you want to make sure people are able to focus on the content of your video, and you as the speaker. Having people behind you in your virtual background image could be distracting. If they're far away and not the focus, it may be fine – but if they're close up or in the foreground, it might take away from what you're saying, especially if it would be unnatural for them to be static throughout the video recording.
6. Desk location
If you have your computer and desk in front of you during your webcam recording, it could seem unusual to have a desk and computer right behind you in your virtual background image as well. Showing a wall, windows, or open room behind you in the image would likely be more realistic. 
7. Image depth
How close do the items in your virtual background appear next to you? If the image shows large furniture right by you, it might look odd like you're in a very small room or have an unusual layout for the space. It's ideal to choose an image with some depth to it, with furniture spaced out throughout the room based on where you appear to be sitting. 
8. Lighting
Lighting is one of the most important factors to consider when choosing a virtual background. If the lighting in your image is too dark or too bright with a glare, it could be distracting. Look for an image with even, natural-looking light. For example, a conference room in the background with large windows and natural light would be an appealing choice for any business video. 
9. Keep it clean
Simplicity and cleanliness are key when choosing a virtual background for your business videos. You want to avoid an image that is too busy or cluttered, as it will be distracting and take away from what you're saying. In fact, cleanliness is one of the biggest benefits of using a virtual background. If your own office space or home is messy and cluttered, using a virtual office background can make you and your business look more professional. It gives the appearance that you're in an efficient, dedicated workspace. This is especially important if you work from home and want to keep your personal space separate from your workspace.
Office Virtual Background Images
With so many image options available, it can take time to search for and find the best office virtual backgrounds for your videos. To help you save time, we compiled a list of office virtual background images that could work great for any business webcam video. Choose from open offices, private offices, and work-from-home offices for the best background environment to work for your personal and company brand.  
Open Office Virtual Backgrounds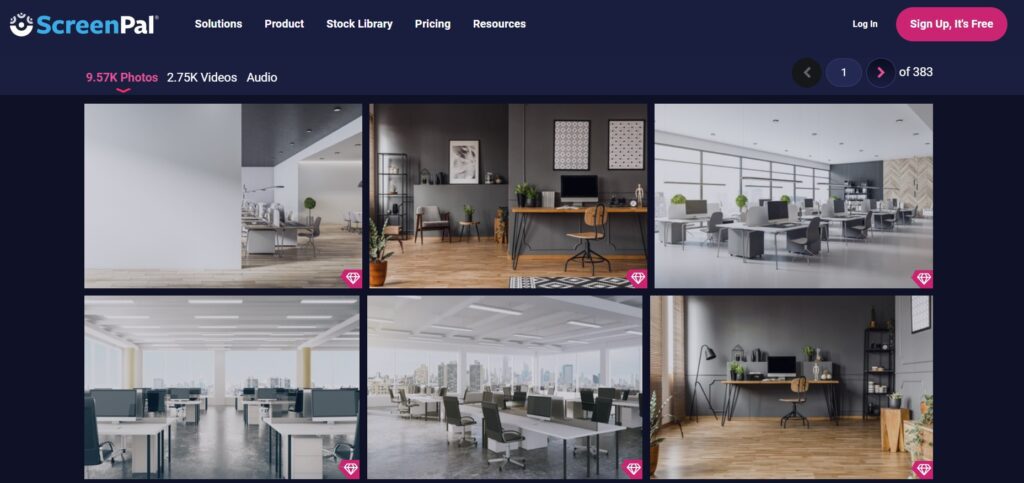 A classy open office environment in the background sets the tone for a professional looking webcam recording. It portrays a business that values its image and is a common, ideal setup for an office. An open office environment is versatile enough to work for all types of business video recordings, from training videos to sales presentations.
Having simple, neutral walls in the background help make it easy to concentrate on you during the webcam recording, rather than the background itself, because there isn't much that could potentially distract your audience. 
Choose from a wide range of modern, contemporary, minimalist, and luxury open office virtual background images  to find the setting the best reflects your personality and the professional image you would like to convey.
Private Office Virtual Backgrounds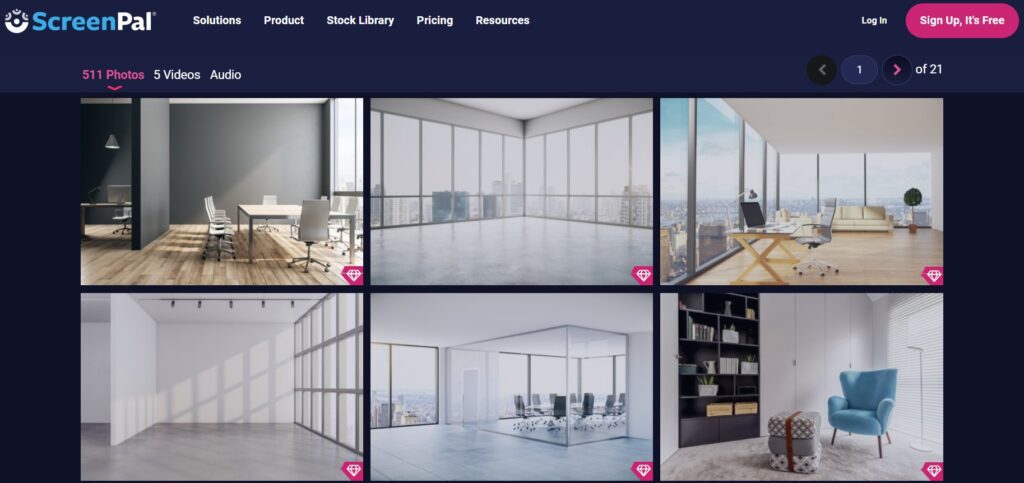 Our stock library also has a wide range of private office virtual background images that can be used as a background for your webcam videos. An inviting, personal office setting for your webcam recordings would be perfect for anyone in management or leadership position.  
An image with neutral colors, bright lighting, and minimal items in the background can portray a clean, simple environment that's realistic and practical. An office is sure to please the eye and be a natural image for those looking to portray a private setting for their videos. 
Home Office Virtual Backgrounds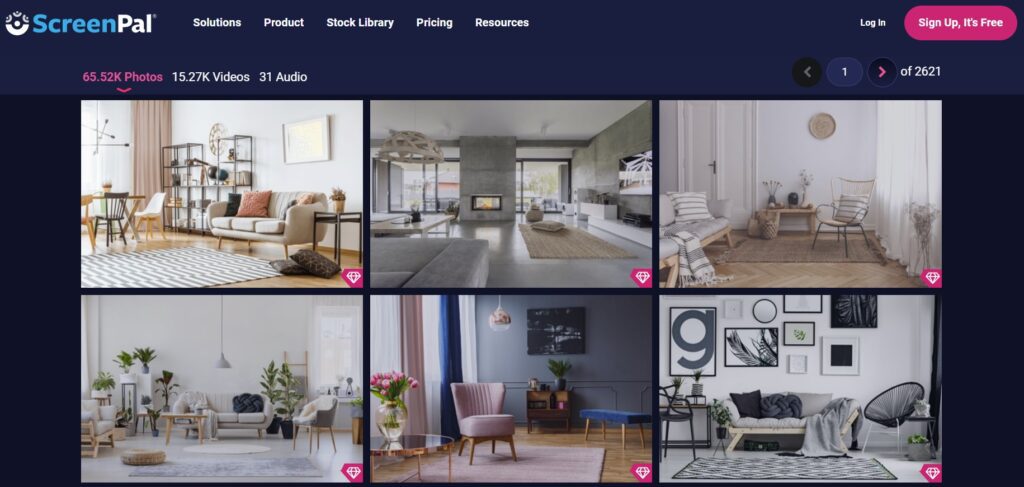 A casual, has a comforting sense of familiarity for a webcam recording. You can choose from large open living room backgrounds as well as smaller, more standard home office rooms. Soft furnishings, such as chairs, couches, and rugs, along with neutral tones can give your webcam recording a feeling of being at ease.
A home office virtual background setting would be ideal for those working from home who might want a more polished but realistic background, or to hide clutter that might be in the background of their own workspace. They can convey a real sense of pride and professionalism in your work environment, even when working from home. 
Why use ScreenPal for your video virtual background?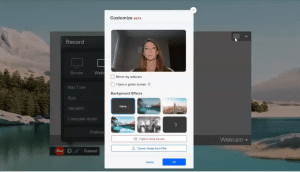 Once you've selected the perfect virtual background image for your webcam recording, applying the new background is a simple, easy process with ScreenPal. Start by testing your webcam. Upload your new virtual background image directly from your computer or select one to use from our stock image library, available for Premier plans and higher. 
You can then set the new virtual background image using the background remover feature in our screen recorder (before you start your webcam recording) or our video editor (after the recording). The background remover and virtual background feature is available to all ScreenPal users, including both free and paid plans.

ScreenPal has everything you need to create a wide range of webcam videos for your business, including:
With ScreenPal, you can record a wide range of business videos, from how-to videos and tutorials to training videos and sales presentations. Build your personal and business brand, record and edit your videos, upload straight into YouTube, and more. ScreenPal solutions are perfect for video creators, business owners, sales professionals, HR employees, and anyone else who wants to make their video content as engaging as possible.
If you're ready to use a virtual background for your business videos and more, get started for free today!