With everyone shopping from home during the year+ of the pandemic lockdowns, habits were formed that may never go entirely back to "normal." The amount of online shopping has increased, and the length of time we've been doing it means these new habits have solidified.

Does that mean the personal shopping experience no longer matters? Far from it. Especially for expensive purchases, it's still helpful to have a more personalized, one on one encounter with an online shopping video. Some online shopping sites turn to "conversational e-commerce" to provide that to shoppers.
Why "Chatty", Conversational e-Commerce Matters
Conversational e-commerce is a way to make online shopping feel more like shopping in a brick-and-mortar store. A recent study from Ipsos found that 85 percent of people will continue to use video calling platforms like Zoom even after the pandemic ends. 
Further, Fast Company reports that people want video calling services that "let them do more than just talk to each other. People want features that will let them share their normally in-person experiences virtually. They'll watch movies together, listen to music together, play games together, learn, and teach together. People will expect these 'add-on' features to be free and easy to use, and companies that deliver these experiences without letting the technology get in the way will likely thrive."
Conversational e-commerce is the next step in adapting to consumers' changing preferences in three critical ways:
Making virtual customers feel seen and understood

Giving customers the support they need to make informed online shopping decisions

Providing higher-level customer service virtually which includes videos
Your team can implement conversational e-commerce affordably and efficiently with video content using ScreenPal.
Easy Tips to Create Online Shopping Videos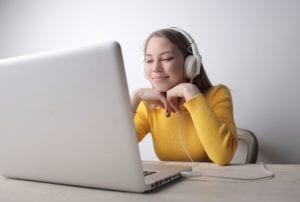 "We'll see a major surge in videos as a marketing tool in 2021," says Deepak Shukla, founder of SEO agency Pearl Lemon. His team has been leaning into video to drive customer relationships for years. He sees video as an ideal way to over-deliver to his customers.
Follow these tips to bring conversational e-commerce to your customers.
Add an intro video to your homepage.
Think of your company's homepage as the entrance to your store. It's your first impression and a chance to make a connection with your visitor.
Use the screen recorder to create a quick introductory online shopping video demonstrating how you can solve your customer's problem.
Use an online shopping video to guide customers through your sales funnel
.
Clicking through Pearl Lemon's website, visitors will see videos providing background information, answering common questions, and educating customers about their services.
With these videos, Shukla anticipates needs and solves customer problems before they arise, helping move people through the buyer's journey more quickly.
You can also use these videos in email marketing to help build customer loyalty or give customers the nudge they need to complete a purchase. 
Save time with a pre-recorded video that still feels personal.
Most companies don't have time to chat face-to-face with every customer who visits their website. In this case, a thoughtful pre-recorded online shopping video can feel just as exclusive as a live call.
Shukla says the connection is vital, and his videos go a long way to make customers feel valued.
Brand your online shopping videos for a professional touch.

You don't need a team of experts to create on-brand videos for your business.
Use the ScreenPal video editing platform to add your brand colors, photography, and logos to any project.
You can also add closed captions, draw on the screen, zoom in or out, and add shapes or arrows. Explore our expansive stock library to find music and photos that fit your brand. 
Videos For Customer Support 
Guy Thornton, the founder of Picked Group Ltd., relies on video tutorials for personalized customer support. 
"The feedback was definitely positive," he said, happy to see less back and forth emailing between his support staff and customers.
When a customer needs help, the support team records a screencast to explain the solution visually. For complicated issues, they can take a screenshot and use the Image Editor to add numbered steps.
Connect With Customers With Online Shopping Videos
Conversational e-commerce with easy online shopping videos are easy to implement. All you need is ScreenPal and a few creative video ideas to bring the face-to-face experience to your online customers.