Does your desktop look like a jumbled mess? You know, untitled icons scattered across your screen with no file folders in sight. If it does, the odds are that your content is in a similar state of chaos. But there's a quick fix for users who are sick of sorting through unnamed videos. That's where hosting management comes in. 
Tidy vs. Time-Consuming 
It all comes down to time.
Half of Americans would rather clean their house than their computer. One-third claim it's a time-consuming task according to a Western Digital poll.
However, ScreenPal's hosting management platform offers several quick features to tidy up your recordings, videos, and images in less time than it would take to vacuum. 
The difference could save you time, money, and streamline content sharing.
1. Drag and Drop to Streamline and Organize Content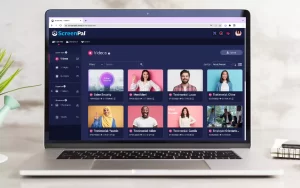 Digital marketing expert Miles Beckler uses video to engage his audience. Beckler has a YouTube empire of how-to videos. So he knows the importance of streamlining work. This is why he uses ScreenPal to create video instructions for his own employees.
Over time he's built a video library to simplify onboarding new team members. It saves him time and creates a valuable resource for his entire team.
There's an easy way to create and organize your own custom libraries in ScreenPal.  The easy drag and drop feature helps you get content organized quickly.  You can choose multiple videos and add them to either a channel or folder.
Video Channels – All you need to do is create a channel and give it a name.  Anytime you upload a video, you can assign it to a specific channel.  This simple process will keep all your content organized and in its own designated libraries.
Folders – At the same time, you can create folders and subfolders which is particularly helpful for teachers with multiple subjects or grade levels.
Teachers could create separate folders for beginners, intermediate, and advanced students. Then add subfolders to separate videos focusing on different skills. 
There's a number of ways to stay organized. It really depends on how you manage your content.  Both folders and channels can be used for better organization and it doesn't take a lot of time to create. 
2. It's All In The Video 'Details'
Organizing your content isn't complicated. It only takes a minute. So do yourself a favor and start organizing once you upload your video to your hosting account.  
Just hover over your video and click on the video 'Details' to get started.  To make it simple, let's cover these three basics. 
Video Title – Don't overthink it. You can change titles later. Be sure to include a keyword. If you can't find your video, you'll be able to search for that keyword on your hosting page.
Description – Type a little background about your video to help organize your video library. Descriptions are critical especially in business to keep projects and clients on the same page. 
Thumbnail – ScreenPal automatically assigns a thumbnail to your project. However, you can upload a custom thumbnail for better organization. 
Visibility – Depending on your business or school, you may need to restrict who can see which videos. Video privacy can be dialed down to unlisting your content or adding password protection for security.  You can easily adjust privacy settings for individual videos or you can choose multiple videos and adjust settings at one time.  
Adding these simple features even when you're in a hurry is a game-changer and can save you a ton of time in the long run.   
3. Sharable Links For Your Audience
Getting organized offers benefits beyond the workplace. Educators like foreign language teacher Marcia Clark have been creating video channels for years and sharing them with her students.
Once a video is complete, Clark uploads the video directly to her individual channel titled, "Learn To Speak Spanish with Mrs. Clark." Each video added to a channel appears like a chapter. It's why carefully naming your videos is important. Students can jump to specific videos depending on their needs.
You can then share a unique channel URL with your audience.  The URL doesn't change unless you want it to.  You can continue to upload videos to your channel and share the same link again. 
4. Update and Replace Videos
Organizing her video library means Clark doesn't need to start over each year. She's able to update and replace a video at any time, make edits, and save it for the next class. 
With the Replace Video feature, teachers can replace an entire video that's already in their channel and keep the original URL. 
All metadata is saved when you replace your video.  In addition, she doesn't have to send updated links to her students.
Starting Simple with Hosting Management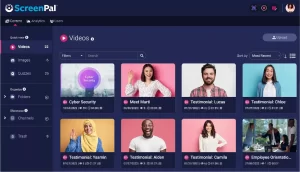 Adding these simple features even when you're in a hurry can save you a ton of time. Because nothing wastes time like trying to determine the difference between three unnamed recordings with the same thumbnail.
Save time, add in the details, and organize your content the easy way!