Whether you're back to work in person, still remote, or one of the increasing number of people working in a hybrid environment, the ways in which you communicate with your team and colleagues have changed. And while asynchronous communication isn't a new concept, the ways in which we're able to communicate with each other—and the number of tools we juggle just to get our jobs done—keep increasing.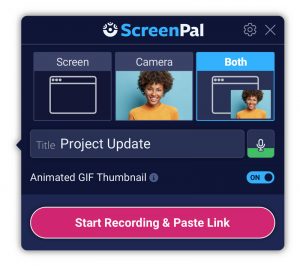 What if you could have fewer meetings, have more time back for your own work (and life!), yet still build personal relationships with your team and communicate clearly and effectively, all on your own schedule?
That's where ScreenPal comes in. ScreenPal is built for async video messaging, right where you work. ScreenPal is your video messaging assistant and allows you to turn any text box or comment field where you type into a quick, authentic video message.
ScreenPal is the new Chrome extension for video messaging from ScreenPal. Once you install ScreenPal, you'll be able to record and share video messages from within the apps you're already using. No need to juggle another tool when all you need to do is click, record, and share.
So how can you make the most of ScreenPal, and how can ScreenPal help you make the most of your day?
1. Replace meetings with video
We spend a good amount of our workdays in meetings, yet much of that time isn't productive. 64% of people surveyed recently said that less than half of the time they spend in meetings is relevant to them or their jobs. And over 70% struggle with scheduling meetings that work for everyone given how busy and booked our calendars are.* 
So when you find yourself feeling like you have more to say than you can or want to put in an email, but wish you didn't have to schedule a meeting to communicate, that's when you can use ScreenPal. 
Need to communicate the details of a project to your team? Want to present concepts and explain your thinking? Giving a project status update? Open whichever productivity or project management tool you use, click the ScreenPal icon, and record your screen, webcam or both, then share your video with your team with a simple click. Your teammates can then watch your video at a time that works for them and reply using ScreenPal right in the same app as well.
2. Send video emails
When that email thread is starting to get really long, you're trying to communicate complex ideas, or you want to make an authentic introduction, video messaging in email allows you to communicate clearly and efficiently, while still maintaining the feel of a conversation that email provides. 

You can type an intro then click the ScreenPal icon to record yourself via your webcam, or record your screen as well depending on what you're looking to communicate. Video in email allows you to reduce back-and-forth and replace long email threads with quick videos that are both personal and professional.
3. Give friendlier feedback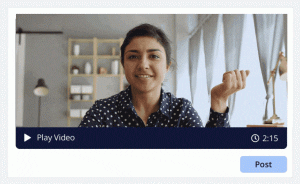 Have you ever found yourself taking forever to type out feedback to a colleague because you want to make sure you convey the right tone? And, have you found your emails to be misinterpreted even though went to great lengths to avoid this?
ScreenPal solves that problem by allowing you to record video feedback right where you would normally type and share. Your colleague will see you and your expressions, will hear your tone of voice, and you can then convey your feedback in a friendly, positive, and professional manner, just like you could in person. 
Providing async video feedback allows both you and your teammates to be most efficient and productive, giving and receiving feedback at times that are convenient instead of having to try to schedule a meeting or risk missing context in text. 
4. Show AND tell
If you're trying to communicate complex information or reviewing specific documents or assets, record your screen with ScreenPal to show what you're talking about as you describe it. You can use ScreenPal to include a quick video overview of a design comp when you post it, or walking through a project brief in your favorite project management app like Asana or Trello, or document a bug in apps like Jira and GitHub to show your dev team the steps to reproduce it. And, if the recipient needs a refresher, they can always go back and watch the video over.
5. Control where you want to send video messages
When you install the ScreenPal Chrome extension, you will then see the ScreenPal icon in every text box and comment field in your browser-based apps. You'll find there are some apps where you'll want to be recording and sending video messages often – think email, project management, workflow, and productivity apps – and some where you may never want to record videos. 
You can choose to hide ScreenPal on specific sites where you don't want the icon to show when you type. Simply click the X to the left of the ScreenPal icon to always hide ScreenPal on a specific site or app. You can also pin the ScreenPal extension to easily hide or show ScreenPal for any website.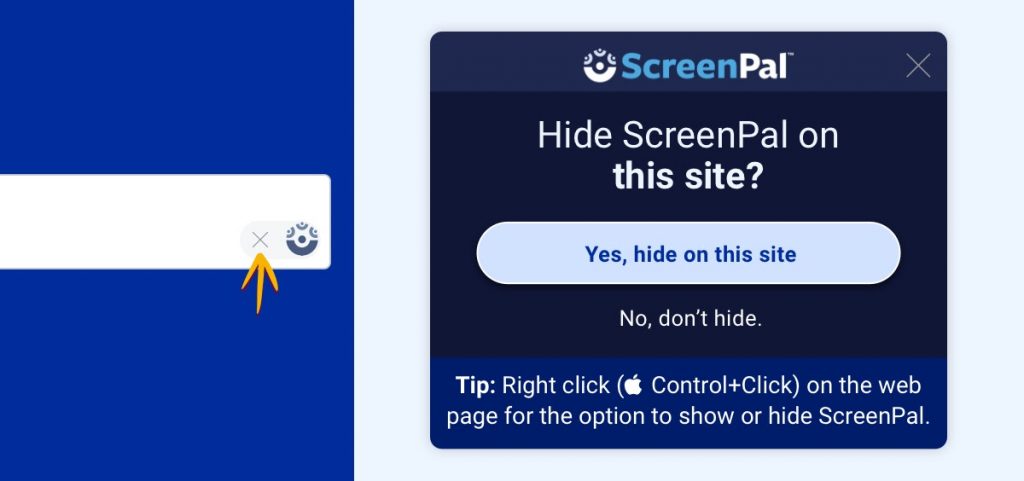 Of course, there will still be meetings and synchronous communication in our days. After all, we're social beings, and some conversations are best had in real-time. But video messaging has so much potential to save us time, improve productivity, and most of all, build and strengthen relationships in the workplace. 
*Survey findings are the results of a survey of 1,064 ScreenPal users conducted by an independent third party between December 2021 and January 2022.