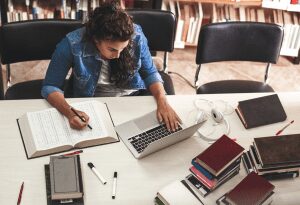 Digital literacy is the ability to use technology to find, evaluate, create, and communicate information using both cognitive and technical skills, according to the American Library Association.  It's a skill today's students can't go without, according to Martin Mehl, a Communications Professor at California Polytechnic State University in San Obispo. Alongside his professor duties, Mehl is the founder of Mentorship Academy.
"The common sense myth, assuming that the digital literacy skillset is intuitive and does not require any formal training, undermines the process of agile learning," Mehl says. 
On top of knowing how to find information online, students must be adept at creating, communicating, and sharing digital content.  That's why ScreenPal teamed up with Mehl and the Mentorship Academy to host a video creation challenge for Cal Poly students. The students were tasked to record and edit videos for a student presentation. 
The Digital Literacy Fitness Challenge
Mehl believes technology and learning can no longer be separated and that video brings a distinctly human element to learning.
"We can not separate motivation from learning," he says. "More than ever, the human connection is center stage. There is a strong disconnect between the generation that is technology-centric and the one that is culturally aware. Let's bridge that gap. That's key to unlocking the full potential of the new digitally educated workforce of the 21st century.""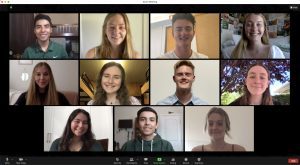 That's why this spring, more than 75 Cal Poly students from Mehl's public speaking classes participated in the Digital Literacy Fitness Challenge. Each student created a five-to-seven-minute video on their chosen topic. 
In the end, their peers voted 16 classmates into the final round. The challenge awarded four winners in categories ranging from best delivery to best content.  
Highlighting Powerful Stories Through Video 
Freshman Greta Nerad created a video presentation about the Uyghers Genocide. She used her project to raise awareness. "I'm drawn to consider the pitfalls of modern industry practices and social equity," she says.
To create her video, Nerad edited together news clips and soundbites, made a presentation, and even added a QR code where viewers could find more information. She got creative with the following video creation tools to give her story impact:
Nerad used the screen recorder

to

record her screen

and webcam at the same time. That meant viewers could see her face as she narrated her slides during the video presentation.

With the video editor

, she

mixed and matched content

and put together

television news clips to create an opening montage. 

She used several video editing tools including overlays to emphasize specific sections of her video.  She added helpful arrows to point out important information as well as used the overlay highlight tool to highlight areas of her screen. 
After the challenge, Nerad says she enjoyed using ScreenPal and plans to use it for future student projects.
"It was easy to learn, and I'm happy that we got this opportunity," she says. "I'm happy that I have access to this tool and know how to use it."
She was awarded The Tech Savvy Award for her creative use of video editing tools.
Winning Student Videos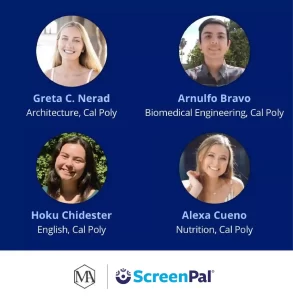 You can take a look at the creativity below.  These four videos were chosen as winners among 75 video submissions.
The Visionary Award for best delivery: Biomedical engineering major Arnulfo Bravo for his video "Male Suicide | Mental Health."
The Influencer Award for best content: English major Hoku Chidester for her video "Proud Boys | Canada."  
The Tech Savvy Award for best use of ScreenPal: Architecture major Greta C. Nerad for her video "Uyghurs Genocide."
The Grinder Award for effort, research, and care: Nutrition major Alexa Cueno for her video "COVID in India."
Student Insights of the Digital Literacy Journey
ScreenPal interviewed college students before, during, and after the video creation challenge.  Here is more on what they learned and insight on their journey.
About Professor Martin Mehl: He is the founder of Mentorship Academy, principal investigator in the award winning "The Digital Academic Revolution," project and author of the "Digital Literacy & Mentorship Communication" chapter in the pending 2021 Handbook of Digital Learning by Fielding University Press.