Work doesn't have to come to a halt. With video, teams of all sizes can keep communicating and collaborating. If you use video strategically, you'll find that remote work can be just as productive as being in the office.
ScreenPal can help you get up and running quickly, without the learning curve of more complicated programs. Just ask Terry Yonker of Buckeye Realty in Orlando, Florida, who uses video to train new hires. 
"When we teach, we use an introductory video that we produced on ScreenPal," he said. Yonker's training tutorials were so successful that he taught his entire team how to make videos and to utilize them within the business. "We use the software in so many steps of our process," he said. 
Here's how to get your remote team started on video for asynchronous communications. 
Make a Plan
For a smooth transition to remote work, make sure everyone knows what's expected of them.
Your team needs to know what is expected of them including what hours you expect them to be online, who they should report to, when and how to submit work, and how to handle important documents, and so on. 
While your workflow can likely remain the same, you may benefit from adding these video components to your week: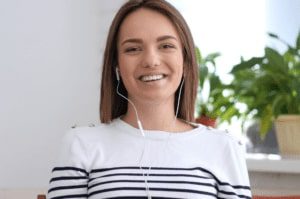 More frequent check-ins – Hold a daily status meeting to keep everyone updated. You could make this company-wide, or by each department. You can utilize communication tools like Zoom for online meetings.  Record each meeting with ScreenPal and send a link to share with team members who aren't able to make it.  In each meeting, you can have everyone share what they're working on so managers can keep projects on track and identify areas where help is needed.
Announcement videos – If you have company news to share, do it in a video. Internal communications videos are more personal and makes it easier for people to understand your tone and nuance. That's especially helpful during times of transition and confusion. 
Training and tutorials – You can have your HR department keep everyone updated on new processes and procedures while people are working from home.  Have them create quick videos with a screen recorder.  They can create video tutorials with ScreenPal's Scripted Recordings feature.
Virtual happy hour. Some people find working from home isolating, so it's a good idea to plan an optional end-of-week "virtual happy hour" so your team can socialize. That way they can catch up on all the friendly water cooler chat they'd normally have in the office. 
Once you get comfortable with video, you may end up making it a core part of your workflow.
Taylor Lane of Remote Like Me, for example, uses ScreenPal with her team every day. "There's not a day that goes by where I'm not recording something," she said. "My team sends me a draft, and then I send them a screencast going down section by section of what needs to be changed. It's a much more visual, virtual experience than replying to an email."
Get the Right Tools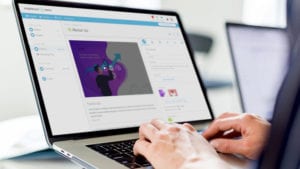 Start with the basics. Make sure everyone has the tools they need to do their jobs from home. Think about laptops, the internet, headsets, microphones, etc. Is it in your budget to provide these for team members who don't have them? If not, how else can you support them?
Next, pick your video tools. Consider apps like Zoom, Skype, and Google Meet for real-time, face-to-face virtual meetings. 
You'll also need a way to record and share videos with your team. This is where ScreenPal comes in handy with plans for companies of all sizes.
Use the screen recorder to make easy screencasts and webcam videos. You can choose to show your screen, your face, or both at the same time. Then use the video editor to enhance your videos with overlays, animations, music, and more. 
With video Hosting, you can let multiple users manage your uploads, restrict viewing to your users, and organize your videos into channels. 
Sharing is easy too. You can upload directly to Google Drive, YouTube, Vimeo, Facebook, or Twitter. You can also embed videos on your website or in emails, or share them with a custom URL.
Stay on the Same Page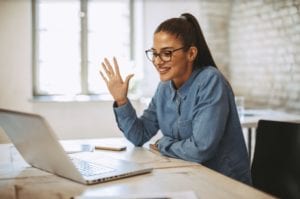 Your team may feel stressed during the transition to remote work. Luckily, videos offer several ways to put everyone at ease. Use the following video tips to support your team and make them feel prepared.
Create quick screencasts showing everyone how to work from home. They can re-watch later if they forget something. Once you make your screencast, head to the video editor to add arrows, highlights, or text callouts for extra clarity. 
Encourage your team to use video for feedback. They can explain their thoughts and concerns more clearly in a video than an email. Just have them open the Screen Recorder, select "webcam only," and hit record. 
Have a point person for IT issues. Your team will have lots of questions as they adjust to remote work. Your IT person can make quick tutorial screencasts to help them troubleshoot issues.
Quickly Respond to an Emergency
Try not to feel overwhelmed. Even if you haven't planned for remote work, it's quick and easy to get started with ScreenPal. You don't need any experience with video to get started.
If you'd like help making your first video, the ScreenPal blog is full of helpful tips and walkthroughs, including this helpful screencasting guide that will get you up to speed in no time. 
Extra Resources
No matter the size of your company, there's a ScreenPal plan for you. If you need video creation tools or have questions about team plans, reach out to the ScreenPal team here to discuss the right path for your business. 
See How ScreenPal Supports Teams
Integrate Video Into Your Workflow – List of Integrations
Social Media Company Takes Communication To The Next Level With Video