We're more than a year into the pandemic, and many companies by now are well-versed in remote onboarding new employees. Initially teams expected to return to in-office and in-person training within a few months, but the convenience and time-saving aspects of remote onboarding make it unlikely to fade away once the world returns to "normal."
What makes virtual onboarding so impactful? Asynchronous video.

Why Videos Help With Training
These pre-recorded employee training videos help in three ways: 
They save time.

Though you'll need to invest time up front to make your videos, you can reuse them for all future hires. You'll ensure each new hire receives identical training, enables them to replay a lesson as needed, and cuts down on repeat questions.

They're easy to organize and share privately.

Cut down on confusing email chains by sorting your videos into channels with professional video hosting. You can even require a password to keep sensitive information from leaking outside your team.

They ease the stress of onboarding.

It's impossible to remember everything from your first few days on the job, and having all the essentials in one easy-to-navigate spot will make the transition smoother. Employees have a better onboarding experience when they know they'll be able to rewatch their training videos if they didn't understand everything the first time through.
Companies See Success With Remote Onboarding
Terry Yonker Terry Yonker of Buckeye Realty uses video to train new agents remotely.
"When we teach, we use an introductory video off the top that we produced on ScreenPal, and then since we use the software in so many steps of our process, we give them the information for them to use it themselves," says Yonker.

Since even teaching new hires takes time away from clients, Yonker says video helps make his day more efficient.
Festo, an international industrial automation company, uses video to train employees around the world. They use ScreenPal's video editing software to turn slideshows into animated, engaging videos for onboarding remote employees.
"People can easily understand it. It's easy to implement, and we made it with a tool to have an enclosed ecosystem. So it's built-in," says Festo technology expert Manuel Schmidt.
Onboarding Videos to Try With Your Team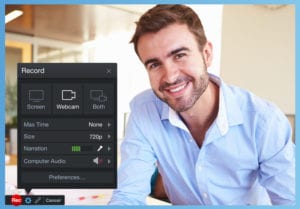 Here are a few onboarding videos that can make onboarding a better experience for everyone involved.
Welcome video:
Create a brief introductory video welcoming your new hires. Include a greeting from your company leadership and maybe a few words from others on your team. You'll help your new hire put faces to all the new names they'll be learning and give them a sense of the company culture.
Create your welcome video by using the screen recorder with your webcam. To introduce your team, you can edit clips together from other team members using the video editor.
Software tutorials:
With remote work especially, new hires need to learn lots of new software. Ease the learning curve by creating screencast tutorials.
Set the screen recorder to record your screen only as you walk through the software step by step, narrating as you go along. If you ever need to update your tutorial with a new software feature, you can update videos hosted on ScreenPal without re-uploading or changing the URL. Your videos will always be easy to find.
Day in the life:
Show new hires what their day will look like at your company by having a manager or staff talk through the daily workflow.
Managing new hires' expectations can help make those first few days less nerve-wracking. Make this video more engaging by adding free music from our expansive stock library.
Frequently Asked Questions:
Repeating yourself wastes valuable time. Instead, record your Zoom training sessions and use the Zoom integration to open your clip in the Video Editor. From there, you can trim the unnecessary bits and add closed captions.
Employee Handbook:
Increase information retention and compliance by walking through your employee handbook policies in a video. Foster a sense of corporate culture for your remote team with a clear and friendly tone.
Remote Onboarding In a Post-Pandemic Environment 
Whether your team stays remote, goes hybrid, or fully returns to the office, a consistent onboarding video strategy will save you time and make your new hires feel supported. Onboarding videos are just one of the many types of internal communications videos that can help your company build a strong team and engage your employees. Tools like ScreenPal's easy screen recorder and ScreenPal, the free Chrome extension for video messaging, make recording and sharing remote onboarding videos easy for any employer.