Creating accessible content for your students is more important than ever as we learn in a remote setting. Not all students learn the same way. Some may have a disability which may hinder them from learning. With more educators using video as a tool for learning, let's take a closer look at accessibility and how to implement it in your lesson plans.
The Importance of Accessible Videos 
Accessibility allows everyone an equal opportunity to understand and engage with your topic. Around 20 percent of people live with a disability, and especially when it comes to younger students, they may not know there is an issue or know how to speak up about it.
It's best to have accessible options available whether you know a student needs them or not.  Plus, accessibility is the law. Videos used in an educational setting, whether in person or remotely, must be ADA and Section 508 compliant.
Your content must meet the following three criteria:
1. Captions 
The audio portions must have text that follows the visual aspects of your video. This gives access to people who are either hearing impaired or deaf.
2. Audio Transcriptions
These are descriptions of the video's visual elements giving people who are blind or visually impaired access to the information.
3. 508-Compliant Video Player
Gives a person the ability to use keyboard navigation or an assistive device so they can navigate the video player.
ScreenPal's Screen Recorder and Video Editor meet all of these requirements and are easy to use across multiple devices, including Chromebooks.  ScreenPal provides four ways to add captions to your videos. Learn more about captions and how to implement them into your videos.
Accessible Videos Help ALL Students Learn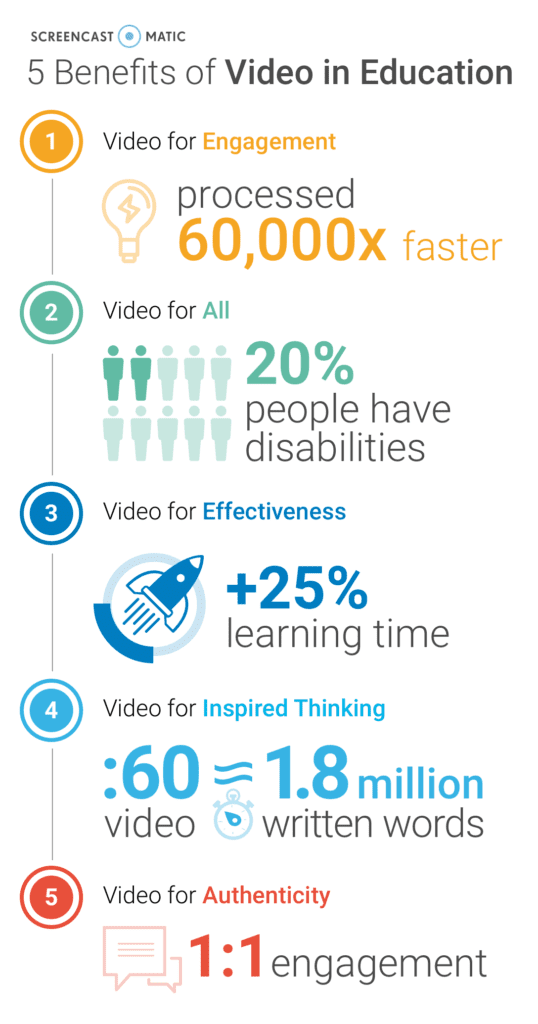 The work you put into accessible videos will benefit all of your students, even after returning to your classroom.  Data has shown how effective video can be in the way a person processes information.  
– The human brain processes images 60,000 times faster than text.
– Video aids 20% of people with disabilities by giving them a more accessible way to learn.
– In a flipped learning setting, video frees up 25% more class time for deeper discussions and help on assignments.
– A 60-second video is roughly as effective as 1.8 million written words. It boosts student interest, understanding, and retention.
– Video, synchronous, or asynchronous, gives a valuable opportunity for 1:1 engagement. 
Video, especially when made accessible, helps to level the playing field for all students. 
Create an Accessible Learning Environment
So how can you create a more accessible e-learning environment? In addition to using a 508-compliant video player that offers captions, audio transcription, and keyboard navigation, here are three easy things you can do to support your students with ScreenPal.
Use Asynchronous Video:
"You will find that with the change in routine we are all experiencing, coordinating students into extended live class meeting sessions will be challenging at best," says Judith Dutill of the Online Learning Toolkit.
Dutill recommends leaning into asynchronous video during this time.
"Lean on asynchronous teaching approaches such as sharing recorded screencasts or providing talking head-style microlecture videos, so students can focus on their studies during the time of day that is convenient for them."
Offer Materials in More Than One Format:
According to Elizabeth Pitel, a computer and financial literacy teacher at Chestnut Ridge Middle School in Sewell, New Jersey, giving students multiple ways to process information make a big difference. 
"I had some kids who really struggled with reading, but when you work with them and talk with them, you know they understand what's going on and are able to follow through," she says. "They're just not able to follow written directions."
When teachers replace written directions with auditory-visual accommodations like screencast videos, Pitel says they see an improvement in the level of engagement.  It also improves their reading skills. 
Access From Multiple Devices, Online or Offline: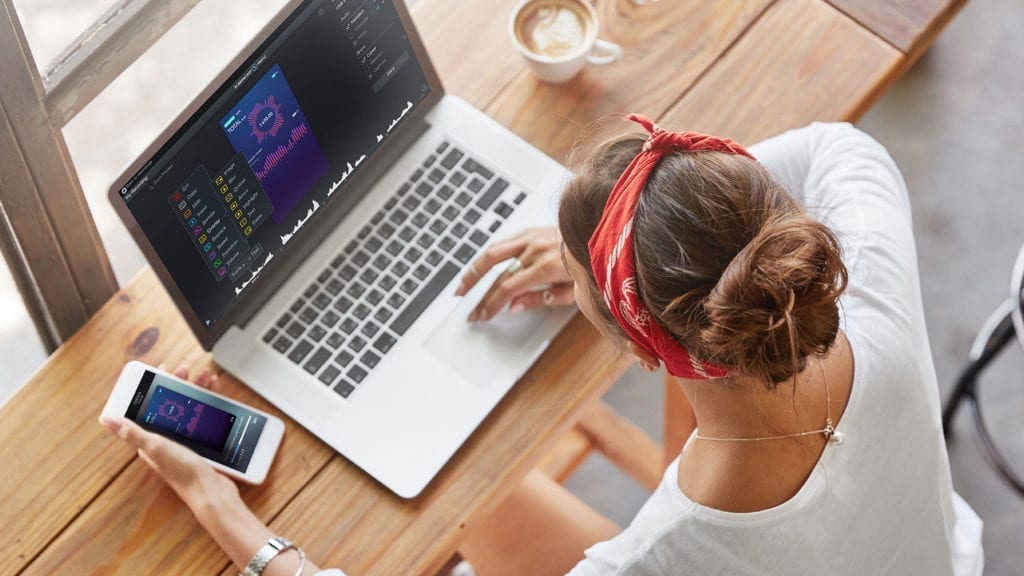 If your school doesn't have a 1:1 laptop program, it's especially important to use e-learning programs that students can access from devices they do have at home. Keeping in mind that some students may not have available devices or they could be using a mobile phone.  Make sure the text in your video is clear and in a large, easy-to-read font. 
Ideally, students should also be able to access course content offline. If possible, give them the option to download your videos in case they don't have a consistent internet connection.  Make it easy for them to learn wherever they are. 
These tips can help your students throughout e-learning and once you return to the classroom. When you create accessible videos, you give every student a chance to engage and understand.