Has your company been forced to work from home in response to the COVID-19 outbreak? Are you feeling pressure to get your staff up-to-speed on remote work tools? If so, don't panic. With a few quick and easy e-learning strategies, you can get everyone back to their usual workflow in no time. 
With video, you can create tutorials to show your team how to use unfamiliar software, quick explainer videos to help them work through problems, feedback videos for better collaboration, and more. 
Below we'll share the 4 most important things to remember when creating eLearning videos to support your team during remote workdays.
1. Primary Tool For Communication
Video is your best friend when it comes to teaching online, and it will be a big help as you transition your team into the processes and tools of remote work. With video, you can record instructions once and send them to the whole team to watch and re-watch as needed. This way you won't need to repeat yourself.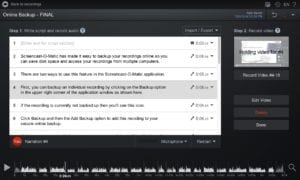 The easiest way to make these instructional videos is with ScreenPal's Screen Recorder. You can set it to record both your screen and your webcam at the same time, so viewers can actually see you while you walk them through a tutorial on your screen. 
Festo, a Germany-based international industrial automation company, uses eLearning videos to train staff on a regular basis. They use ScreenPal to train employees all over the world in a consistent and efficient way. 
"People can easily understand it," said Manuel Schmidt, a technology consultant at Festo. "It's easy to implement, and we made it with a tool to have a really enclosed ecosystem. So it's really built-in and linked in, in every way."
2. Relate With Video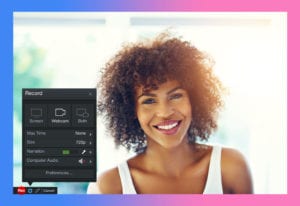 As you create video tutorials, keep your team's day-to-day experiences in mind. When you show them a process, explain why, how, and when they'll need to use it in their own workday. Make it clear how it will make their day easier. This important context will help hold their attention and make them feel supported.
Kristian Ole Rorbye, an online marketing professional in Thailand, uses this strategy to teach in his own business.
"I record a lot of guides and how-to videos about how to use certain online services through a website, so I'll often need to record what I do on the screen combined with the webcam of myself in the corner of the screen, in order to explain what I'm doing," he said. "This gives a far more personal touch where my viewers are able to see and understand exactly what's going on. ScreenPal is perfect for these kinds of recordings."
3. Plan Your Videos
Do your research. Check-in with a few employees to make sure the information you plan to share in your video makes sense and is useful to them. Ask them if they think anything important is missing.
Then create a quick storyboard or outline. This doesn't have to be anything big; just plan out the points you'd like to cover and think about how you'd like the video to flow.
You can make this process much easier by using the Scripted Recordings feature, which lets you import a script from a file on your computer. From there, you can record your narration one section at a time. 
Scripted Recordings auto-generates captions from your script, making your videos accessible.
Once you finish recording, watch through your video and write down timecodes for each edit you want to make before making any changes. This step can save you from time-consuming mistakes and re-records. If you want to enhance your video, you can add overlays including text and shapes with the video editor.  
If you put a little time into preparing for your video upfront, you'll spend less time re-recording and editing later.
4. Encourage Feedback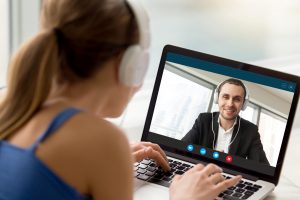 Your team is likely to have a lot of questions during the transition to remote work, and may even hit a few snags. To address this, invite everyone to share their feedback, concerns, and questions with you via videos of their own. Have them launch the Screen Recorder, set it to show their screen, face, or both as needed, and record a quick video explaining their thoughts. 
If they're struggling with a tech issue, recording their screen is the best way to demonstrate the issue so they can get help. 
Some issues may be solved by integrating ScreenPal with other tools your team already uses, like Dropbox, Zoom, GitHub, and more.
5. Easy Tools to Create Videos
There's no need to worry about investing in fancy cameras. If you're just looking to make training and communication easier for your team as you go remote, all you need is a webcam, maybe a microphone, and a quiet place to record. 
Use a screen recorder and video editor to make your videos. You don't need any video experience to get started, and there are plans available for businesses of all sizes. 
Going remote in a hurry
Try not to feel overwhelmed. Even if you haven't planned for remote work, it's quick and easy to get started with ScreenPal.
Need support in creating your first video? This screen recorder guide will get you up to speed in no time.
If you need video creation tools or have questions about team plans, reach out to the ScreenPal team at info@screencastomatic.com to discuss the right path for your business.