Teachers have a lot to juggle. Between creating engaging course materials, keeping them organized, and having time to help students one on one, it can be hard to stay on top of everything. That's why more than 30 million educators use Google Classroom to stay organized and communicate with students.
It gives them an easy way to manage and share lesson plans and student work. Plus, with more schools adopting 1:1 Chromebook programs, many students' devices are already equipped with the full suite of Google tools including Classroom.
Want to make your Google Classroom experience is even more efficient and effective? Incorporate video learning. Combining video-based learning with Google Classroom makes it easier than ever for teachers and students to connect and save time in the process.
Five reasons to use Google Classroom video to engage students
Video enables communication and learning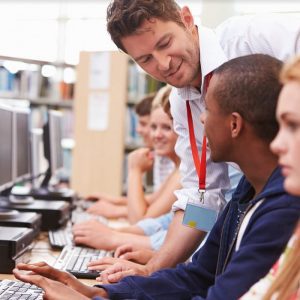 Use video to add depth and context to coursework in Google Classroom. Think of it as an interactive learning tool. Teachers often use the ScreenPal's screen recorder to make video tutorials, film lectures, provide feedback, or even to have students make their own video projects.
Video helps teachers communicate more clearly than they could through text. That means less time spent repeating yourself, and more time to support students.
To maximize that one-on-one interaction time, try flipped or blended learning. This methodology urges teachers to send video lessons home for students to watch on their own time, then use the newly freed-up class time to distribute assignments and dig deeper into course material.
Video is easy and accessible
ScreenPal is available online and can be reached from anywhere. With one account, educators can create, edit, organize and share their videos on multiple devices including Chromebooks.

You can store videos directly on Google Drive and save them to Google Classroom, making them easy for students to find.
Video is a huge time-saver
Forget about having to type out long assignments or grading papers! With video, educators can record and have the ability to assign projects all within a few minutes. When you create an assignment in Classroom, educators can attach a video file with instructions. 
To create the video, head to the screen recorder and click 'record.' All you need to do is upload and publish the video when you are done and provide the link to students.  They are able to access it from anywhere.
Video enables collaboration and drives conversations
Google Classroom offers several ways for students to collaborate. Teachers can facilitate online discussions between students and create group projects within the tool.  With video, students are able to drive conversations with each other and complete projects as they are assigned. Students can also collaborate on Google Docs and easily share their work with teachers. 
Google Classroom is an interactive and collaborative learning experience.  Through the use of video, they are able to enrich the experience further. With Classroom, teachers have the ability to differentiate assignments, include videos and web pages into lessons, and create collaborative student group assignments.
Video provides a stronger connection with students
For students to learn, meaningful feedback is necessary. It's a valuable part of all learning. So why not do it through video? 

Recent studies have shown that video mentorship and feedback engages students to connect with teachers at a higher level. It provides them with a connection they otherwise won't get in a group setting.  Video provides a one-to-one relationship without being face-to-face. 
Formative assessment is also critical for both teachers and students to monitor progress, adapt teaching techniques, and improve student learning and engagement. Educators can combine interactive video quizzes with the variety of communication and feedback tools in Google Classroom to make formative assessment an ongoing, easy, and engaging part of everyday learning.
Educators can grade assignments easily in Classroom. They can send personalized feedback to each student. The ability to create a comment is also available within the grading tool. In addition, the Classroom mobile app allows users to annotate work.  Google Classroom can easily save all grades.
An easy and intuitive video platform
You shouldn't have to spend months becoming an expert in order to make videos for your students. ScreenPal was designed to make video creation easy, quick, and budget-friendly for all educators. Even better, when you pair Google Classroom with your new e-learning videos, it'll be easier than ever to connect with your students and share lessons right from your Google account. 
Start experimenting with ScreenPal on your own, with your school, or your whole school district. Whatever your budget, there's a plan to meet your needs.
Quick Links:
Collaborate Anytime, Anywhere with ScreenPal and Google