It's a milestone summer at ScreenPal. We're excited to announce that we have joined the Google for Education program as a Premier Partner. Google for Education platform inspires curiosity in students and expands their learning horizons by supporting teachers, researchers, and organizations with a host of robust, flexible education technologies. It's an ideal fit for ScreenPal, which has long been a trusted leader in providing a suite of intuitive video creation tools for the education sector.
With this partnership, ScreenPal is committed to strengthening its integration with Google for Education products focused on the impact in the classroom. The goal is to empower the millions of educators and students that are already using Google for Education.
With our cutting-edge screen recorder, video editor and video sharing services for education, ScreenPal is used in scenarios such as flipped and blended learning. ScreenPal integrations with Google for Education include:
Quick Share to Google Classroom 
The interactive Google Classroom platform — which allows teachers to create courses, grade assignments, share files and folders, view classwork in real-time and much more — is perfect for creating and sharing educational multimedia created with ScreenPal's easy screen recorder and video editor. With a simple click of a button, educators can quickly share their videos to Google Classroom.
Video is increasingly becoming a core component in the modern classroom.
"I think it's a huge game changer on so many levels," says Elizabeth Pitel, a computer and financial literacy teacher at Chestnut Ridge Middle School in Sewell, New Jersey. (Click to read how Pitel has embraced video in her classroom.)
Sharing in Google Apps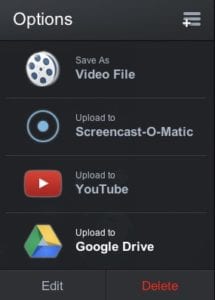 ScreenPal's integration within Google Apps allows educators to easily use video within the platform. This allows educators to easily embed their videos and screencasts in Google Docs for interactive reading resources, Google Sheets to share data, and Google Slides for engaging presentations. These creative options can meet the needs of virtually any class or educational program.
Google Drive For Easy Video Access and Management
With a click of a button, educators and students can easily upload their screen recordings and videos directly to Google Drive, including their Google Classroom folder.  It makes it easy for educators to organize content.
Use a Single Google Account  
Use a Google Account in ScreenPal, adding the convenience of single-sign-on across devices.
Chromebooks For Learning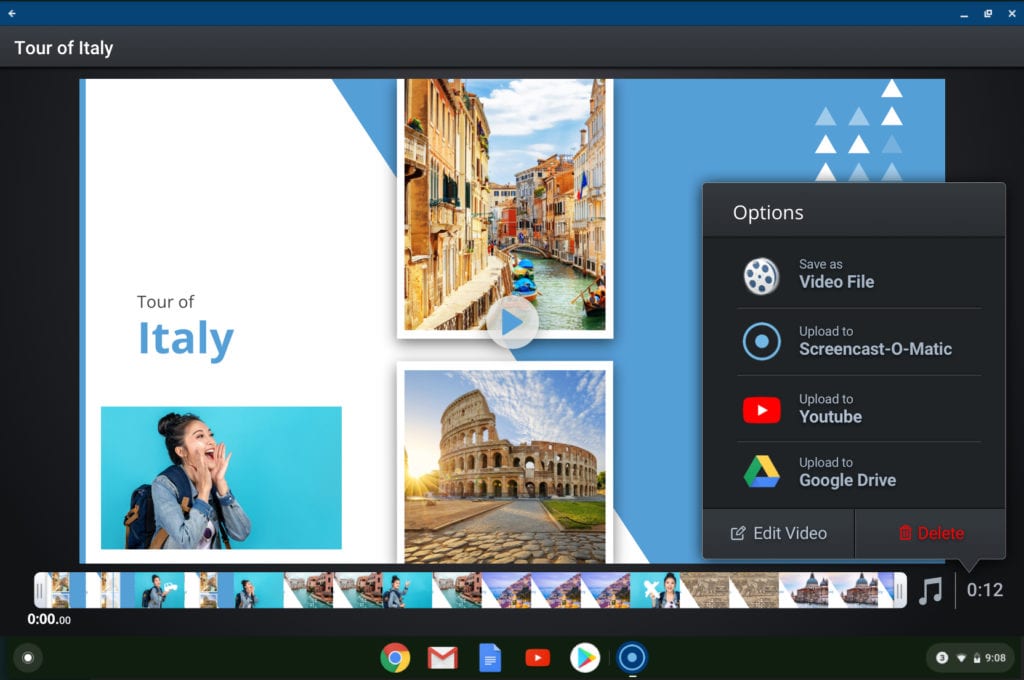 A growing number of U.S. institutions and school districts have adopted one-on-one (1:1) programs, meaning every student has access to laptops. In many of these classrooms, Chromebooks are used. Chromebooks work seamlessly with Google for Education products. With ScreenPal on Chromebook, users have the ability to use the screen recorder and create as many recordings as they want.
Educators can create interactive classrooms, giving students the ability to use video for class projects or assignments.
Dr. Shannon Doak, an Educational Technologist at Hawaii Preparatory Academy, says, "I think technology is one of the best tools in the classroom to help promote creativity."  He believes that Chromebooks levels the playing field for students to have access to technology.
Easy Launch with Chrome Extension
ScreenPal's screen recorder is available as a Chrome Extension, allowing for teachers and students to record videos instantly with a click from any Chrome browser. The Chrome Extension is downloadable for free and is available in the Chrome Web Store.
Videos Increase Classroom Efficiency
As an additional benefit to enhancing student learning, many educators like Sabrina Barilone, a ceramics and IB Art Instructor at Central Fine Arts Magnet and IB High School in Macon, Georgi, have found that creating videos actually improves their in-class efficiency.
"It allows me to multitask, and manage behavior," says Barilone. "It allows me to be two people at once." (Read more about Barilone's video-augmented classes.)
Up to now, ScreenPal has helped educators share and collaborate with video. With the company's partnership with Google for Education as a Premier Partner, many more students and educators alike are sure to enjoy improved learning experiences.
Learn More About Google Integrations
Collaborate Anytime, Anywhere With Google
5 Reasons Why You Should Use Video in Google Classroom
5 Easy Steps to Turn Google Slides Into a Video Presentation