It's almost time to trade in your pajama pants for professional work attire again. Vaccine rollouts mean millions of people could be back at work by mid-spring. But don't expect the office to be exactly as you left it.
Working from home during the pandemic forced companies to reinvent their work routine. Remote workers relied on video to keep communication channels open. However, the upheaval revealed a silver lining— improved efficiency.
Now companies are capitalizing on what they've learned by reworking their corporate workflow. 
So don't delete your ScreenPal, Google Drive, or Slack accounts just yet. Your favorite home office tools might be here to stay.
It's all a matter of striking the right balance with the best of both worlds. Here are four tips for returning back to the office with the hybrid work model.
1. Consider a New Approach 
Consider a new approach to interoffice communication by integrating video. It worked for remote employees and could also streamline the workday in the office as well.  Plus, utilizing video creation tools gives employees the skillset to seamlessly transition between the office and home. 
The flexibility of a mobile-friendly model gives employees more freedom. It also prevents delays in the event of an emergency or office closure. 
Quick Tip: 
Start simple with a free screen recorder. Whether your employees are in the office or at home, ask them to give weekly video progress reports. They can quickly record themselves or their computer screen to check in from anywhere. And unlike a conversation, you'll be able to recall their videos at any time.
2. Scale Back Traditional Meetings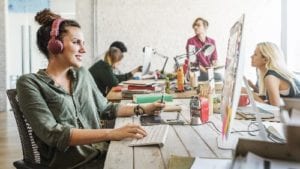 You'll be surprised how much time can be saved by restructuring office meetings. 
First, limit in-person meetings to the key players. Second, record each meeting. Then edit the video to feature only the necessary announcements before sharing it with the entire staff.
It's a trick tech-savvy companies began implementing long before the pandemic. 
"We find it helps with productivity, avoids meetings and instructions are more clear," explains business owner Linh Podetti who even recommends pre-recorded meetings to her clients too. 
Quick Tip:
Launch the video editor to create purposeful meetings. The color-coded editing tools are easy enough for beginners but offer customizable functions for more advanced editors. 
Keep the process simple. Trim any unnecessary discussion from the meeting by using the cut tool. Or speed through lengthy demonstrations by using the speed tool. It gives the appearance of a time lapse. Also consider splitting long meetings into entirely different videos so viewers can process the information easier.
3. Create a Cloud-Based Workspace 
Don't scrap the mobile workspaces you established during the pandemic. Any cloud based workspaces like Asana, Trello, or ScreenPal remain valuable tools even when you're in the office. 
Encourage your employees and co-workers to upload their video creations to a hosting platform. 
An online-based hosting platform simplifies sharing video projects. It's ideal for teams working on marketing videos. Each team member can access the same files through the hosting platform whether they're at work or at home. ScreenPal users even have access from  their  IOS or Android app.
Quick Tip:
Collaborate on video projects from anywhere. Try the notes tool in the video hosting platform instead of exchanging emails or sticky notes. Team members can type edit suggestions to a specific timecode using the notes option. Ensure coworkers see your edit note by copying the timecode link and sharing it. The link will take your team to the exact frame and your annotation. 
4. Set Healthy Boundaries 
Creating a hybrid work model is convenient, but remember to set boundaries. Just because you can work anywhere at any time doesn't mean you should.
Resist the urge to be continuously dialed-in by setting specific boundaries.
Plan ahead with a little screencasting help. Video is a simple way to pre-record the answers to frequently asked questions, demos, training, or status updates. Organize these common replies by channel in your ScreenPal library. Then instead of spending personal time replying to emails, simply send the corresponding video link.
It's a concept which has worked for social media company AgoraPulse for years. 
"We are a semi-remote team spread over 15 countries," said Product Marketing Director Lisa Kalner Williams, "so preparing a video with an issue, idea or question, saves us from having calls that are convenient for some but really bad for others."
Quick Tip:
Give your pre-recorded messages a professional look by incorporating your company branding. 
Use the

overlay image tool

in video editor to add company watermarks or logos. 

Or add your contact information to the end of the video by using the

rich text overlay tool

. 

Customize your auto responses by

adding stock music

under your narration or uploading your company's jingle. 
Prepare to Pivot With the Hybrid Work Model
Creating a hybrid work model is all possible with a little planning. The good news is that there's still time to prepare for the transition. 
It doesn't need to be perfect. In fact, leave room to pivot while you test out different tools to create the perfect work-home balance.