An image is said to be worth a thousand words, and screenshots are no different. Rather than taking a thousand words to explain a concept, a screenshot can help illustrate what you're trying to say. They deliver a concise and clear message with few misunderstandings. 
While screenshots help teach at a higher speed, they help students learn at their pace. Many times, long text can get overwhelming and hard to grasp, making it for students to understand complex concepts. Screenshots are a great solution in many learning scenarios: faster than text but slower than video.
Let's look at 3 ways you can use screenshots in learning.
1. Step-by-Step Instructions
From math to science, screenshots show each stage of the learning process. Images show step-by-step methods to solve problems or complete experiments. This makes lessons simple and straightforward.
Screenshots allow students to work at their own pace without stopping. They can work at their level to understand and grasp concepts each stage at a time. When they know the fundaments of the first concept, they can move onto the next. 
With ScreenPal's Image Editor, you can edit screenshots with steps. Adding a step will help students understand the flow of instruction.  
2. Interactive Questions and Answers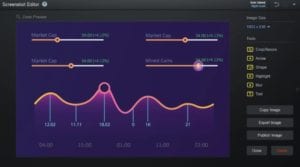 There is nothing more frustrating than asking a question and not getting the response you need. Screenshots prevent this misunderstanding with explanations.
Both students and teachers can use screenshots to show error messages, mistakes, or confusion. The simple screenshot process allows you to capture an image and then edit it.  They can highlight, add notes, or use shapes to illustrate their question or concern. There are many annotations tools within ScreenPal's Image Editor to help clarify questions.  
You can do the same screenshot editing process for answers: adding highlights, shapes, and text to fix problems. These interactive options allow the teacher and student to communicate directly with the screenshot to point out and fix pain points quickly.
3. Accountability
Need a progress report from your student? Screenshots can help motivate, reward, and hold students accountable for their work and progress.
As all teachers can attest, accountability is not always negative but can serve as positive reinforcement. When a student reaches a milestone, it's best to reward that achievement, and screenshots provide a great opportunity. When students complete a level or assignment, ask them to take a screenshot to share with you (and sometimes with the class). This opens the door for positive feedback.
For students struggling to stay focused and complete projects, screenshots hold them accountable to a deadline. At the end of each day, ask for a screenshot of required writing, worksheets, or performance on an education platform. Having this deadline may encourage learners to complete their work and provide teachers the opportunity to check progress.
Screenshots in Learning
Screenshots can be an excellent tool for teachers and students as they interact virtually. They can provide clear and concise instruction and an opportunity for students to learn and progress at their own pace.