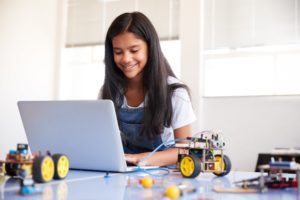 By 2025, 3.5 million STEM-related jobs are predicted to be in need of qualified candidates. Additionally, the U.S. Department of Education puts millions of dollars in grants toward STEM fields each year. Students, teachers, and parents are validated in their ongoing push for STEM education. 
However, virtual learning has become a necessity, and there is an intricate balance between appropriate learning and remote-friendly teaching. At home, keeping students engaged with STEM activities can become more difficult, and student-to-student communication is challenging. With the right virtual education tools, it's possible to adequately prepare STEM students. Their future, as well as the future of the world, depends on it. 
Introducing STEM Education
While STEM may be thrown around as a buzzword, it's actually a simple umbrella term. The first iteration of the acronym appears to have circulated in 2005 with the inception of the Congressional STEM Education Caucus. This bipartisan group is still active today, providing middle and high-school students the opportunity to compete in an annual app-development competition.  Bipartisan groups like this exist to propel young minds into STEM fields.
From STEM to STEAM, and Why Is It Important?
STEM-focused marketing tends to hone in on software development, but the acronym stands for so much more.
STEM represents Science, Technology, Engineering, and Mathematics.  In recent years, STEM has turned into STEAM which adds Art to the mix.  This includes subjects like humanities, language arts, dance, drama, music, visual arts, design, and new media.
The only difference between the two is that STEM focuses on scientific concepts.  STEAM, on the other hand, has the same scientific concepts but does this through creative ways.
Today's learners are able to work collaboratively to create visually appealing products based on STEM. For instance, creative people like Leonardo Da Vinci have used science and art to make impactful discoveries.
These disciplines have been around before the acronyms. However, the acronyms do add interest where it is needed. It also adds an inclusive, interdisciplinary element, changing the conversation surrounding these subjects.
The Importance of Student Engagement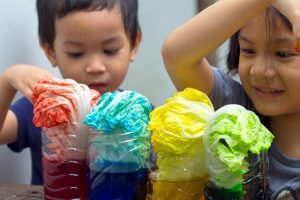 K-12 students are often pressured to look into STEM career paths. Generally, STEM is considered a "meta-discipline" encompassing science, tech, engineering, and mathematics. These fields of study combine to encourage cross-disciplinary collaboration. 
The implications of combining these fields of study are felt worldwide. STEM degrees tend to yield higher salaries than their counterparts in non-STEM fields. Additionally, K-12 students that engage in STEM activities are more prepared for real-life challenges. Students of varying socioeconomic backgrounds now have the opportunity to grow and prosper. Of course, society also benefits from great minds involved in STEM research.
Organizations call for a unification of STEM-focused curriculum because there seems to be some uncertainty surrounding STEM programs and their desired results for K-12 students. Traditional education courses cover the basic elements of the acronym, but educators and parents are still getting used to the idea of incorporating higher-level thinking before college-level courses. For instance, science and mathematics are usually taught separately in elementary, middle, and high schools.
STEM at Home
STEM strives to combine those teaching efforts. This proves difficult when instructors (and students, for that matter) have varying levels of understanding on how to do so. Add remote instruction into the mix, and things get even fuzzier. When teaching STEM in a virtual environment, parents and teachers have to get a bit more creative.
In some cases, remote learning may even open up opportunities to work more directly with tech. In others, though, it may hinder access to tech. A lack of resources can put an undeserved burden on families as they attempt to offer their children the best STEM education possible. Thankfully, there are accessible tips and tricks to ease the remote-learning burden on parents.
Unsurprisingly, keeping STEM students engaged is the most difficult part of transitioning to at-home learning. There are ways to keep students feeling connected, however. Remote STEM can be particularly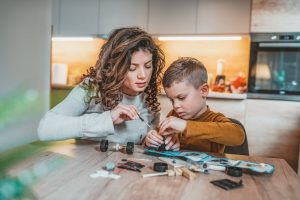 engaging, but it is not without its challenges.
What Are the Unique Challenges of STEM Education in a Remote-Learning Environment?
To adequately teach STEM, you need some things that remote environments may not always provide. Specifically, STEM education needs eight things to be "great". Some of the more challenging aspects for virtual instruction could include:
Teaching problem-solving skills; 

Keeping up with rigorous practicum; 

Fostering a sense of community and belonging;

Connecting careers, technology, and life skills;

Engaging with the external community. 
On the other hand, remote STEM could afford better experiences with: 
Personalizing lesson plans; 

Role-modeling continued education; 

Getting the family involved. 
With the enhanced opportunities in the latter three areas, STEM at home could very well be a recipe for success. For instance, student-to-student engagement is limited in remote-learning environments. Instead, consult guides like this one to find forums and collaborative spaces to replicate that experience.
What Do Students Need To Feel Engaged in STEM Curriculum?
Essential tools for STEM don't have to break the bank. Physically, students will just need: 
A flat surface for writing and building;

Running water for projects and cleanup; 

Outdoor spaces for testing rockets and other inventions;

A quality internet connection for virtual instruction.
In some cases, this just isn't feasible. For this reason, STEM-focused charities and foundations have begun to allocate their funds to level the playing field. In the meantime, parents and educators can utilize online resources to broaden their tool chest.
Virtual STEM Resources for Students 
Once you have a solid remote-learning guide under your belt, it's time to tailor it to STEM. Students may benefit from self-learning resources in addition to your efforts. Autonomy is crucial to motivation, so giving young learners the reins may increase overall engagement and performance. 
Take note of emerging trends in STEM education, such as e-learning, AI, and social media. Making these up-to-date resources available to students will help them to feel in control of their learning experience.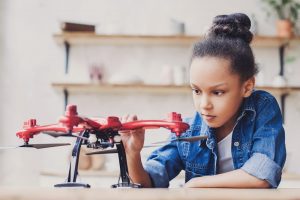 Self-Learning Online Platforms
In addition to virtual teaching, students can look into self-learning tools. This may also be helpful if the parent or instructor doesn't have as much experience in one area of STEM. Furthermore, students are afforded the flexibility to go at their own pace. There are free or affordable platforms available for students to teach themselves and follow along with a predetermined curriculum. 
Here are some STEM-specific courses and platforms to consider: 
Open Courses
Community Platforms
K12 by Stride

: This platform is specific to K-12 learning. They offer

student clubs

and contests to foster a sense of community when learning STEM subjects, even in the comfort of your own home. 

University of Central Florida (UCF) Virtual STEM Library

: UCF wants to foster a sense of community in virtual students that may be preparing to go to college for STEM-related studies. They even held

virtual chat sessions

for young STEM students

that are now available to view anytime. 

STEMchats

: STEMchats is completely student-run, and it offers a safe space for underrepresented communities to discuss STEM. Their non-profit mission is to extend greater STEM opportunities to students like them, and K-12 students may benefit from getting involved.
This is just the tip of the iceberg. Taking a deep dive into the available platforms for STEM students will allow you to offer your student the best STEM-learning experience possible. With the help of like-minded organizations, K-12 STEM is still propelled forward in remote environments, and your student will be glad to be a part of that. 
At-Home-STEM Teaching Resources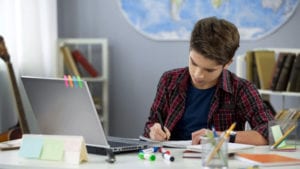 K-12 students may enjoy learning on their own, but teachers and parents are there to guide them in the right direction. Even if you don't have expertise in every single area of STEM, there are resources available to help. 
Growin'GEERS

: a platform that lets parents and teachers know you don't have to be a rocket scientist to teach STEM;

MIT's Guide for High School Teachers

: MIT wants future students to be prepared, so they offer resources for the teachers, parents, and mentors that are preparing them. This guide is tailored to college prep with a focus on STEM. 
It may also help to join groups and forums of other kindergarten-through-high-school teachers and parents. This way, you have an inside look at the struggles and achievements of others, giving you hope and making you feel less alone. Many people are foraying into the virtual-teaching realm with little to no experience, but it's possible to do so courageously and successfully. 
Tools for Online Teachers 
Adapting to remote teaching, in general, takes some time. Even seasoned virtual instructors need a bit of help from time to time. Thankfully, tech and software companies have taken note of the need for at-home-teaching tools, providing user-friendly platforms for just about every need. 
Video is one of the most powerful resources to make at-home instruction feel a little more like face-to-face. An easy-to-use video editor will allow you to quickly and easily splice together video lectures or helpful video guides for your students. Martin Mehl, Cal Poly University Professor and Co-Author of "Digital Academic Revolution," gives credit to asynchronous learning in STEM: 
"We have the capacity to run a video recorder on any platform and create a solution to capture any screen-based resource — anywhere, anytime."
Remember that just because you aren't physically with your students doesn't mean you have to be distant. Keep track of their progress at any age by using e-portfolios that prepare them for higher education. A culmination of all of their work in video format will not only bring personalization to the learning experience, but it will give you an idea of how to tweak instruction going forward. 
Student Engagement in Online Learning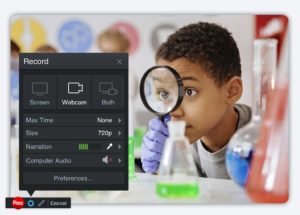 You have the tools to facilitate online learning, but that doesn't guarantee student participation and enthusiasm. Along with keeping track of student work, consider disseminating an online student engagement scale. While this isn't specific to STEM, it may give you an idea of how and where you need to improve your STEM course. 
77% of online students chalk up their disinterest in virtual classes to a lack of engaging activities. Every learning style is different, so an engaging activity for one student may not look the same for others. Instructional videos are a helpful choice, because they afford variety that traditional coursework can sometimes lack. 
Students can pause and revisit videos, allowing them to go at their own pace or take much-needed breaks. Furthermore, videos allow instructors to emote and show their passion for the subject — something that isn't quite possible with other remote-teaching mediums. Students can make their own videos for your STEM class, showing off projects or even telling other students some fun facts about themselves. 
The point is to make the virtual classroom as engaging as (if not more than) a physical classroom. This means that teachers need to focus on their well-being, too. Read other teachers' experiences with distance learning, and you'll quickly feel less alone in this virtual battle. STEM instruction doesn't have to be perfect, but it can be perfectly exciting.
K-12 STEM Online Lesson Plans 
Although teachers should plan for hiccups, it's also best to have a solid lesson plan in place. There are a plethora of STEM-focused lesson plans available to use for inspiration online. You can find some for K-12 STEM by visiting: 
You'll find that many organizations and universities want to prepare K-12 students for their STEM-related futures. This benefits you, as a teacher or parent, because you're not alone in the process. Others want to see your child succeed for the betterment of themselves, as well as society.
Websites for STEM Activities and Games
Gamifying education helps in traditional classroom settings. Virtual classrooms have the benefit of access to online games. Of course, you can mix in physical, "real-life" STEM activities. 
This will offer students a variety of interactive STEM play, growing their capacity to learn and honing their learning styles going forward. Some resources for ideating STEM games and activities include: 
Switching things up will keep students excited to learn STEM. See the above resources for creative ideas to gamify STEM learning. You can also use them as a jumping-off point to create your own activities, tailored just for your unique student.
STEM-Career Exploration Resources for Students 
Help students envision their future in STEM. Too often, STEM careers get smushed into the software-development box. In reality, countless job titles fall under the STEM umbrella. Some possible career titles include:
Aerospace Engineer;

Agricultural Specialist; 

Architect;

Audiologist;

Biologist;

Dentist;

Doctor;

Forester;

Geneticist

Ophthalmologist.
The list, itself, is massive, and new STEM careers are popping up all the time. In fact, as tech advances, more job possibilities emerge. If a student is unsure of their career trajectory, that's normal. Some resources may help them decide on a clearer path, such as:
Above all, ensure students are happy with their STEM education. Especially in remote-learning environments, focus can stray easily. With solid resources and a knack for fostering self-motivation, however, the limits of success for your student are boundless.