"With all the stuff that we have going on with COVID, kids need to have some sort of connection," says high school biology teacher David Pickett. One student expressed gratitude for Pickett's videos, saying, "I know you weren't in the room, but hearing your voice today made me feel better."
Student connection has always been a priority for Pickett, who teaches 9th-12th grades at Tarkington High School in Cleveland, Texas. He started using ScreenPal for student engagement long before the pandemic began.
The start of video creation
Though he never expected to make video a core part of his teaching, a mini-stroke in 2009 left him unable to balance without a cane. Teaching from his chair made it difficult to use a whiteboard or projector as he usually would. Then Pickett remembered using a screen recorder in college while working on his master's degree in instructional technology.
When asked to make videos for class, Pickett tried numerous video platforms, many of which he found overly complicated. He then tried a free trial of ScreenPal, and that was it for him.

"It didn't give me everything, but it gave me enough," he said. Pickett noticed that the finished video he turned in looked more professional than those made with competing services.
When his free trial ended, he upgraded to a Deluxe account for access to the video editor, which Pickett says improved his videos and instruction. 
Developing student connection 
Pickett prioritizes well-rounded student development. For him, showing students how to respect each other, authority, and themselves is vital. He says teachers need to be present to make such a lasting impact. 
"That's where ScreenPal comes in," he says. "If I do a video, I can throw it into a presentation, or if I'm going to be out, I could give them a whole lecture from ScreenPal."
Pickett created a screencast about amino acids for a recent class. He made the video using his touchscreen computer, then used the video editor to highlight important points and draw on the screen for added context. He says the whole process was seamless. 
During the 10-minute video, Pickett encourages students to hit pause and work through a problem with him. That way, students get hands-on learning time before finishing the video. The approach allows students to learn new concepts with Pickett's support, even though he can't be with them in-person during the pandemic. It's student connection in a remote setting.
Plans to have students make videos of their own
Pickett plans to start having students make videos too. "I'm a project person, but some of my students are not artsy and crafty. I could give a video project on anatomy, and they could go crazy with it," he says.
"Giving them a tool like this to express themselves may do more to show that they have the ability that they didn't know they have."
Favorite tools and features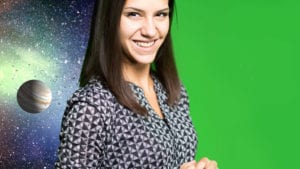 Green screen app
Pickett, previously made a DIY green screen, loves using ScreenPal's green screen app to superimpose himself over his video backgrounds.
He says he likes having a budget-friendly way to use the effect because when green screen technology was new, accessing it was expensive.
Channels & hosting
Pickett says being able to create distinct channels within ScreenPal's hosting platform helps him keep teacher professional development videos organized for easy sharing. Having a shared video channel with the teachers enables everyone to get involved and learn from each other. 
Quick and easy editing tools
Pickett found he can make his videos more entertaining by adding music with a single click.
"It's teacher-friendly, it's user-friendly, and when you use the editing tools, people pay attention," he says. Thanks to his edits, teachers often say Pickett's professional development videos are easy to follow. 
It's all about student connection
One of Pickett's finest points as a teacher is his commitment to building meaningful relationships with students. ScreenPal helps him make those student connections.
"I can show emotion, do my corny dad jokes that they roll their eyes at, and just be myself, even though I'm not there in person," he says.