"During online classes, I initially felt like my attention span had gone down. It was hard to focus," says Homestead High School sophomore Preethi Rayaprolu. Like many others around the world, her high school shut down almost overnight when the pandemic hit. Luckily, she quickly adapted to remote learning and grew to like it. 
She says recorded videos made all the difference for her. "Video has kept me connected by making it seem that the person is present, right next to me," she says. Rayaprolu and her classmates used ScreenPal to connect when live video calls were inconvenient.
Powerful Learning With a Personal Touch
"The ability to see and hear someone makes it tremendously easier to understand what they are trying to convey," Rayaprolu says. "For example, rather than simply messaging my friends, I use video to make it more personal."
She and her peers learned valuable video creation skills during the pandemic that they'll continue to use long afterward, and the class hopes their teachers keep using video in class too. 
"One thing that I have learned about myself during the pandemic is my tendency to perform better when teachers provide interactive resources such as recorded lectures that I can refer back to when self-studying," says Homestead freshman Samhitha Varanasi. 
Hands-on Video Creation For Students
Recently Rayaprolu, Varanasi, and students in the Homestead FBLA club joined ScreenPal to collaborate on projects and get hands-on video creation experience. During the partnership, the students learned how to record and edit their own videos— a skill that will benefit them throughout their careers.
Here are a few of their favorite tools:
Easy screen recording: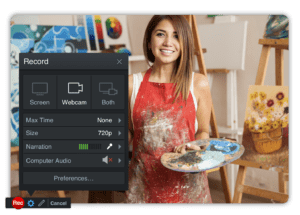 "I used ScreenPal's screen recorder for my history presentation and got an A!" Rayaprolu says. She added a powerful human element to her presentation by setting the recorder to record her screen and her webcam at the same time. 
"It was easy to navigate, and I saved so much time," she says. " I used this tool to make tutorials, how-to videos, and recorded video lessons for projects. Overall, it is an essential and efficient tool that makes online learning more enjoyable."
Quick and easy video editing:
She also valued the ease of launching the recorder directly from her browser using the Chrome Extension.

"I struggled to learn online for some time, but that quickly changed when my Principles of Business teacher started using ScreenPal," said Diya, a freshman at Homestead High School. As a visual learner, she needed more than just text on a screen to thrive in class. Thankfully, when Diya's teachers started creating and editing e-learning videos with the video editor, she had a much easier time keeping up with each lesson. "I liked the arrows he added to these videos to help me better understand some business concepts," she shared.
In the editor, her teachers used overlays to quickly add helpful edits like arrows, text annotations, and images.  Her teacher even added music to enhance her videos. 
The students discovered more tools as they continued to edit their videos.  "I love the drawing tool that lets you draw on the screen," she says.
Supercharging communication with screenshots:
Rayaprolu also found the screenshot feature handy. It helps her easily capture an image from her screen, crop it, and add text, numbered steps, or arrows to help her communicate more clearly.
When she needed help during an online class, she took a screenshot, added edits for context using the Image Editor, and shared the finished image with her teacher. She used screenshots as a visual aid to save time instead of typing out long emails when she needed help.
Recorded Videos Makes Learning Easier
Whenever Rayaprolu's teacher assigns a project, she turns to ScreenPal.
"I always record both my face and my screen simultaneously," she says. "I grew comfortable using ScreenPal in no time, and now I always turn to it to help me through online learning projects."