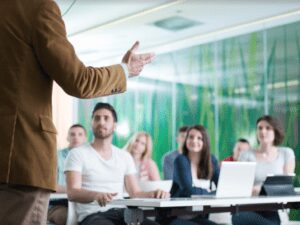 It was a frantic year for many educators but the lessons learned along the way are something many won't forget. By now, teachers have had time to experiment with online learning and all the tech tools they've learned. They know what works and doesn't work for their students.
Below, we'll show you why you should continue to use video and the simple techniques to make the transition back to the classroom a much smoother experience.
Why You Should Continue to Use Video In Class
With the extensive use of live video calls, many found themselves needing another way to teach.  This could be addressed with the use of asynchronous video.  Pre-recorded video has several advantages and it's something you can continue using in the classroom.
There are many educators who use video for flipped and blended learning.  Many of them believe that adding video to class lessons helps students stay engaged.  Karen Costa, an author and higher ed professional, saw improvement with her own students.  She says, "I noticed that when I create video tutorials, the quality of students' submissions is greatly increased."
Here are a few reasons to continue using video with your students:
You only have to say something once. Students can save and rewatch pre-recorded videos as needed, which prevents teachers from answering repeat questions.

Teachers can reuse videos too.  You don't need to recreate an entire video.  Just save your videos and share them in future classes.  In the long run, it will save you time.

Asynchronous learning

is more convenient for students.  Students can learn at their own pace and they are able to watch a video lesson at home.  

You can have students watch your videos before class time, and then spend your class time answering questions and helping them work through assignments.  This makes students better prepared for class the next day.
Transitioning Back to the Classroom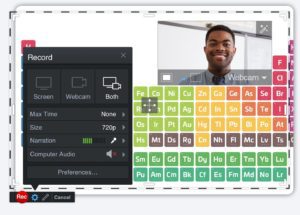 As the pandemic fades, the importance of integrating technology and video into the classroom will still be crucial. It's a lesson flipped/blended learning educators say starts by making some changes.
1. Transforming Into a Modern Classroom
A modern classroom calls for combining the best of traditional theories and new learning models.
"Whether the teaching will be done in a classroom or online, you'll need to be ready for any type of learning environment and this requires a mindset shift," advises Angela Barnett, a third grade teacher from California.
She introduces her students to technology early. Aside from the obvious benefits, children exposed early to video creation and education apps have an easier transition between online and in-person classes.
Start planning your lessons to accommodate both.  The technology is accessible. It's now a matter of deliberately weaving videos into your lesson plans.
Even traditional hands-on subjects like art and music can go digital. Barnett says it's all about being flexible and embracing technology.
2. Start Experimenting With Video
The use of asynchronous video kept teachers afloat in the early days of the pandemic.
And they'll prove to be equally important when students physically return to school.
Once you're comfortable with the basics of video, start experimenting with a video editor. Use the editor to enhance any video lessons. Add text, highlights, and animations to transform your videos into an interactive class resource.  You can use these resources again and again.
3. Save Everything
The trick to maximizing digital content is repurposing what works best.
Experienced online teachers suggest saving everything, especially videos.
A great hosting platform keeps your content organized. Plus, you're able to access your lessons from anywhere. ScreenPal's hosting management platform does both.
Spanish teacher Marcia Clark relies on hosting to organize her foreign language content into different video channels. Once a video is complete, Clark uploads the video directly to her individual channel. Each video in her library has a unique URL which she can copy and paste to share with students.
Teachers like Clark can open old videos and edit them again and again. It's a quick way to update your lesson plans yearly without starting from scratch.
4. Collaborate and Share Ideas
Don't reinvent your course plan alone.
Collaborate and share your video lessons with other educators.  Share individual videos or entire channels with teachers in your school district by using the hosting management platform. Team users are able collaborate easily within the platform.
You can also visit the Flipped Learning Network to curate a list of tech tips. Some school districts even employ specialists to help you create a plan of action.
Often your students will be familiar with the cutting edge apps. So don't be afraid to take your tech cues from the class. Meet students at their interest level by incorporating popular apps into your course work.
Planning The Classroom Experience
The pandemic forced teachers to rethink what traditional education looks like.
It's good to plan for a technology-based classroom. One where the next generation of students can flow uninterrupted between in-class instruction and online work.
Teacher Angela Barnett says it best, "teach kids and build relationships," it's possible by shifting our mindset to capture the essence of 21st century learning.
Quick Links
Video Editing Tips For Beginners
25 Creative Ways to Use ScreenPal For Remote Learning