It's easier than ever to collaborate and communicate with your team, class, customers, and any audience with the all-new video and text commenting feature in ScreenPal. Enable commenting on any video, and your viewers can add time-specific comments using text and/or video.
Save time and capture feedback
Sharing videos with comments allows you to quickly and easily capture feedback and ideas on any video. Upload any video to ScreenPal for free and get instant feedback with text and video comments. 
Product and UX teams can create product walkthroughs and demo videos to share with their team to gather input and streamline their development process. Account managers and consultants can onboard and update clients with video, capturing all questions, feedback, and follow ups in those video conversations. Educators can use commenting to gather feedback on video lessons or give feedback on student video projects.
And if you collaborate with your team on video creation projects, you're likely gathering input from multiple people using several apps. Juggling feedback in different apps can be time-consuming and the risk of missing feedback is real. Now anyone can create, collaborate, review and revise all within ScreenPal.
You're in control of your content
When you upload and share videos to ScreenPal's content hosting platform, you can control the privacy and visibility settings of your videos. You can set your videos to be private, unlisted, or password protected. If you are on a ScreenPal Team plan, you can also limit your video's visibility to members of your team. 
Your viewers can watch your video from any device and add comments at any point in the video for you to review. You can click on the comment timestamp to jump to that specific point in your video, so that everyone will always be on the same page. Easily reply to comments to solicit additional feedback or clarification. 
Video comments
Why type your comments when you could share them in a quick video message? Now you and your viewers can add video comments to your videos as well. Simply click into the comment box on any video with enabled comments, then click on the ScreenPal icon in the lower right corner. You can then record your screen, webcam, or both along with your microphone to add a time-stamped video comment. 
Audience participation
Comments are a great way to engage your viewers, capture their responses to your content, and learn what other questions they have or topics they would like you to cover in future videos. 
Customer support teams can create and share tutorial videos for customers and capture their feedback and additional questions in comments.
Enable comments
You can enable commenting on any video that you host on ScreenPal, all for free. 
Go to your Account Settings, click on Content Hosting, and then click "Allow viewers to comment on content"

Click on the Video Details of any video in your content manager, scroll down to Visibility, and click "Allow viewers to comment."
If you are the admin of a Team account, you can easily activate commenting as a feature for members of your team. 
Host, collaborate and share for free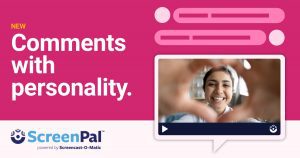 ScreenPal is your all-in-one video creation and management suite. Upload and host unlimited videos, all for free. Your audience can watch your videos without ads and distractions, you can control who can access your videos with unlisted or password-protected links, and you can engage your audience and capture feedback with time-stamped video and text comments. You can even curate and organize your videos into channels to create custom viewing experiences for your viewers.
Ready to create a branded, interactive experience for your audience? Upgrade to a Premier or Team plan to customize your video player with your branding, plus add CTAs and links to your videos. 
Learn more about managing your video content on ScreenPal and sign up for free to start collaborating and communicating with video!