The pandemic has changed not only the way we work, but also the way we handle crowded events like event conferences. While some teams may start trickling back into offices in the coming months, expect to see numerous COVID-era changes stick around long term— especially when it comes to planning and attending events. 
Over the past year, companies that experimented with online video conferences reported major benefits like greater attendance, lower costs, and more creative freedom. It's unlikely business leaders will shrug off those benefits as soon as in-person events are allowed again. 
If you've given virtual events the brush-off so far, it may be time to give them a chance so you can reap the educational benefits of conferences and set yourself up for a future where virtual or hybrid events are the norm. 
Big Benefits From Virtual Conferences 
Companies reported some big successes after hosting their first virtual conferences in 2020. Here are some of the benefits they discovered: 
Online conferences are efficient and cost-effective. 
With an online event there's no need to rent an expensive venue or worry about the complicated logistics of an in-person gathering. At most, you may need a central hub where your staff and speakers can connect before going on-camera. 
You'll have greater access to quality speakers.
Is there a dream speaker you're itching to have at your conference? Scheduling conflicts are less of a barrier with virtual events. If they can't appear live during your conference, ask them to record their session ahead of time. You can make a pre-recorded video presentation just as personal by showing up on screen with your guest speaker to introduce and interview them. 
One major plus to this strategy is that you can record in Zoom, then open the video directly in the video editor using our zoom integration. From there you can add your conference branding, closed captions for accessibility, and any other necessary edits. 
You can host more attendees. 
According to Wired, the 'Black as Tech' conference drew 1,000 in-person attendees in 2019. When they went virtual for 2020, 6,000 people signed up. Without worrying about travel expenses, they were able to focus on marketing the event and opening it up to a bigger audience. It's hard to argue with numbers like that. 
You can get more creative with social activities. 
Conferences often include fun activities like parties, cocktail hours, or games to help attendees get to know each other. While going online posed a challenge, companies infused their virtual event ideas in fun creative ways. 
They hosted virtual events like trivia nights, pet contests, and cooking sessions. It brought attendees together virtually and garnered more interest than expected. 
How Conferences Will Change After the Pandemic
Most conferences won't stay 100 percent virtual forever, but with so many benefits you can expect to see conferences embracing virtual communication long term. Companies will prioritize health, safety, and efficiency while planning events— changes that will play out through event size, marketing efforts, and use of the remote communication tools that skyrocketed in popularity during the pandemic. 
In the coming months, look for conferences to become:
Shorter, with a smaller footprint.
Organizers will avoid packing too many travelers into small indoor spaces for long periods of time. 
Inventive.
We've only just begun to see what's possible with virtual conferences. Companies will continue to experiment, utilize event technology, as well as find new ways to educate and entertain guests in both live and pre-recorded video content. 
Partially or fully virtual.
In addition to fully virtual conferences, we may also see hybrid conferences with only a few limited onsite events, accompanied by a bigger selection of virtual chats. 
Focused on video.
Both live and pre-recorded video will be integral. This is good news for businesses because recorded events can be repackaged and sold as video training, stored in a paid membership site, or put on YouTube to help grow your audience. 
Host Your Own Impactful Events with ScreenPal
If you're ready to host your own virtual or hybrid conference, ScreenPal is here to help.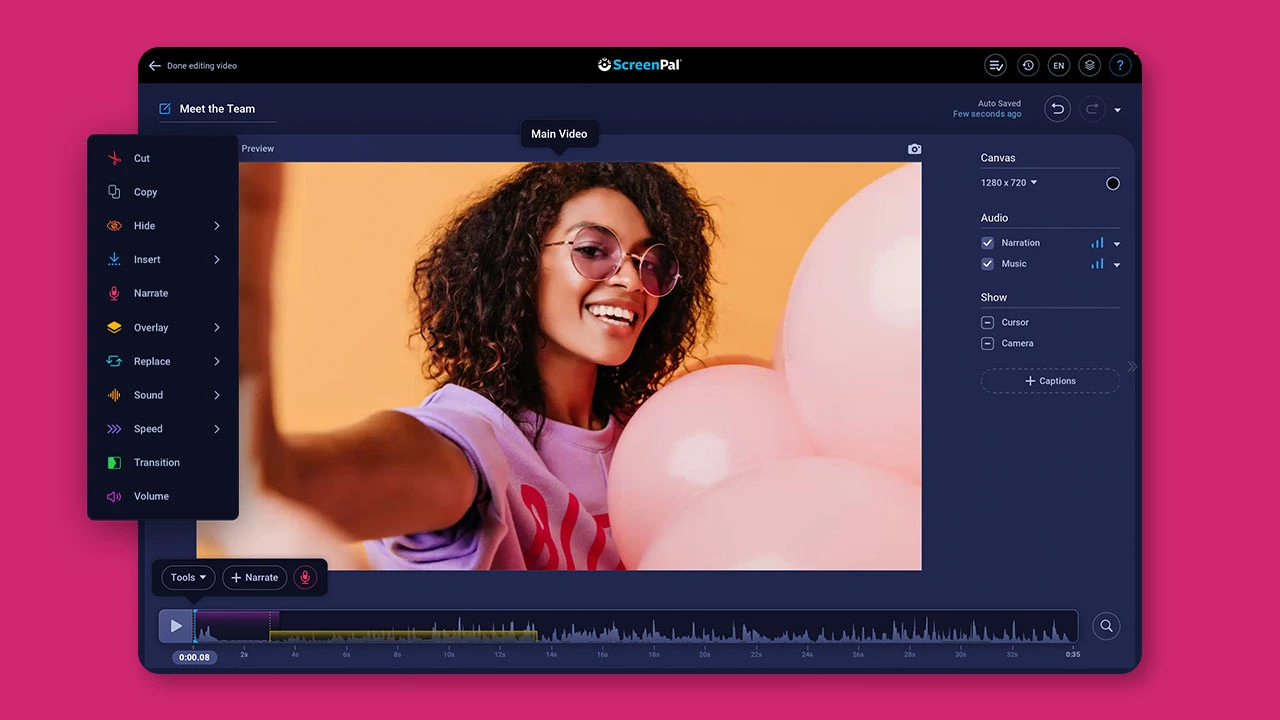 Leading up to the event
Even if you're doing a hybrid event based in a smaller venue, there's no limit on the number of virtual attendees you can have. 
Focus heavily on online marketing to attract a bigger remote audience. Job search website PowerToFly hosts an annual virtual diversity summit with over 100 speakers. They promote the event online through their social media channels and paid ads. To get the best results from your promotion efforts, try recording a series of brief marketing videos to share on Instagram or wherever your target audience spends their time. Ask your speakers to share with their audience as well. 
If certain speakers aren't free the day of your virtual conference, offer them a chance to record their talk ahead of time with Zoom. Then use the Zoom integration to add captions and any other edits from the video editor. Believe it or not, viewers may not even notice the chat isn't being recorded live. 
During the event
Rely on video. Whether in-person or virtual, record your presenters so you can edit and share their talks afterward. 
Offer more than one way to access the event so it's easy for virtual attendees to find. Livestream to Facebook and Instagram, stream live on zoom, and be sure to email all attendees a link to the event. 
For pre-recorded presentations, try a screen recording. The screen recorder is free to use, and enables you to record your screen, webcam, or both at the same time. Just put your slideshow, which you can create with our slideshow maker, on your screen, launch the recorder, adjust the recording window to the area you want to film, and hit record. When you're finished, you can trim dead space at the beginning and end of your video, and upload captions. 
Deluxe and Premier users can use the green Screen effect, which removes your webcam background so you appear directly on top of your presentation. You can also add captions with speech-to-text, narrate from a script, and add handy edits like video and image overlays, stock music, highlights, zoom effects, text, shapes, and more. A few quick edits can help make your video look on-brand, professional, and more engaging.
After the event
There's no reason why the knowledge shared at your conference should stop there. Record every presentation so it can be repurposed later. 
These videos can be used in countless ways. 
Share them in a post-event email with attendees.

Turn them into paid content by repackaging them as workshops or mini-courses, or put them behind a paywall on your website. 

Post them to your YouTube channel

for free to attract new followers.

Share shorter clips from your videos to your social media feed. 

Use them as sources for quotes, testimonials, or case studies where applicable. This content can last you throughout the year.
Conferences For the New Normal
Conferences aren't likely to go 100 percent back to normal, but thanks to the creativity seen during the pandemic, they can actually be better, more impactful, and more cost-effective going forward. Apply these tips to your next conference, or to any upcoming event. It's great to be together in person, but as companies find new ways to bring people together in 2021, virtual conferences will only get better.