In 2020, teachers became content creators out of necessity. With schools shut down, they had to find ways to make their lesson plans work virtually and fast.
In some cases that meant rethinking or entirely scrapping assignments and lesson plans they've been using for years.  Instead, they needed to come up with something entirely new on the spot– something more suited to virtual learning.
While teachers spent more time creating content for their students, it created another problem.  They had less time to help their students learn. For one city, they are hoping to combat this problem and help educators have more time to connect with students.
Hiring! Virtual Content Specialists Needed
The New York City Department of Education created a new position to help ease the burden of content creation on teachers. They're looking for 90 educators to take on the role of "Virtual Content Specialist."
The virtual content creators will help build on the school district's existing curriculum. They'll also provide support by creating mini-lessons, video lectures, and other engaging content students can do online.
This new approach will cut down on the amount of time teachers have to spend creating content themselves. They will have more time to focus on their students.
Video Will Continue to Grow In Importance
Now that video has become a central part of remote learning, it will likely continue as students and educators have grown accustomed to it.
So what does this mean for educators? As other school districts follow New York City's example, video as a teaching tool will continue to grow in importance whether or not your school hires virtual content creators.
This is good for students, as virtual learning can make education more accessible, and can even be the perfect long-term option for certain students.
Most students will certainly return to campus at some point, but post-pandemic, we may see more schools opening up to using video as a daily teaching tool. Before the pandemic, many teachers found flipped and blended learning strategies successful for their students.
Video For Any Situation
One of the best things you can do as educators is to be prepared. Whether you continue remote learning or head back to school, the way to get ahead is prepare for both situations.  Video content can be used in either situation and students never have to stop learning.
Recording lessons or creating your own video library will help you save time year after year.  You can record your video once, and share it each time you teach that part of your lesson plan.
Students can watch the video outside of class, and you'll be free to answer their questions and offer support, rather than repeating yourself again.
Video Skills to Land a Job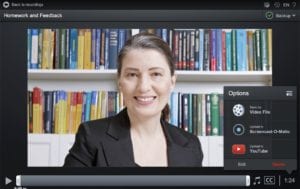 If other schools start to follow New York's example, your video skills may even land you a virtual content position of your own, along with the $12,000 salary bump.
If you're applying for a position, or any teaching position, make video a key part of your application by including a video cover letter. Taylor Lane, founder of Remote Like Me, landed her first remote job with this approach, which she calls 'the virtual handshake.'
"I made a video saying why they should hire me, why I'm the right personality and culture fit, and why I work well virtually," she said. "My hiring manager said that was IT for them!"
To really wow administrators, include an e-portfolio in your application, showing the creative virtual projects you've done with students.
Adding a video introduction or your e-portfolio to your application will demonstrate your tech skills, creativity, and willingness to innovate for students during the pandemic and beyond.
Need inspiration?
If you need help coming up with engaging virtual projects for your students, check out these articles for ideas.
25 Creative Ways to Use ScreenPal For Remote Learning
7 Creative Videos Students Can Make Themselves
Why Every Student Needs An ePortfolio