Living in lockdown changed the way schools operated overnight. Suddenly, laptops replaced paper and pencils. And online video became the glue keeping classrooms together throughout a global pandemic. Now, we're seeing the impact virtual learning is having on students, teachers, and parents.
Video Tools Shape Virtual Learning
The switch was instant for many. Schools closed and online classrooms began reworking years of in-person curriculum. 
Communicating online became crucial, making video king.
Zoom downloads soared with almost half a billion installs. But it wasn't just live video conferencing connecting students and teachers. Educators began incorporating pre-recorded videos too with the help of tools like ScreenPal.
The benefit?
Video offered something basic messaging apps or learning management platforms could not. Being able to connect face-to-face, albeit online, was fostering personal connections at a time when millions were being isolated at home.
How Video Built Personal Connections
School is a critical time for most students. Aside from learning, school socializes children which is a lesson learned best in-person. Losing the social aspect of school during the pandemic left only one choice— video.
"It's really about all those connections, not just with the teacher-to-student and student-to-student, but also for a student at home," explains tech integration specialist Tim Marum who creates videos using his web camera and screen recorder app.
Marum recorded personalized messages to bridge the divide even before the pandemic. For Marum, it builds relationships and improves student comprehension despite being online.
It's a move experts support.
"As the instructor, you must build credibility over time – starting with the initial attention of a student and building towards more impact long-term," stresses Cal Poly Professor Martin Mehl.
"The screen is the closest tool to be able to hold the hand and capture the mind of the person trying to share their feelings and love for learning."
The connection is vital to student success online. In fact, one study showed students' grades increased by as much as 10% when video was incorporated.
Marum and Mehl both use ScreenPal's screen capture tools. It records their web camera and computer screen simultaneously. The feature allows them to connect with students while referencing notes or examples on their screen. The screencasting tools easily integrate with their favorite edtech tools to streamline how they share content.
How Video Pushed Learning Forward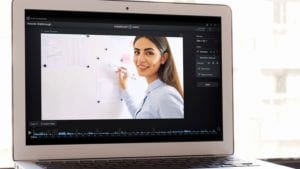 School closures pushed teachers beyond their comfort zones. The changes created a learning curve for teachers as well as students. Teachers needed to quickly evaluate new platforms and determine which tools met the needs of their students. 
Creating Pre-Recorded Videos for Virtual Learning
Nearly 70% of teachers said they preferred creating pre-recorded videos. This route meant educators were able to edit out mistakes and fine-tune their message. Easy-to-use platforms like the ScreenPal Video Editor upgraded simple videos into a professional-looking content.
"Making videos, I feel, has made me a better teacher in some ways," points out Georgia art teacher Sabrina Barilone. "It makes me plan ahead and really focus on what targeted learning I want to cover."
Teachers like Barilone learned to pre-record a video. Then she'd use the video editor to enhance her lesson by adding overlays including images, text, and music. 
Curating an Online Video Library
The virtual learning shift encouraged teachers to move all their lessons online for future reference. 
The quickest way was to start screencasting their daily Zoom calls. Once the video chat was recorded, educators could trim their lesson into smaller manageable videos. Over time, teachers built video libraries online so students could reference the materials anytime. 
It's a method teachers used in 2017 when two hurricanes ravaged the Caribbean. Leaders at the University of the Virgin Islands turned to ScreenPal to start cataloging their lectures. 
"It allowed the recording of the lecture and presentation. Students could then access these asynchronously when they had access to power and computing resources," explained Dr. Ameeta Jada.
Videos stored on the hosting platform can be categorized into different channels and shared by adjusting privacy settings so students can access what they've missed. 
How Video Prepares Students for the Future 
Prior to the lockdowns, online learning was considered an alternative teaching style. Only a fraction of educators even had experience with remote learning.
Large districts had long promised 1:1 student Chromebooks but a lack of funding slowed the process.
The pandemic fast tracked a fix.
Students suddenly need cameras and computers to engage in class forcing schools to equip students with chromebooks. 
For many kids, it means Chrome OS is the first operating system they'll ever learn. The new equipment gives students exposure to video creation and computer science at a much younger age.
Elementary school teacher Angela Barnett believes it's an important move.
"We are living in the world our students are growing up in, which means we need to model the application of meaningful technology in education."
Barnett knows firsthand what elementary students are capable of learning with access to technology. Prior to the pandemic she used a blend of ScreenPal for Chromebook, Google Classroom, and Flipgrid. She even taught her students basic video creation.
Making an Impact 
Even as kids prepare to head back to school, don't think you've seen the last of video. A growing number of educators plan to incorporate video in their hybrid education models once schools reopen.  They're now seeing the positive impact of exposing students to technology with a purpose. 
As Barnett knows, it's all about serving your students in the best way possible with the tools you have available. 
"By working with children, there is only so much we can control. Our profession was affected by an unprecedented event, but not our impact."