Tools like Zoom skyrocketed to popularity out of necessity during the pandemic. It's an essential tool for remote workers.
Employers are pairing Zoom with their favorite video editing software to give their workers a break.  By editing Zoom recordings they're able to shorten and repurpose time spent online. 
So rework your virtual meetings with simple editing to save everyone time.  Try these 5 editing tools to transform your Zoom recordings.
1. Trim and Cut Lengthy Zoom Recordings 
Get familiar with how to shorten Zoom recordings. It's the key to repurposing lengthy video chats into efficient workplace content.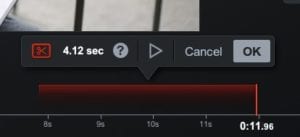 The Cut tool is a universal editing feature. In ScreenPal's Video Editor look for the red scissor icon.
You'll be surprised how concise your meeting appears once you trim unnecessary portions. Try these quick cuts to tighten up your video runtime:
Joining the Meeting: Remove portions of the video where Zoom participants are signing into the meeting, working out on camera issues, or troubleshooting technical problems.
Side conversations: Crop unrelated chit-chat to save time and keep your recording on topic.
Technical Issues: Erase portions of your video containing screen sharing issues, unmuted participants, or digital glitches. 
2. Merge Recordings and Videos 
Polish up Zoom recordings by adding branded intros and outros. These pre-produced slates should feature company logos, speaker contact information, or an outline of what's to come.
Use a free screen recorder to capture your welcome image or video. Create something simple so it can be on multiple projects. 
Add your intro and outro to your Zoom recordings by inserting your video. The tool allows you to add previously created videos anywhere on your editing timeline. 
Pro Tip: Bring your video introduction to life by adding animation to your images and text. 
3. Overlays For Extra Emphasis (or cover-up)
Mistakes don't need to be permanent thanks to the overlay tool.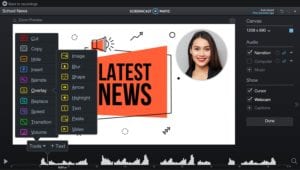 The versatile tool allows users to add videos, images, shapes, arrows, and previously recorded videos. Use the overlay image option to cover portions of your Zoom meeting you don't wish to show again. It's optimal for replacing part of your screen share with a better visual or covering typos.
It's also the go-to feature to blur something within your Zoom video.
Overlay options do more than cover mistakes. Turn your Zoom meeting into a professional-looking resource by getting creative with overlays.
Shape and text overlays can be combined to create video pop-ups. Use the blur overlay to cover parts of your Zoom recordings. Or experiment with video overlay to transform your recording with split screens and video-in-video.
4. Easy Smooth Transitions 
Shortening your Zoom recording is a must, but too many cuts can leave your video looking choppy.
The transition tool can fix it. 
Transitions give video edits a seamless look. Add transitions to your Video Editor timeline in sections where overlays, video inserts, or cuts have been made. The feature allows the two sections of videos to fade from one to the other. 
5. Music to Enhance the Mood
Give your Zoom recordings character by inserting background music. Music adds warmth to a standard video conference and covers awkward silences.
Upload your own branded music or insert a track from the ScreenPal's music library.
Pro Tip: Use the screen recorder to create an intermission video. Next, add music in Video Editor. 
Play the intermission video during longer, live Zoom meetings using the share screen option. The music serves as an audio cue for viewers. Employees who have stepped away from the computer know when the meeting is about to resume because the music has ended. 
Mix it Up With Zoom Editing Tools 
Not all Zoom calls need to be live or involve your entire staff. Mix it up.
Consider different options to communicate with remote employees and increase productivity.
On your next Zoom call include only essential team members. Let them present. Then use the video editor to refine the meeting. Get to the need-to-know information, incorporate overlays, transitions, and music. Finally, share the revised recording with the rest of your staff.
Spending a little time editing is sure to save everyone else a lot of valuable time. Now that's a workplace hack your co-workers can appreciate.